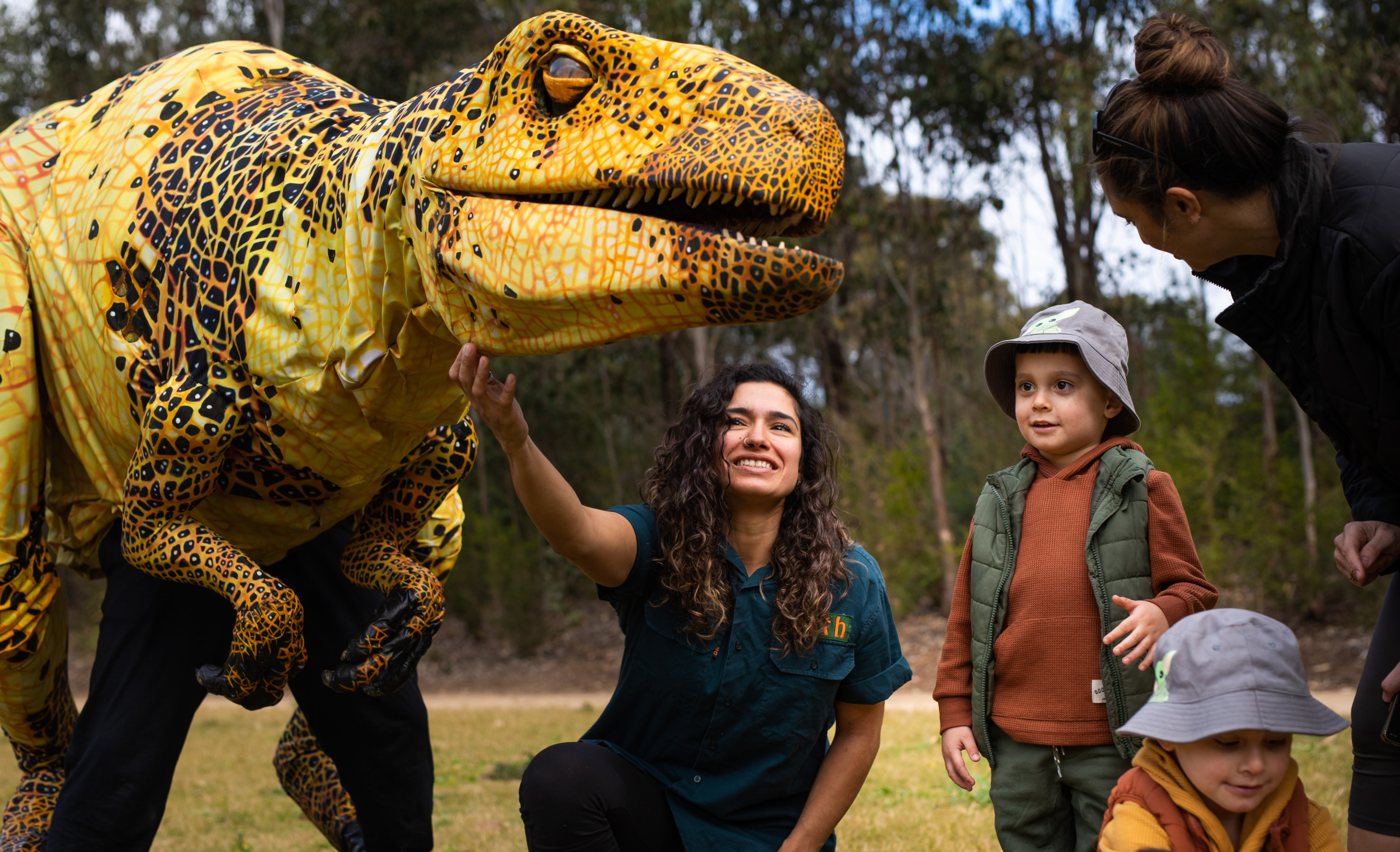 Highlights from day two of National Science Week
VIC: Is AI the next Shakespeare? See a play written by ChatGPT.
VIC: Solving great spider crab mysteries, without getting wet, sandy or bitten.
NSW: Meet the chemist-turned-artist behind Atmospheric Memory.
NSW: Face-to-face with a life-sized dinosaur at Science in the Swamp.
ACT: Keeping brains young with creative computing for seniors.
SA: Using data to map dolphin migration.
QLD: Street Science on the farm at the Ekka.
ACT: Space, robotics, and engineering with LEGO: science while you shop in Canberra's malls.
National: Kooo-koo-kaa-kaa, croak, screeee… What is Australia's favourite animal sound?
Read on for more on these, including direct event contact details.
Also today:
Coming up tomorrow:
Space junk, Sky Country, bloody science at school, and rewilding to save species – see a preview of Monday's highlights.
National Science Week 2023 runs from 12 to 22 August.
Visit ScienceWeek.net.au/events to find more stories in your area.
Media centre here. Images for media here.
General Science Week media enquiries: Tanya Ha: tanya@scienceinpublic.com.au or 0404 083 863
More about the event highlights
A play written by ChatGPT – West Melbourne, VIC
Is AI the next Shakespeare: can it write a play? How does ChatGPT actually work?
In this show, ChatGPT will generate a three-act play with creative contributions from you, the audience. These words will then be performed by actors as they attempt to humanise the machine-generated scripts of plays that have never been seen before.
This event will also venture into how AI works, the Turing Test, and the role of AI in our future lives and artistic endeavours.
Sunday 13 and Sunday 20 August: www.scienceweek.net.au/event/a-play-written-by-chatgpt/west-melbourne/
Media enquiries: Sean Elliott, Sean.Elliott@pintofscience.com.au or 0422 260 116
Solving great spider crab mysteries, without getting wet, sandy or bitten – online, via Melbourne
Every winter, thousands and thousands of great spider crabs gather in shallow waters off Australia's southern coast. They form huge underwater piles, some as tall as a person, seeking safety in numbers. To grow, they need to shed their hard shells, expand their soft flesh and harden a new, bigger and shinier shell – while dodging hungry predators.
Very little is known about spider crab biology and ecology, so scientists at Deakin University have deployed timelapse cameras to sneak up on spider crabs and other marine life and study them.
Ecologist and science communicator Elodie Camprasse knows all about great spider crabs and wants the public's help to learn more. She's looking for people to scan through photographs and identify and count spider crabs and a range of other sea creatures to understand when and where spider crabs gathered this year, and what other creatures are around at that time of year.
Read more about Elodie's research.
Saturday 12 August - Sunday 20 August: www.scienceweek.net.au/event/help-us-solve-spider-crab-mysteries/
Media enquiries: Elodie Camprasse, elodie.camprasse@deakin.edu.au or 0497 940 793.
Elodie is available for media interviews. Images and footage available.
Meet the artist behind Atmospheric Memory - an immersive exhibition filled with light, sound, words and projections that make the atmosphere tangible.
Rafael Lozano-Hemmer is a media artist working with ideas from architecture and performance. He was the first artist to officially represent Mexico at the Venice Biennale with a monographic exhibition in 2007.
Lozano-Hemmer's use of technology in his practice creates critical dialogues about the interconnectedness of art and science. Having received a degree in Chemistry and working as an artist for thirty years, Lozano-Hemmer will present his artistic approaches and experiments within the fields of robotics, AI, nanotechnology and fluid dynamics.
Rafael Lozano-Hemmer's breathtaking immersive art environment is inspired by computing pioneer Charles Babbage's concept of air containing a 'vast library' of every word ever spoken. He is in coversation with Matthew Connell, Director of Curatorial, Collections and Programs at the Powerhouse.
Sunday 13 August: www.scienceweek.net.au/event/rafael-lozano-hemmer-in-conversation/ultimo
Media enquiries: Siân Davies, sian@articulatepr.com.au, 0402 728 462; or Sasha Haughan, sasha@articulatepr.com.au, 0405 006 035.
Meet a dinosaur (and others) at Lizard Log – Abbotsbury, NSW
Say hello to Ginger the life-size dinosaur, touch the world's biggest seed, make a survival shelter or visit the pop-up ocean lab.
Science in the Scrub returns to Lizard Log in Western Sydney Parklands packed with science, fun and discovery.
Engage in hands-on experiments, get up close with native animals and meet real life scientists including geologists, zoologists, physicists and marine biologists.
Good photo opportunities.
Sunday 13 August: www.scienceweek.net.au/event/science-in-the-scrub-2/abbotsbury
Media enquiries: media@gsp.nsw.gov.au
Creative computing workshops for seniors keep brains fit – Acton, ACT
Move over crosswords and sudoku – learning computing using a technology called Scratch can help keep your brain young.
People aged 55 and over are invited to attend creative computing workshops. Participants will learn how to get started with Scratch, a self-expression system that's used by more than 90 million men and women worldwide and lets them produce amazing, colourful, musical, moving creations just by fitting multi-coloured blocks together with the mouse.
These creations may then be shared among a vast community of users, or just with family and friends, and can include interactive stories, games, animations, and more. It could also be the start of forming a local "Scratch community" and meeting new people.
Sunday 13 August: www.scienceweek.net.au/event/creative-computing-for-seniors-workshop-using-scratch-2/acton
Media enquiries: Thomas McCoy, mobilemccoy@gmail.com or 0402 050 852.
Can data save the dolphins?
Dolphin movements, patterns, behaviours and preferred habitat are fundamental elements in conservation and protection of dolphins, about which very little is known.
Community volunteers are also invited to participate in dolphin monitoring surveys (space permitting) and data analysis workshops on Kangaroo Island and in Victor Harbor, South Australia.
Images and videos are collected, identifying individual dolphins by distinctive dorsal fins and body markings. Data collected is used to inform management practices in collaboration with scientific entities and government agencies. The aim is to strengthen, protect and conserve dolphin numbers in regional waters.
Tuesday 8 August – Friday 18 August: www.scienceweek.net.au/event/investigating-critical-corridors-using-data-to-determine-dolphin-migratory-pathways-in-the-region/kangaroo-island
Media enquiries: Tony Bartram, bartram@kin.on.net or 0429 870 006.
Street Science on the farm at the Ekka – Bowen Hills, QLD
Street Science presenters share the science behind agriculture through exciting visual demonstrations. Discover the unexpected potential for produce like seaweed and corn in revolutionising our everyday lives.
Fun and interactive demonstrations will have any young scientist engaged before exploring how innovations in agriculture are shaping the future sustainability of our planet.
Saturday 12 – Sunday 20 August: www.scienceweek.net.au/event/street-science-education-stage-at-the-ekka/bowen-hills/
Media enquiries: Dr Anita Milroy, a.milroy@uq.edu.au or 07 3365 2846
Science in the Centres – Multiple locations, ACT
Science while you shop! Pop-up science activity centres will give shoppers the chance to meet scientists, engineers and daleks, and learn about space, mushroom growing, engineering with LEGO, parasites, chemistry, geology, space, robotics, and more.
Westfield Belconnen, Westfield Woden, South.Point Tuggeranong, Cooleman Court, and the Canberra Centre will host a variety of displays and hands-on science activities during the weekends of National Science Week (12 - 13 and 19 - 20 August).
Stallholders include Questacon, National Dinosaur Museum, Young Engineers Canberra, ANU Parasitology, Canberra Daleks & Robots, ASTRO 3D, Robogals, Royal Australian Chemical Institute, Dreamtime Connections, Geoscience Australia, Australian Geospatial Intelligence Organisation, Mt Stromlo Observatory, Capital Scraps Composting, Wing, and Canberra Snake Rescue & Relocation.
Media enquiries: actscienceweek@gmail.com
Representatives from all stallholders are available for interview.
Do you love the summer night sounds of cicadas? Are you intrigued by the lyrebird's mimicry or the mating croaks of frisky frogs?
The search is on to find our most-loved Aussie animal sound. This National Science Week, ABC Science wants people to go online to eavesdrop on the animal kingdom, explore the wonder and science of bioacoustics, and vote for their favourite call of the wild.
Twenty-eight different animal sounds have been selected by ABC's resident nature-lovers in consultation with scientists so that people can get to know our local tweets, howls, bellows, barks, chirps, croaks and calls, and vote for their favourites.
Monday 31 July – Friday 18 August: www.abc.net.au/sounds.
Media enquiries: Tanya Ha, tanya@scienceinpublic.com.au or 0404 083 863