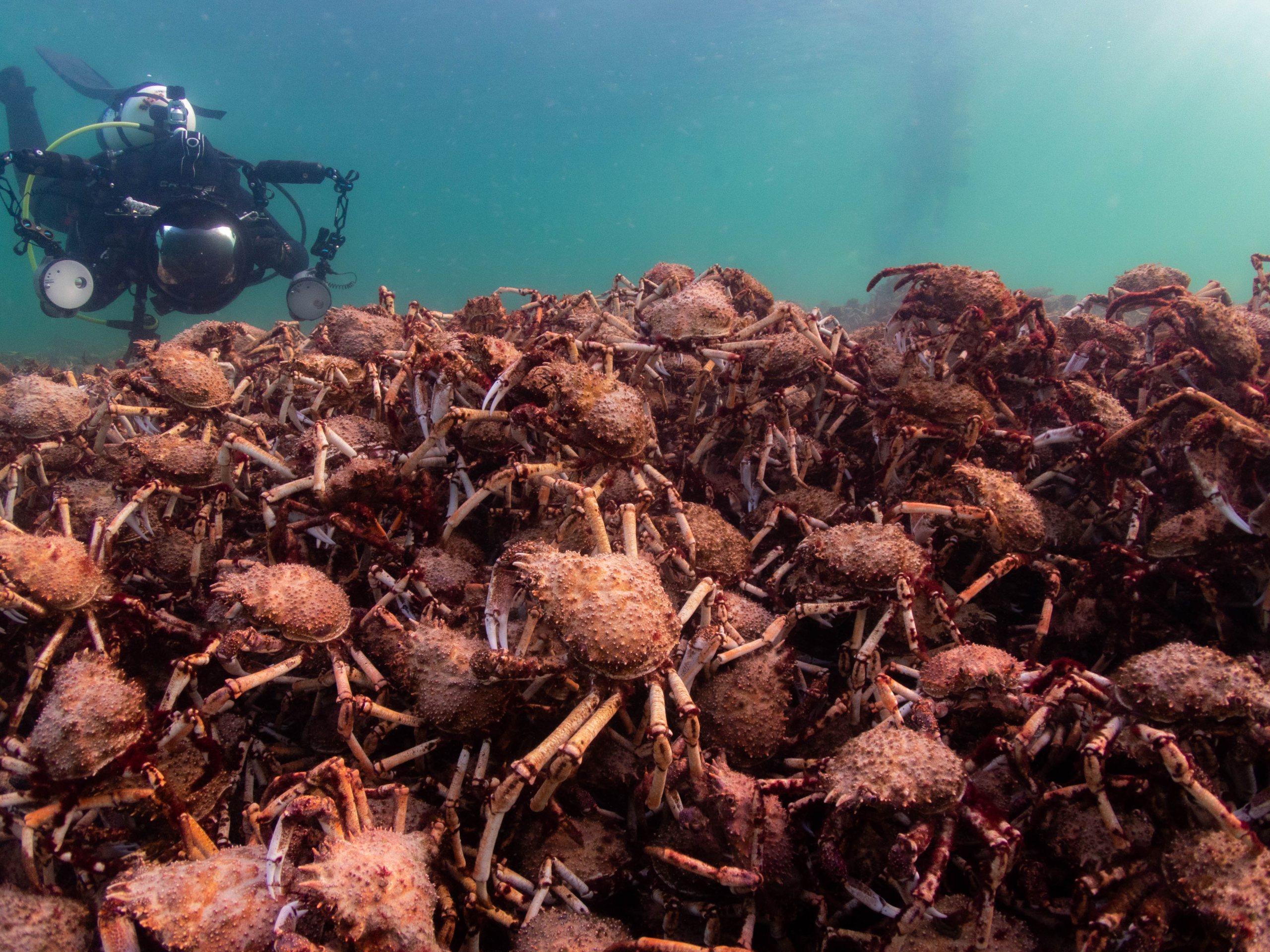 DARK MATTERS exhibition – can art make the invisible universe visible?

Solving great spider crab mysteries, without getting wet, sandy or bitten.

Is AI the next Shakespeare? See a play written by ChatGPT.

Astrophysicists vs science fiction, and a sci-fi costume competition.

Should we care about science denialism? Ask psychologists and scientists.

Dog happiness and mental health.

A band of physicists on a road trip around Victoria to explain quantum and dark matter.

Software, sunscreen and STEM Sisters: pop-up science talks outside the Library.

What is Australia's favourite animal sound?
More on these highlights below.
Scientists, experts and event organisers are available for interview throughout Science Week.
Read on for direct contact details for each event, or contact Tanya Ha – tanya@scienceinpublic.com.au or 0404 083 863.
Visit ScienceWeek.net.au/events to find more stories in your area.
Media centre here. Images for media here.
Dark matter consists of a mysterious substance that does not present an interaction with electromagnetic forces, which means it does not absorb, reflect it, or emit light.
The DARK MATTERS exhibition explores the mysterious substance that makes up 85 per cent of the matter in the universe. It's a collaboration between Science Gallery Melbourne, Arts at CERN and the ARC Centre of Excellence for Dark Matter Particle Physics.
Through local and international experimental projects – some developed in conversation with scientists and researchers – explore life and all the dark matter that flows through it, under it and collides with it.
Wednesday 5 August - Thursday 30 November: www.scienceweek.net.au/event/dark-matters-2/carlton
Media enquiries: Katrina Hall, kathall@ozemail.com.au or 0421 153 046.
Every winter, thousands and thousands of great spider crabs gather in shallow waters off Australia's southern coast. They form huge underwater piles, some as tall as a person, seeking safety in numbers. To grow, they need to shed their hard shells, expand their soft flesh and harden a new, bigger and shinier shell – while dodging hungry predators.
Very little is known about spider crab biology and ecology, so scientists at Deakin University have deployed timelapse cameras to sneak up on spider crabs and other marine life and study them.
Ecologist and science communicator Elodie Camprasse knows all about great spider crabs and wants the public's help to learn more. She's looking for people to scan through photographs and identify and count spider crabs and a range of other sea creatures to understand when and where spider crabs gathered this year, and what other creatures are around at that time of year.
Read more about Elodie's research.
Saturday 12 August - Sunday 20 August: www.scienceweek.net.au/event/help-us-solve-spider-crab-mysteries/
Media enquiries: Elodie Camprasse, elodie.camprasse@deakin.edu.au or 0497 940 793.
Elodie is available for media interviews. Images and footage available.
A play written by ChatGPT – West Melbourne, VIC
Is AI the next Shakespeare: can it write a play? How does ChatGPT actually work?
In this show, ChatGPT will generate a three-act play with creative contributions from you, the audience. These words will then be performed by actors as they attempt to humanise the machine-generated scripts of plays that have never been seen before.
This event will also venture into how AI works, the Turing Test, and the role of AI in our future lives and artistic endeavours.
Sunday 13 and Sunday 20 August: www.scienceweek.net.au/event/a-play-written-by-chatgpt/west-melbourne/
Media enquiries: Sean Elliott, Sean.Elliott@pintofscience.com.au or 0422 260 116
Astrophysicists vs science fiction, and a sci-fi costume competition – Hawthorn, VIC
What will be the next big thing in physics and astronomy? And is real science better than fiction?
Ask a panel of experts, including:
Professor Virginia Kilborn, Swinburne's Chief Scientist
Dr Rebecca Allen, Co-Director, Space Technology and Industry Institute
Dr Sara Webb, Astrophysicist and Space Challenge Mission Director
Simon Goode, Astrophysicist and Machine Learning Enthusiast
Lisa Horsley, Science Communicator
Audience members are invited to dress as their favourite sci-fi character or pay homage to a real-life scientist, with prizes for the best costumes.
Monday 14 August: www.scienceweek.net.au/event/science-is-better-than-fiction/hawthorn/
Media enquiries: Swinburne media, media@swinburne.edu.au, 0455 502 999 or 0410 569 311.
Should we care about science denialism? – Online
Some say climate change isn't happening or isn't driven by human activities. Some worry that vaccines cause autism or are a lethal conspiracy. Only two-thirds of Americans aged 18-24 believe the Earth is round.
If distrust in scientists, governments, and mainstream media is growing, what should we do?
Ask experts in science, psychology and science communication from the University of Melbourne:
Prof Moira O'Bryan (Host) - Dean, Faculty of Science
Dr Graham Phillips (Moderator) - Lecturer Science Communications
Prof Margie Danchin - Director Of Clinician-Scientist Pathways, Melbourne Medical School
Professor Fiona Fidler - Professor Historical and Philosophical Studies
Dr Jennifer Beckett - Lecturer Media/Marketing Comms, Culture and Communication
Dr Andrew King - Lecturer In Climate Science
Wednesday 16 August: www.scienceweek.net.au/event/should-we-care-about-science-denialism/
Media enquiries: Vanessa Williams, vanessa.williams1@unimelb.edu.au or 0422 261 937.
Dog happiness and mental health – Online
Is your dog stressed, bored, or lonely?
Join University of Melbourne animal welfare scientist Dr Mia Cobb as she unveils the secrets behind canine happiness and decodes a brighter future for dogs and the practical applications to improve dog welfare.
Discover how interdisciplinary animal welfare research is helping dogs to live their happiest lives, alongside their humans.
Thursday 17 August: www.scienceweek.net.au/event/a-day-in-the-life-of-your-dog-cat-lovers-welcome/
Media enquiries: Vanessa Williams, vanessa.williams1@unimelb.edu.au or 0422 261 937.
The National Quantum & Dark Matter Road Trip brings quantum and dark matter experts to pubs and schools in cities and towns around Victoria, including Apollo Bay, Terang, Lavers Hill, Wangaratta, Winton and Melbourne.
There will also be a public lecture from astrophysicist Prof Alan Duffy on 18 August at Swinburne University in Hawthorn.
Dark matter accounts for 84 per cent of all the matter in the Universe… but we don't yet know what it is. Australia is a key player in the quest to find out.
Quantum technologies are crucial in the hunt for dark matter, and they're already used in smart phones and cars, medical imaging, manufacturing, and navigation. But today's technologies capture only a small fraction of the potential of quantum physics.
Media enquiries: Fleur Morrison, fleur.morrison@unimelb.edu.au or 0421 118 233.
Multiple experts involved with different legs of the tour are available for media interviews.
The singing immunologist and science communicator who was intrigued by a reaction to sunscreen – Dr Catriona Nguyen-Robertson
The software engineer and TEDx speaker developing the idea of 'agile nations' – Dr Rashina Hoda
Exploring what's driving the disease progression in Motor Neuron Disease – PhD candidate Chau Tran.
These are just 3 of the 12 female scientists, technologists and experts sharing their work, giving short talks outside the State Library of Victoria.
Organised by STEM Sisters, Soapbox Science is coming back for the 12th year to continue its mission to highlight the importance of science and capture the attention of people from all walks of life by offering STEM women from underrepresented nations the opportunity to step into the spotlight.
Friday 18 August: www.scienceweek.net.au/event/soapbox-science-melbourne-2023/melbourne
Media enquiries: Ruwangi Fernando, ruwangi.fernando@stemsisters.org.au or 0451 951 066.
Dr Ruwangi Fernando from STEM Sisters is available for media interviews.
What is Australia's favourite animal sound?
Do you love the summer night sounds of cicadas? Or the outback howl of dingoes? Are you intrigued by the lyrebird's mimicry or the mating croaks of frisky frogs?
The search is on to find our most-loved Aussie animal sound. This National Science Week, ABC Science wants people to go online to eavesdrop on the animal kingdom, explore the wonder and science of bioacoustics, and vote for their favourite call of the wild.
Twenty-eight different animal sounds have been selected by ABC's resident nature-lovers in consultation with scientists so that people can get to know our local tweets, howls, bellows, barks, chirps, croaks and calls, and vote for their favourites.
Monday 31 July – Friday 18 August: www.abc.net.au/sounds.
Media enquiries: Laura Boland, laura@scienceinpublic.com.au or 0408 166 426.
National Science Week is Australia's annual opportunity to meet scientists, discuss hot topics, do science and celebrate its cultural and economic impact on society – from art to astrophysics, chemistry to climate change, and forensics to future food.
First held in 1997, National Science Week has become one of Australia's largest festivals. Last year about 1.9 million people participated in more than 1,650 events and activities.
The festival is proudly supported by the Australian Government, CSIRO, the Australian Science Teachers Association, and the ABC.
In 2023 it runs from Saturday 12 to Sunday 20 August. Event details can be found at www.scienceweek.net.au.