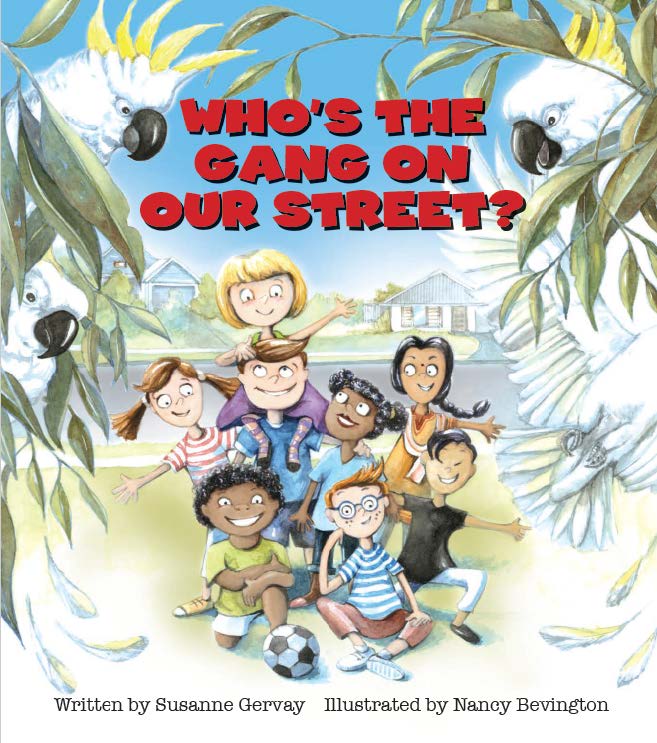 Sulphur Crested Cookatoos Give a FREE Weeding service.
Research from the University of Melbourne which measured the rate at which sulphur-crested cockatoos remove onion weed from turf found each cockatoo can remove 200 plants each hour. "To put that in perspective, 50 cockatoos — can remove 20,000 onion weed bulbs, which is an amazing free weeding service," Ms Loos said.
But there is a battle between Sulphur-Crested Cockatoo and city dwellers. It is news across the world. The cockatoos are smart, tricky, funny, loving, loyal and Australia's iconic parrot. But they can be shrewder than us.
They can learn through social sharing of knowledge like drinking from a bubbler and opening garbage bins. Don't accuse them of being a birdbrain. Councils are on the attack, even though these have been protected birds since 1975. Campbelltown City Council has begun a 12-month trial of garbage bin locks to stop bin-diving sulphur-crested cockatoos across five suburbs including Ruse, Airds, St Helens Park, Kentlyn and Minto Heights. It ends in May 2024. There are more Councils in combat with these birds.
Some people are angry at Sulphur-crested cockatoos because they have learned to open bins. They turn on bubblers as well. They teach each other. How are they so smart? It opens the discussion with children and parents or adults. Where is their natural food? Seeds and trees What about establishing more native trees? What about supporting councils planting our trees on verges and in parks? What about using the waste recycling bins? Nature writer and ABC wildlife expert Tanya Loos says the birds cannot be blamed for attacking the bins. Areas like Centennial Park, provide plenty of food for the cockatoos with seeds and save the neighbours from bin attacks.
Our habits need to change. Use the recycle bins for food scraps not the general bins. Settle cockatoos away from those areas that cause the most disturbance in the urban environment. Provide feeding stations. Get kids thinking. Sulphur-crested cockatoos are glorious and light up our skies.
First issue. While adults recognize sulphur-crested cockatoos, in the main they don't know much about them. They know that they are NOISY. Do they know that the cockatoos are lefties? How long do they live? Do they have families? Children's books let kids explore the antics of sulphur-crested cockatoos, which inform both the kids as well as their parents.
As a specialist in child growth & development, it is so important to reach young people early about wildlife. Let's know Sulphur-crested cockatoos first. That's why I wrote Who's the Gang on Our Street?
Who's The Gang on Our Street is a narrative non-fiction with supporting facts for parents and children to uncover. It is written to delight everyone with the antics and values of our loved sulphur-crested cockatoos. It combines creative imagery and information and is on the Australian national curriculum for Australian birds. It links into the social and emotional module where the Sulphur-crested cockatoos have a social structure which embraces equality, inclusion, no bullying, loyalty and values that relate to the best of what we seek to teach children.
Sulphur-crested cockatoos are part of Australian identity in both the city and bush. They are smart. How can we work with them?
Do you want me to send you a copy of 'Who's the Gang on our Street?' before its release.
For all media enquiries, interviews or review copies Sharon Evans 0410 332 789 ; sharon@bigskypublishing.com.au ; or Susanne info@sgervay.com; 0413 050 922
Distributer – Simon & Schuster Australia
orders@harpercollins.com.au or 1300 551 721
Enquiries: cservice@simonandschuster.com.au
Key Facts:
Worldwide news. Sulphur-crested cockatoos teach other cockies!
Do you want a weed killer? Then sulphur-crested cookatoos are the answer.
Adults don't understand sulphur-crested cockatoos? 'There's a Gang on Our Street?' gives insight to kids & adults too.
About us:
SCBWI is the largest association in the world of children's and young adult authors and illustrators.