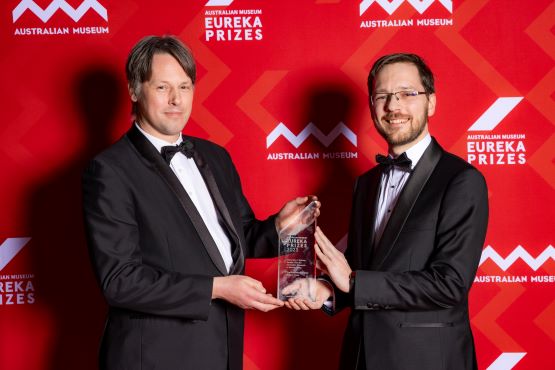 The Economic Fairways Mapper research team, a Monash University and Geoscience Australia partnership, has won the Eureka Prize for Innovative Research in Sustainability announced at the 2023 Australia Museum Eureka Awards ceremony last night.


The research team led by Monash Engineering's Dr Stuart Walsh and Dr Marcus Haynes from Geoscience Australia has created a world-first online platform that lets users create accurate maps to inform decisions about the location of resources for development projects.


Analysis from the Mapper helped to underpin the multi-million dollar Australian Government Hydrogen Hub strategy, announced in September 2021, and has informed submissions to government inquiries into hydrogen development.


The Economic Fairways Mapper project has been particularly influential in informing hydrogen energy development. The tool has been used within industry to support initial screening of potential projects within Australia.
Dr Stuart Walsh said the capability allows investments to be guided towards areas of strategic opportunity and to Australia's natural advantages. Through better informed investment decisions, the Economic Fairways Mapper is positioning Australia to play a key role in resourcing the transition to a low-emissions future.


"I am extremely proud of the research team and this acknowledgement from the science community. This Mapper is extremely important and pivotal for the development of energy resource options across the world," said Dr Walsh.

Geoscience Australia Chief Executive Officer James Johnson commended the research team for their hard work on the Economic Fairways Mapper tool.
"This recognition highlights not only our innovation but also our commitment to driving sustainable change into the future. Tools like this are vital for achieving net-zero emissions by 2050," said Mr Johnson.
Geoscience Australia's Dr Marcus Haynes said the tools would help Australia navigate the energy transition over the coming decades.
"This award is a wonderful recognition of the innovation and impact of the project so far," said Dr Haynes.
Deputy Vice-Chancellor (Research) and Senior Vice President Professor Rebekah Brown said the award was acknowledgement of work that could be transformative for the global challenge of climate change.


"On behalf of Monash, we are thrilled and extremely proud of the researchers recognised with this distinguished award, acknowledging their hard work and dedication to excellence in research," said Professor Brown.


"This award acknowledges the project's significant practical advances in renewable and sustainable energy for a low-carbon future. It is an outstanding achievement for the Faculty of Engineering, Monash University and Australia's national science agency, and Geoscience Australia."


The Australian Museum Eureka Prizes honour excellence across the areas of research and innovation, leadership, science engagement and school science, and are presented annually in partnership with some of the country's leading scientific institutions, government organisations, universities and corporations.


For media enquiries please contact:


Loretta Wylde
Monash University
Media and Communications
T: +61 (0) 432 123 106
For more Monash media stories, visit our news and events site
For general media enquiries please contact:
Monash Media
T: +61 (0) 3 9903 4840