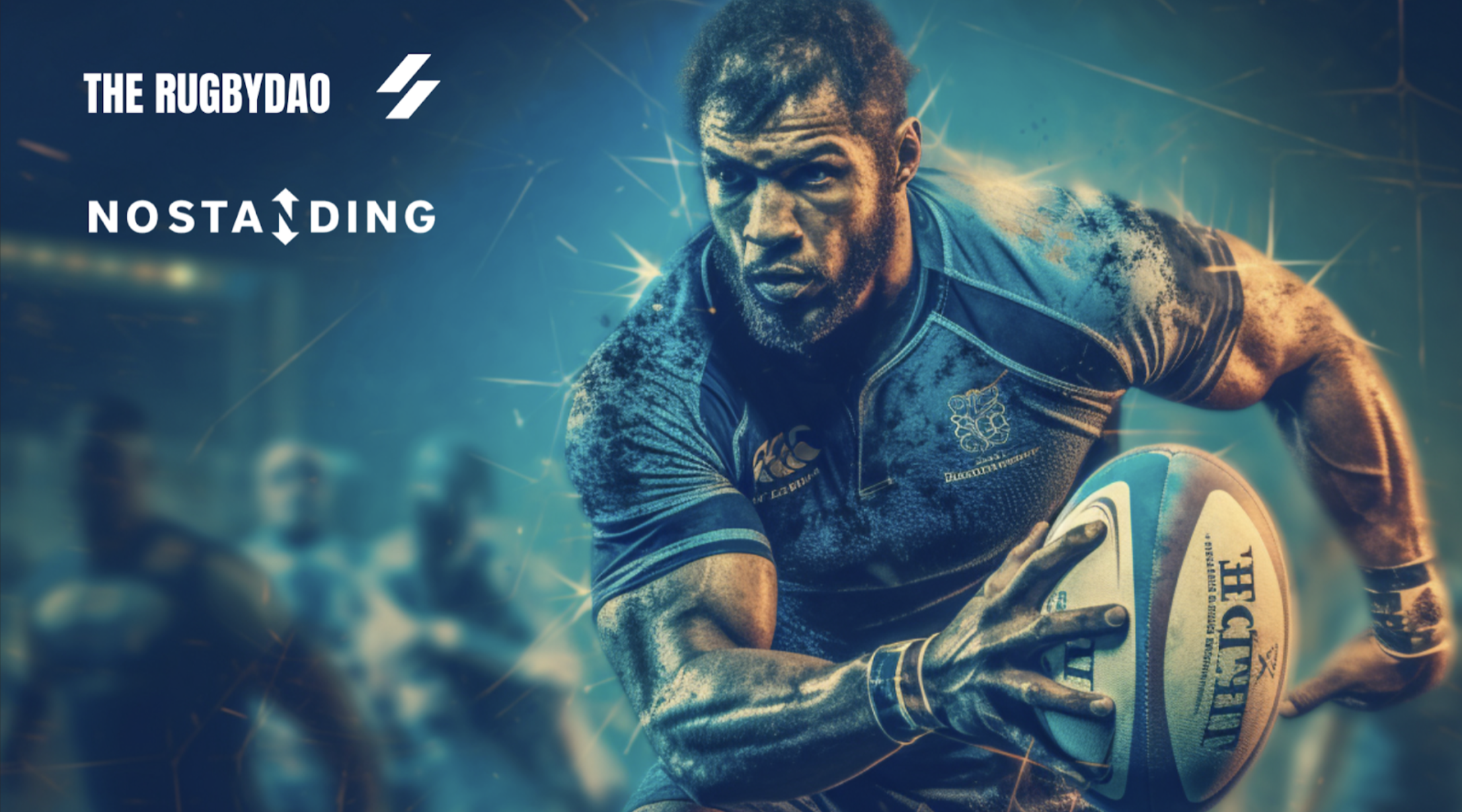 [London, England] -The RugbyDAO, a leading decentralised autonomous organisation (DAO) committed to transforming the world of rugby through blockchain innovation, is thrilled to announce a partnership with No Standing, a renowned global marketing agency specialising in emerging tech ventures.


The RugbyDAO, as a pioneering DAO in the realm of rugby, aims to revolutionise the sport by integrating cutting-edge blockchain technology and empower audiences to not just watch, but to own and influence rugby's future. Through their decentralised approach, The RugbyDAO envisions creating a new era of fan engagement, community-building, and digital experiences for rugby enthusiasts worldwide.


This collaboration marks a significant milestone for both organisations, as they unite to establish The RugbyDAO as the premiere emerging tech brand for Rugby clubs worldwide. No Standing has an impressive track record of working with innovative digital projects and sports clubs such as FC Barçelona's Barça Vision, using emerging technology to strengthen and connect communities around the world who love the sport and further drive fan engagement. Drawing upon their extensive expertise in leveraging next gen technologies to strengthen and connect global sports communities, No Standing helps brands foster even deeper connections among passionate sports fans and drives fan engagement in unprecedented ways.


"We are thrilled to join forces with No Standing, a leading authority in marketing and brand outreach, perfectly complementing our mission to unite the worlds of sports and emerging fan-centric technology," said Wade Cawood, Co-Founder at The RugbyDAO. "With No Standing as our valued marketing partner, we are confident in driving widespread adoption within the rugby community and beyond.".

Sohan Karunaratne, Co-Founder and Executive Director of No Standing, expressed his enthusiasm for the collaboration, stating, "I couldn't be prouder of our involvement in this partnership with The RugbyDAO. Together, our goal is to create an unparalleled fan engagement experience that will resonate with rugby enthusiasts globally. Our team is ready to make history once again, and we can't wait to see what the future holds for The RugbyDAO and its passionate community of fans."


In collaboration with No Standing, The RugbyDAO is set to deliver a series of exciting announcements in the coming weeks, as they embark on an ambitious journey to engage Rugby fans and digital natives alike. The forthcoming projects promise to deliver thrilling experiences and captivate audiences worldwide.


For more updates and to be a part of The RugbyDAO's journey, visit therugbydao.com and sign up for the waiting list.


Visual Assets:
https://drive.google.com/drive/folders/1Kr59uxXTpF6jqxvPJVolDnjIUp--XzAf?usp=sharing
Key Facts:

Visual Assets:
https://drive.google.com/drive/folders/1Kr59uxXTpF6jqxvPJVolDnjIUp--XzAf?usp=sharing
About us:
About No Standing

No Standing is dedicated to powering brands for the future. With a team of ambitious collaborators, we are agile minded in our approach to driving real value. Our commitment to building a stronger future together, drives us. We believe no task is too big when done together, and our family driven culture reflects this. It's our well-rounded expertise that unveils endless opportunity. From Web2 to Web3, we confidently curate cutting-edge solutions for every need.
About RugbyDAO


The RugbyDAO is a decentralised autonomous organisation (DAO) with the goal to build a sustainable, equitable and transparent future for all rugby stakeholders worldwide. Alongside a growing number of key phase 1 projects is a collaborative early adopter community of playing talent, tech experts, fans and change-makers of the game we all know and love. The DAO is currently operating a waitlist for access to early projects and drops which is available to sign up to by visiting therugbydao.com. For more information on The RugbyDAO follow on Twitter and Linkedin.
Contact details:
No Standing:
Isabella Gonsalves
+61437303847


The RugbyDAO
press@therugbydao.com