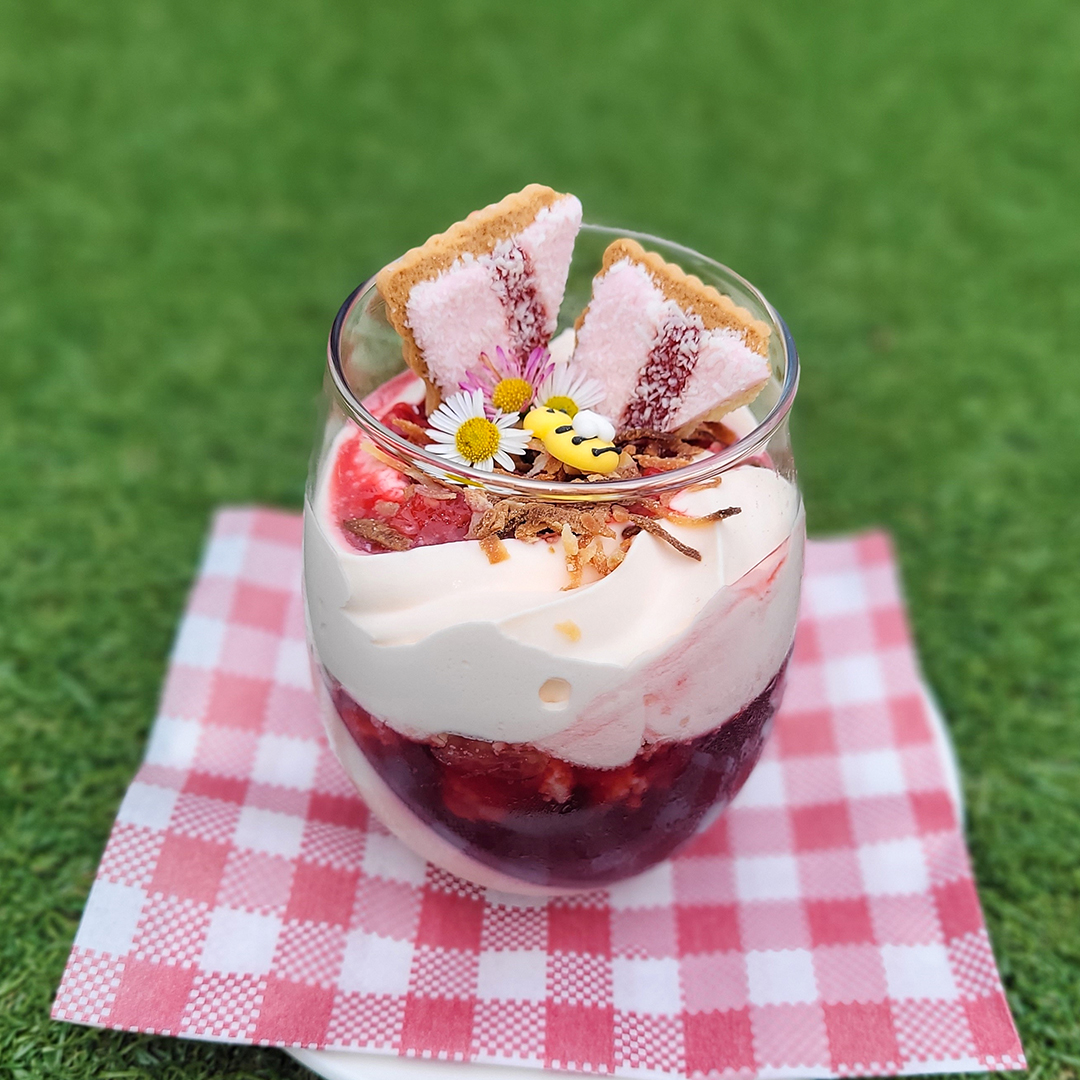 52 #trEATs to eat at this year's Toowoomba Carnival of Flowers
Better dig out your stretchy pants because there's a record 52 floral-inspired #trEATS to savour at this year's Toowoomba Carnival of Flowers, including six regional venues taking part, and the good news is you have all September to devour them!
#trEATS is the regional food trail that takes place as part of the famous Toowoomba Carnival of Flowers. Introduced in 2020, #trEATS (standing for Toowoomba Region EATS) features signature springtime dishes from cafes, restaurants and bars inspired by Toowoomba's most famous event, all priced at $10-$20.
Imagery here
From Cobb's Coffee Shop's Iced VoVo dish of coconut panna cotta and home-made berry jelly with fresh cream and shortbread crumble, topped with toasted coconut and finished with macerated berries, to an Edible Garden from Jilly's Café, Spring Soft Shell Tacos from Mouse Proof Brewing with raspberry and hibiscus gose and marinated chicken on corn tortillas, to a Butterfly Peaflower Gelato from Gelatissimo Toowoomba, Stellarossa's Gordonia Flower Carnival Pizza, and The Store Room's stunning selection of five sweet treat petit fours beautifully packaged and ready for a picnic in the park, the 2023 #trEATS lineup is a culinary knockout petals!
Muller Bros' Springtime Strawberry Shortcake of house-made strawberry ice cream on a rich buttery shortbread base served with strawberry jelly cubes and mixed berry coulis needs a mention, as does Urth Cafe & Co's 'Honey I'm home!' dish a medley of tomatoes and whipped fetta on sourdough with hints of chilli, garlic and thyme, topped with prosciutto, a poached egg, fresh watercress, lemon and honey drizzle.
"Flowers and flavour are one of the world's great double acts and this year at Toowoomba Carnival of Flowers we have a record number of flavour makers taking part in #trEATs," said Toowoomba Regional Council Environment and Community Committee Chair Cr James O'Shea. "We are famed for our incredible produce and flavours, and during the event where Toowoomba shines on the national stage, we can give locals and visitors alike a tasty food adventure for the whole month. Bon Appetit!"
2023 #trEATS IMAGERY here
Toowoomba Carnival of Flowers imagery here
2023 #trEATS for the Toowoomba Carnival of Flowers
Another Life Coffee and Wares
Hawaiian twist - Hawaiian burger with grilled teriyaki chicken breast, crispy bacon, grilled pineapple, lettuce, tomato and red onion, finished with mango chutney on a lightly toasted brioche bun. Served with a mango berry twist freak shake.
Blue Mountain Hotel
Crispy fried barra bites served with a garnish salad, confit garlic aioli, pickle radish and miso caramel.
Bru Vibe
Broccoli, chicken and cranberry salad - fresh chicken, broccoli and cranberries tossed in a honey mustard dressing.
Bull & Barley Inn
Roasted pork cutlet served with sweet potato puree, steamed vegetables and apple sauce.
Burrow
Bang bang chicken rice paper crêpe with fresh herbs, pickled red onions, fried egg, dragon mayo and spicy oil.
Cafe de Velo
Orange and coconut posset tart - orange and coconut posset set inside an almond and cranberry biscotti tart shell, with honey and dandelion marshmallow, blueberry compote and creme diplomat.
Chimac Toowoomba
Yakgwa - a traditional Korean sweet cookie, deliciously deep-fried and dipped in honey-ginger syrup, served with vanilla ice cream and edible flowers.
Club Glenvale
Chicken stir-fry noodles with chicken breast, Chinese vegetables and Asian sauce finished with egg noodles.
Cobb's Coffee Shop
Cobb's deconstructed iced VoVo - coconut panna cotta and home-made berry jelly with fresh cream and shortbread crumble, topped with toasted coconut and finished with macerated berries.
De Dutch Café
Traditional homemade Oma recipe ginger pancake with apple compote, cookie crumble, caramel
drizzle and ice cream.
Gelatissimo Toowoomba
Butterfly pea flower gelato - a subtly floral-infused gelato with waves of boysenberry sauce.
George Banks Rooftop Bar & Bistro
Cinnamon rolled doughnut with cream and salted caramel, topped with fresh baked cookie and crumble.
Gip's Restaurant
Spicy pulled pork burger with coleslaw and thick chips. Enjoy with a soft drink or coffee.
GPO Bar and Cafe
Grilled salmon with roast winter vegetables on a bed of creamy, minty green goddess dressing.
Highfields Tavern
The Texan - Cajun dusted smoky bacon, low and slow beef brisket, mixed leaf, Spanish onion and Swiss cheese finished with jalapeno aioli and BBQ sauce, served with chips.
Hog's Breath Café
Creamy garlic prawns and rice - eight prawns sautéed in a creamy garlic sauce made in-house, served on a bed of rice.
In A Dash Coffee
Your choice of waffles or pancakes with ice cream and syrup, decorated with dried edible flowers and signature coverture chocolate flowers.
Jillys Cafe
Edible garden - thick cut cape seed loaf topped with creamy ricotta, rocket, roasted baby carrots and pumpkin, radish, edamame and poached eggs on a bed of edible soil. Finished with beetroot tzatziki and a light dusting of beetroot powder.
Kajoku - Korean & Japanese Cuisine
Carnival cocktail salad - salad greens, cherry tomato and cream cheese dressed with crisp sweet potato, coconut and edible flowers with a sweet fruit cocktail dressing. Add Korean fried chicken or bulgogi beef (extra cost).
Karan-An Asian Boutique Restaurant
Filipino slow-roasted pork belly with amazing crispy crackling skin served with vegetables and savoury peanut sauce.
Koala Carte Toowoomba City
Teriyaki chicken poke bowl with carrot, avocado, cucumber, onion, egg and garlic soy sauce.
Kuro Beko
Soboro Don' set - sweet-savory ground meat, scrambled eggs, and vegetables on top of fluffy steamed rice, Soboro Don is a Japanese comfort meal for kids and adults! Served with miso soup and soft drink.
Laundry Espresso
Japanese chicken and vegetable yaki-gyozas with sweet soy and nahm jim dipping sauces.
Mouse Proof Brewing
Spring soft shell tacos with raspberry and hibiscus gose. Marinated chicken served on corn tortillas with fresh salsa, with rose water yoghurt, pomegranate and pistachio, accompanied with a seasonal raspberry and hibiscus beer.
Muller Bros
Springtime Strawberry Shortcake - house-made strawberry ice cream, with rich buttery shortbread base. Served with strawberry jelly cubes, mixed berry coulis, hot pink meringue and topped with candied edible rose petals.
Ortem
Mushroom and goat cheese tart - grilled field mushroom and goats cheese in a crispy puff pastry parcel topped with fried enoki and drizzled with an eschalot glaze.
Piccolo Papà
Salame di cioccolato - dark chocolate salami with pistachio, dried cherry, candied walnut and savioardi biscuits served with orange mascarpone and chocolate sauce.
Potters Hotel & Restaurant
Sticky pork belly pancake with fresh lime.
Rak Thai Kitchen
Deep-fried ice cream coated with shredded coconut, served with chocolate and toppings of your choice.
Relish
Scrambled eggs and avocado encased in a flaky croissant topped with spicy kimchi, fresh and fried shallots.
Rusty's Bar and Grill
Moroccan chicken burger - tender chicken breast marinated in Moroccan spices with tomato, beetroot, fresh coleslaw, pineapple, cheese and aioli, served on a toasted bun with a side of sweet potato fries.
Sage & Butler
Decadent white chocolate and lemon thyme tartlets with candied orange zest and Brenique Farm blueberries.
Savour This Eatery
House-made chargrilled kangaroo patty with house-made beetroot jam and Persian style fetta, red onion and lettuce on your choice of brioche, Turkish or gluten free roll.
Sofra Turkish Cuisine
Turkish beef kofta on pita bread with zesty sumac, herb, cucumber and onion, topped with creamy garlic yoghurt.
Stellarossa
Gordonia flower carnival pizza - baby bocconcini, grape tomatoes and pesto on a hand stretched pizza base.
Stoney the Fishmonger
Asian inspired herb salad with Thai style coconut Tin Can Bay prawns and homemade nuoc cham dressing.
Sushi Asakusa
Floral Kaisen Sashimi Donburi - sushi rice topped with salmon, tuna, tamago, seaweed salad, avocado and cucumber, served with Japanese pickled gingers and wasabi.
Sweet Talk Coffee
Mee goreng noodles, topped with pecorino, sesame, nori dust & a fried egg.
Tailgate Sports Bar
Baked potato hot dip - hot cream cheese dip with bacon, onion and cheese, served with potato skins for dippin'.
The Baker's Duck
Strawberry, macadamia and jasmine braided croissant tart.
The Coffee Club Margaret Street
Fresh croissant toasted and loaded with feta cheese, fresh avocado, egg, dressed rocket and cherry tomatoes.
The Finch
Salmon tartare - raw and smoked salmon, egg yolk, red onion, dill, lemon juice and zest, with toasted sourdough.
The Irish
Homemade Irish Stew Pie - slow cooked local lamb and veggies, creamy mash, perfect gravy, mushy peas.
The Mill Inn Tavern
Becky's Mexican chicken salad - tender chicken breast coated in special Mexican seasoning, accompanied with freshly made coleslaw.
The Other Bird
Heirloom baby roasted carrots, orange blossom honey, ancient grain salad, beetroot hummus and rice crisp.
The Plate
Honey pistachio petit gateaux - honey and pistachio ice cream with a raspberry gel centre atop a joconde sponge. Served with edible flowers, pistachio crumb and raspberry gel.
The Store Room
A delicious and stunning spring selection of five sweet treat petit fours beautifully packaged for a picnic in the park!
Urban Grounds Cafe
Harissa scrambled eggs with Spanish chorizo, beetroot labneh and grilled flatbread.
Urth Cafe & Co
Honey I'm home! - A medley of tomatoes and whipped fetta on sourdough with hints of chilli, garlic and thyme. Topped with prosciutto, a poached egg, fresh watercress, lemon and honey drizzle.
Vapiano
Pizza bruschetta - a simple fresh combination of olive oil and garlic-marinated tomatoes, fresh rocket topped with parmesan.
Wellbean Co
Salad with chicken, orange, mango, beetroot, fetta, mesclun lettuce, salad onion, and cherry tomatoes, with an orange and beetroot dressing.
Yodthai Restaurant
Bao bundle - soft charcoal bao with a combination of crispy soft-shell crab, mixed salad filling with Thai sriracha mayo sauce, tobiko and sesame seeds.
Toowoomba Carnival of Flowers will be celebrated throughout all of September. Taking centre stage will be over 190,000 flowers and local flavours, as the event blooms into a truly region-wide experience for both locals and visitors. Along with the beautiful blooms, the famous three-day Festival of Food and Wine will be held from 8 to 10 September, showcasing the best in regional produce and Australian music in Queens Park.
Toowoomba Carnival of Flowers 2023
1 – 30 September 2022
The FULL PROGRAM is LIVE at tcof.com.au
Toowoomba Carnival of Flowers – A History
Since its inception in 1949, the Toowoomba Carnival of Flowers has flourished and is now an iconic Queensland event. The brainchild of Essex Tait and the Toowoomba Chamber of Commerce, Carnival was introduced as a way for the city to use its "Garden City" reputation to promote increased economic activity following the hardships of war. On 21 October 1950, the Toowoomba Carnival of Flowers commenced with a street procession that stretched three miles in length. Led by a bullock team and watched by a crowd estimated to be 50,000 strong, it was a resounding success, as it has been ever since.
For more information contact Kath Rose & Associates on 0416 291 493 or kath@kathrose.com