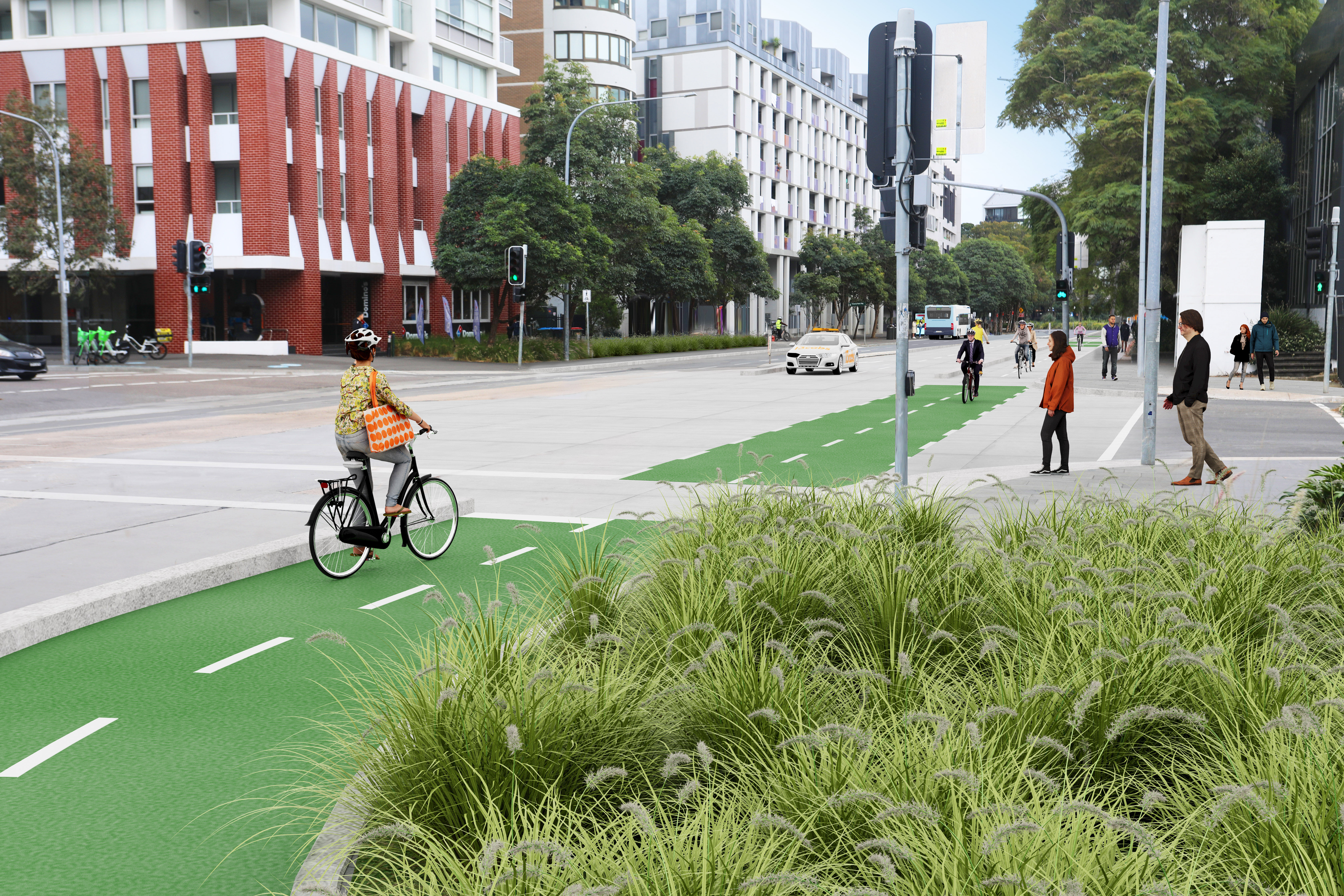 Families, workers and students will soon have more opportunities to safely get around Sydney after Council unanimously endorsed design concepts for three new cycleway projects.
Running along O'Dea Avenue in Waterloo, Wellington Street in Zetland and connecting riders between Ultimo and Surry Hills through the city centre – the projects will link to existing cycleways.
"I'm so pleased that Sydney's cycling options continue to expand. Having safe and dedicated infrastructure is exactly what our residents want, and we are delivering on that," Lord Mayor of Sydney, Clover Moore AO said.
"These connections in Waterloo, Zetland and from Ultimo to Surry Hills will support those who are already riding, but crucially it will encourage others to get active in getting around.
"We continue to expand our bike network with work already underway extending the Castlereagh Street cycleway in the city. We will soon commence the Oxford Street West cycleway project between Taylor Square and Castlereagh Street and get rolling on constructing the Glebe to Ultimo separated cycleway on Mary Ann and Kelly streets."
O'Dea Avenue, Waterloo
This project will extend the two-way separated cycleway on the northern side of O'Dea Avenue towards Bourke Street and its connections with Alexandria and Erskineville to the west, and Waterloo and Surry Hills to the north. This link will also help people getting to and from the University of NSW in Randwick by bike.
The project would reallocate one eastbound lane of traffic, remove some time-restricted parking spaces and relocate one bus stop.
Following community consultation, we are looking at possible alternatives to the design that could maintain the right turn for vehicle traffic from O'Dea Avenue into Joynton Avenue.
Ultimo to Surry Hills
Our proposed route will connect Omnibus Lane in Ultimo to the extended Castlereagh Street cycleway, and run along sections of Ultimo Road and Campbell Street with a shared path connection on George Street. The scope of the project also includes a shared path along a section of Darling Drive.
On parts of this cycling connection where vehicle traffic is low, we will build a 'quiet way' where people riding and local traffic can share the space while accessing properties and providing opportunities for widening footpaths and planting large trees.
When complete, this project will link with a new cycleway about to be constructed on Mary Ann and Kelly Streets to the city's west, offering a key east-west link through the southern part of the city.
Wellington Street, Waterloo
This link completes an important missing part of the cycleway network and will connect people riding from the George Street cycleway to the Metro station at Waterloo, which is under construction.
It proposes a separated cycleway on each side of the road. The state government will construct the cycleway to the west of Cope Street as part of the Metro station works.
The City of Sydney continues to expand the options for people to safely get around the city by bike as part of its commitment to being net zero by 2035. With more people choosing to ride, this helps reduce emissions associated with transport across the City of Sydney local area.
The City of Sydney will now begin work on detailed designs for the three projects.
For media enquiries contact Andrew Booth: 0482 530 091 or email abooth@cityofsydney.nsw.gov.au
For interviews with Clover Moore AO, Lord Mayor of Sydney contact Paul Mackay. Phone 0436 816 604 or email pmackay@cityofsydney.nsw.gov.au
For more stories from your local area, visit news.cityofsydney.nsw.gov.au
Restrictions: The City of Sydney provides access to this publicly distributed image for editorial purposes only and remains the copyright owner. No archiving, commercial use or third party distribution is permitted without prior written consent. When using content for editorial purposes, you must include the following image credit adjacent to the content: "Photographer's Name / City of Sydney"