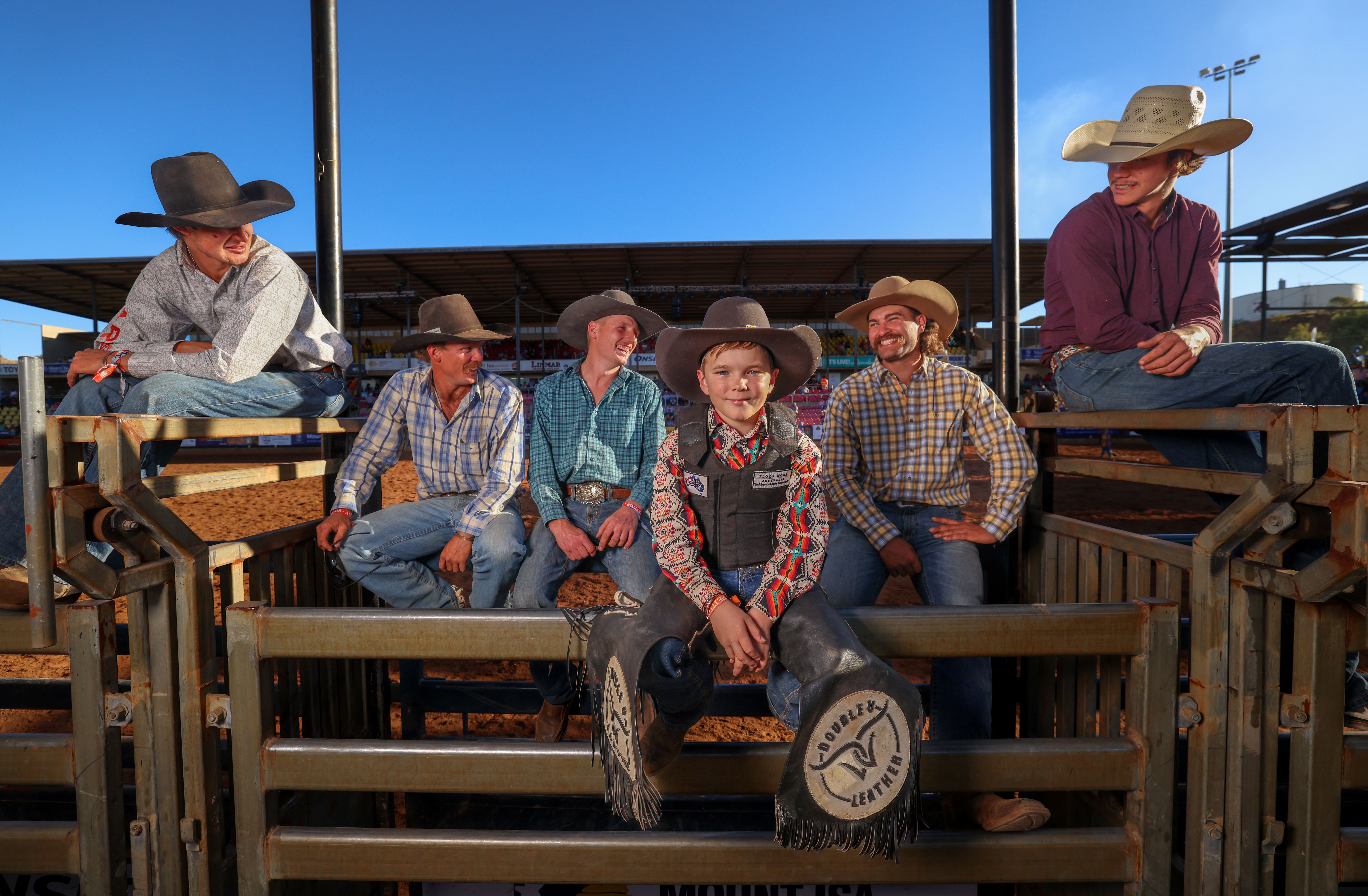 MOUNT ISA RODEO HIGHIGHTS: World's oldest competing cowboy meets the youngest, seeing double, the Prime Minister, a SPECTACULAR RIDE, and the ghost of bucks past
VISION AND STILLS BELOW…
World's oldest competing cowboy meets the youngest at Mount Isa Mines RODEO
*Images here: https://www.dropbox.com/scl/fo/9ia68unj2yl070i8127z6/h?rlkey=3t62tbf5zngpl2gtace1gsmd7&dl=0
In a wonderful Mount Isa Rodeo moment, the oldest certified competing cowboy in the world, 92-year-old Bob Holder from Cootamundra in NSW, met the youngest competitor, eight-year-old Katie Pierce from Tooma at the foothills of the Snowy Mountains. And there's more – Katie's grandfather Dave Johnston was the first cowboy EVER to ride the legendary bucking bull, Chainsaw for the full 8 seconds. Only four cowboys ever rode Chainsaw for the full 8 seconds as he was one of the greatest bucking bulls in living history. So Katie comes from pretty good stock!
Back to Bob. He's competed in rodeos for 77 years! Of course he has a proud place in the Australian Rodeo Hall of Fame and has inspired generations of riders across the country. ON Sunday he's competing at the Mount Isa Rodeo in the Over 55's Team Roping – and when he does, he's make more history!
His daughter Kerrie, who is well known in the APRA circuit and is the 2021 Mount Isa Mines Rodeo Open Barrel Champion.
Seeing double at Isa Rodeo!
There's seeing double and there's double takes – and Stacey and Mel Wilburn, better known as Stack and Mel from popular TV show, Travel Guides, are causing both at the famous Mount Isa Mines Rodeo right now! Earlier this year the twin 34-year-olds announced their departure from the TV show seven years, to focus on RODEO. They are two of the most lovable faces on Aussie TV, and are serious rodeo competitors. So series they are competing at the greatest show on dirt, the Mount Isa Mines Rodeo, the biggest and richest in the Southern Hemisphere. They said they've been around the world five times, and been in 50 eps of Travel Guides and now have a Logie under their rodeo-buckled belt! AND THEY MAY ADD MORE BUCKLES THIS WEEKEND!
*GALLERY HERE: https://www.dropbox.com/scl/fo/wwgp676vnfx3zkbwbmkz0/h?rlkey=hcqfxm80o6oh1vxk0hqcfk8jy&dl=0
From the saddle to the stands – a SPECTACULAR RIDE!
Doomadgee Cowboy Peter Jupiter went from the saddle to the stand in his bronc riding event, when his ride bucked him across the red dirt arena, and then launched him INTO THE STAND! Some cowboys will do anything for a better seat!
talks about his ride that launched him over the fence and into the stands .
AMAZING VISION - Mount Isa Mines Indigenous Rodeo Championships: https://vimeo.com/user170863801/review/853344488/54880b43e9
Meet a 10-year-old-cowboy with bucking big dreams
He's already represented Australia at the World Youth Rodeo Championships, ridden twice at the famous Mount Isa Mines Rodeo and now he's held court with the Prime Minister - 10-year superstar cowboy from Mount Isa Byron Kirk is 100 per cent serious about being a professional cowboy. This year at 'Isa he's competing in the Junior Steer Ride and the Mini Bull Ride (8 to 10 years).
Images here: https://www.dropbox.com/scl/fo/wwgp676vnfx3zkbwbmkz0/h?rlkey=hcqfxm80o6oh1vxk0hqcfk8jy&dl=0
Rodeo Ghosting – one unrideable bull, the hot sauce in his name, and the cowboy who can't forget
CHAINSAW. It's a name that still gives cowboys across the country a cold shiver. He was the famous, unrideable bull who reigned supreme across the Australian rodeo circuit between 1987 and 1994. He could spin on a two cent piece, lunge, kick all four legs in the air, and fly out of the chute and barrel role with an alite athleticism. This year, in the tribute, low 'n' slow pitmasters the Shank Brothers BBQ together with Mount Isa Mines Rodeo have created a hot sauce for the famous Hot Wing Challenge, and named it, Ghost of Chainsaw. It contains the world's hottest chilies, including Carolina Reaper, Moruga Scorpion, Habanero and Bhut Joloki.
Darren 'Brandy' Brandenburg is a legendary cowboy, he's the Stock Director for Rodeo and his bulls bring the tough bucks. HE RODE CHAINSAW FOUR TIMES and never made it the eight seconds. Chainsaw has literally ghosted him all these years, and now, there's the sauce. Luckily, he's a hot sauce lover!
The Shank Brothers' Hot Wing Challenge is legendary. Onlookers stare, transfixed with a mix of fascination and horror, as they watch iron-stomached masochists compete to eat as many hot wings, until only one champion is left standing. It's the literal Hunger Games. Shankie Ralph Barnett said the Ghost of Chainsaw sauce is guaranteed to knock rodeo goers on their butts in less than eight seconds flat. "Making the sauce felt like building a nuclear bomb," he said. "It's full of pain and suffering."
Images toplink
THE Prime Minister and the Premier
Yesterday Prime Minister Anthony Albanese and Queensland Premier Annastacia Palaszczuk visited. They met young rodeo riders and a few legends, walked in the famous red dirt of Buchanan Park Arena and soaked up an atmosphere you can only get in the Outback at this epic event. Vision and imagery the top links.
RODEO IS GO! A record number of riders are battling for buckles this weekend at the Mount Isa Mines Rodeo. It's another one for the record books, with more riders, more spectators and more bucks than any other year! Anchored by the Southern Hemisphere's largest rodeo and the third largest rodeo in the world, rodeo takes place in the famous red dirt of the Australian Outback through to Sunday. It's finals night tonight and then, THE ANGELS, back to where the origin of the crowd response to 'Am I ever Gunna See your Face Again" started!
On Thursday the second annual Mount Isa Mines Indigenous Rodeo Championships took place with a record 119 competitors entered across all eight events in rodeo, and Jessica Mauboy rocked the stage.
TODAY it's the Mount Isa Mines Rodeo, and competition will be fierce among the 941 entrants with the country's best cowboys and cowgirls competing, some travelling more than 2,000km for the opportunity to ride in the famous red dirt arena of Buchanan Park.
Two-time All Round Australian Champion and going for four in a row as Mount Isa Mines Rodeo All Round Champion, Campbell Hodson from Charters Towers returns to defend his crown, as does reigning All Round Cowgirl, Leanne Caban. They are joined by defending Bull Ride Champion, Barcaldine's Jackson Gray, the Open Ladies Breakaway Champion Sharon McGuire, and young Wylie Roots who took out the Mini Bulls buckles in 2022!
It's all about girl power this year with a record number of female entries with almost 200, 18+ riders: 98 in the Ladies Barrel Race, and 97 in the Ladies Breakaway Roping. In 2022, there were 173 18+ female riders: 92 in the Ladies Barrel Race and 81 in the Ladies Breakaway Roping.
ALL of the top five All Round Cowgirls in the national rankings will ride in 'Isa – that's Leanne Caban, Ellie Gard, Tayla Pierce, Maddison Caban and Alyesha Burford!
Just as competitive will be the Junior events, with a record number of riders and nine of the top 10 junior riders in the country competing, led by Jayden Kenny.
Jayden's father Shane Kenny is rodeo royalty, having won more Australian Bareback titles than any other ever, and a 13-time Rope and Tie champion, 4-time Ariat Australia Pro Team Cowboy, 4-time Steer Wrestling Champion, and 4-time Team Roping Champion. In fact, they are competing against each other in some events.
In a wonderful rodeo moment, Bob Holder, the certified Oldest Competing Cowboy in the world is returning to Isa after having been unwell in 2022. He's competing in the Over 55s Team Roping in what will make international rodeo history.
And at the other end of the age spectrum, the crowd will surely all stand when 10-year old Mount Isa cowboy Byron Kirk rides in the Junior Steer Ride and the Mini Bull Ride (8 to 10 years). He and fellow junior, 16-year old Cade Ferguson will both be fresh off the plane from representing Australia in the World Youth Rodeo Championships in Texas!
Famed Low 'n Slow Pitmasters, The Shank Brothers will launch their hot sauce named The Ghost of Chainsaw after the famously unrideable bull, and will host their Hot Wing Challenge over the weekend. Calling all heat lovers!!
Statistics released by Tourism and Events Queensland found that in 2022, Mount Isa Mines Rodeo generated overnight visitor expenditure of $10.0 million for Queensland. The event was responsible for more than 33,000 visitor nights in Mount Isa, with most of these nights from intrastate visitors who travelled more than 40km from their home. Mount Isa Mines Indigenous Rodeo Championships similarly generated $1.3 million, and more than 4,000 visitor nights in Mount Isa.
It's official, rodeo is incredible!
This event is supported by the Queensland Government, via Tourism and Events Queensland.
The Queensland Government is the Principal Partner of the Mount Isa Mines Indigenous Rodeo Championships.
Contact details:
Kath Rose
0416 291 493
kath@kathrose.com