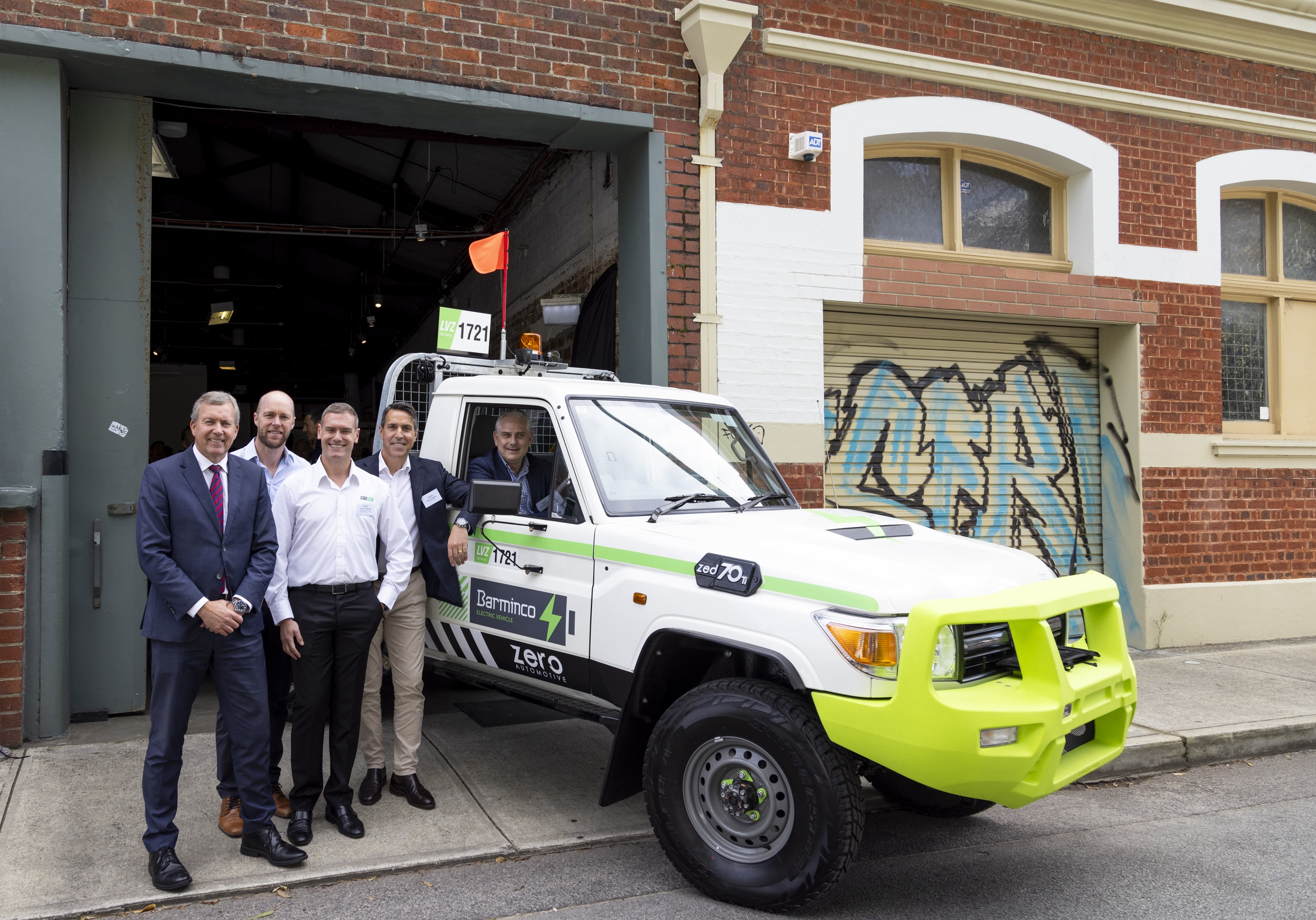 The second generation zero-emissions ZED70 Ti is the safest and toughest light electric commercial vehicle available for the mining industry.
Based on the Toyota LandCruiser 79 Series, the model comes with five years of development in harsh underground conditions.
In direct response to industry demand for the ZED70 Ti, CarBon Leasing & Rentals confirms it will add 200 to its Lease roster.
ZERO Automotive, specialists in electrified light vehicles for the mining space, has unveiled its second-generation Toyota LandCruiser 79 Series-based ZED70 Ti, which features an unprecedented 50 per cent more power, with fast charging in under half an hour.
Founded in Adelaide in 2018, ZERO Automotive's aim is to produce the world's safest and toughest electric underground vehicle, with the company's founder Dave Mitchell using his extensive engineering background to shape the future of the space.
Barminco, one of the world's largest hard rock underground mining services companies, has signed on as the first customer to accept delivery of the model, while CarBon Leasing & Rentals, Australia's leading zero emissions leasing company has confirmed an order of 200 ZED70 Ti's to be added to its leasing roster, commencing quarter four in 2024.
CarBon Leasing & Rentals CEO Scott Gillespie said: "Mining operations across Australia are facing increasing pressure to transition their fleets to meet ESG targets and the Zero ZED70 Ti represents a new opportunity to do this in the light commercial space.
We've already received a great deal of interest and look forward to deploying these innovative EVs next year to a range of customers," he said.
The design features ZERO's proprietary HEPS (Hazardous Environment Protection System) underbody armor protection, which will help to dramatically increase the longevity and safety of the vehicle's chassis in underground applications.
HEPS will also be available as an upgrade for current diesel-powered vehicles.
Demonstrating ZERO Automotive's commitment to the market, the company has recently enlisted zero-emissions vehicle industry leader Joe Di Santo as its new CEO, amidst wide-ranging expansion plans.
"Across the board, mining companies have a desire to lower their environmental impact, ZERO Automotive has been working side by side with many in the industry to provide a solution that caters to the very specific needs of underground mining," said Mr Di Santo.
"Following five years of development, and two years with prototype vehicles under test by Barminco and AusMinerals, we couldn't be prouder to officially unveil the ZED70 Ti.
"Underground mining is an incredibly tough environment for vehicles, and we know we have gone above and beyond to develop this ADR approved package that is up for the task.
"For instance, our HEPS solution can withstand use in highly corrosive environments, which will genuinely increase the longevity and safety of the vehicles in the long term.
"Ultimately, the goal for ZERO Automotive is to become a leader in electrified vehicle drivelines, which is why we are working with trusted industry partners such as ZERO's Lithium Titanate Oxide (LTO) battery supplier Toshiba, as we look to continue to develop quality solutions that will improve the sustainability of mining."
The groundbreaking deal between ZERO and CarBon, marks a significant step towards assisting the mining industry in achieving its zero emission goals while also optimising return on investment.
"We know that vehicle life span is a determining factor when it comes to fleet choices for the underground mining sector, the benefits offered via our innovative partnership with CarBon coupled with our HEPS solution, is the perfect example of how responsible business practices and economic success can be achieved."
Under the bonnet, the ZED70 Ti features a Toshiba 60kWh Lithium Titanate Oxide (LTO) drive battery, which retains over 70% capacity after 20,000 full-use cycles.
The architecture features 22kW Level 2 onboard fast charging and is enabled for Level 3 DC ultra-fast charging, which with a 160kW charger, results in a charging time of less than 25min.
The 3 Phase asynchronous electric motor is complete with regenerative braking, with a peak power of 200kW and a peak torque of 1,200Nm.
With a focus on safety, the system features an isolator switch, manual service disconnect, a full battery management system, automatic electrical isolating contactors, multiple mechanical HV isolators, fast-acting fusible links, an insulation monitoring device, and an eBrake.
All important functions of the vehicle can be monitored by the GeoTab telematics platform.
Based on the single or dual-cab Toyota LandCruiser 79 Series, the ZED70 Ti features many of the legacy systems that have given the model an outstanding reputation in the mining field, with items such as the transfer case, front and rear suspension, brakes and rear differential carried over from Toyota.
For further information, visit www.zeroautomotive.com.au.
Contact details:
For further information or to arrange an interview with ZERO Automotive CEO, Joe Di Santo, please contact:
Maree Mellett
0414 609 006