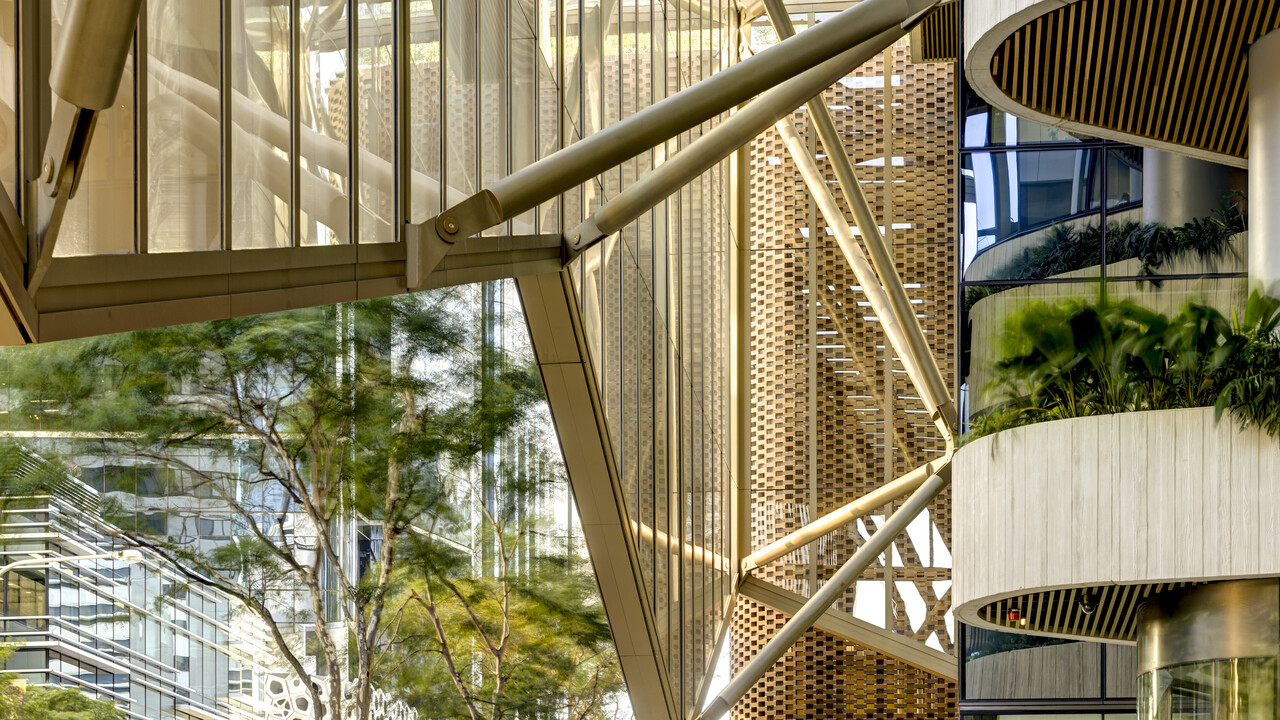 Brisbane (September 8, 2023) — AECOM, the world's trusted infrastructure consulting firm, today congratulated client Mirvac on achieving an Australian first – a 6-Star Green Star Buildings v1 certified rating from the Green Building Council of Australia (GBCA) for Heritage Lanes at 80 Ann Street in Brisbane. AECOM provided the project's sustainability and wellness consultancy services, BIM, and structural and civil engineering.
Heritage Lanes at 80 Ann Street is a 74,000 square metre, 35-storey premium office tower in Brisbane's CBD. It celebrates place and heritage, retaining elements of the original Brisbane Markets from 1906 while creating more sustainable community-centred spaces.
"We are proud to see Heritage Lanes attain a world-class 6-Star Green Star Buildings certification and to have played an important role in delivering this groundbreaking project that sets the benchmark for sustainable infrastructure," said Richard Barrett, chief executive for Australia and New Zealand at AECOM. "Through our Sustainable Legacies strategy, we are committed to helping our clients deliver projects that leave a positive, lasting legacy for our planet."
As the sustainability and wellness consultant, AECOM worked with Mirvac to implement innovative design and procurement initiatives to improve environmental outcomes across the entire operation of the building, including:
Redesigning sub-stations and switchboards to allow for all-electric cooking, heating, and increased electric vehicle charging facilities (future provision of 40 percent of car spaces).

Procuring lower carbon concrete, resulting in a 26 percent reduction in upfront carbon compared to a standard practice GBCA reference building.

Using a power purchase agreement, 100 percent of the base building electricity and over 50 percent of the tenants' power is renewable.

Redesigning chiller plant with lower carbon HFO refrigerants and offsetting climate impacts from all other residual refrigerants in base building split air-conditioning units, refrigerators, and freezers.

Commencing rehabilitation on eight hectares in the Little Liverpool Range, QLD, to restore cleared farmland to its pre-development biodiversity, equivalent to the building's gross building area from cleared farmland to its pre-development biodiversity.

Maximising the available accessible space to the community, the lobby was elevated above ground level. The ground level features a porte-cochere, landscaping, beehives, bush tucker garden, and a market hall, which the wider Brisbane community can book.

Conducting a Social Return on Investment Study on the project, aligned with the new Green Star Buildings rating, identifying the net positive economic benefit to local and global society derived from sustainability initiatives, including natural-capital, occupant health benefits and tenant productivity.
About us:
About AECOM
AECOM is the world's trusted infrastructure consulting firm, delivering professional services throughout the project lifecycle – from advisory, planning, design and engineering to program and construction management. On projects spanning transportation, buildings, water, new energy and the environment, our public- and private-sector clients trust us to solve their most complex challenges. Our teams are driven by a common purpose to deliver a better world through our unrivaled technical and digital expertise, a culture of equity, diversity and inclusion, and a commitment to environmental, social and governance priorities. AECOM is a Fortune 500 firm and its Professional Services business had revenue of $13.1 billion in fiscal year 2022. See how we are delivering sustainable legacies for generations to come at aecom.com and @AECOM.
Contact details:
Alison Gillies
Head of Communications
+61 466 297 408
alison.gillies@aecom.com