From 5pm to late on Thursday 5 October Big Games Night Out invites Victorians and visitors to come together in Melbourne's iconic Fed Square and surrounds for an immersive night of digital games, music and cosplay.
Presented by Creative Victoria in partnership with Fed Square as part of Melbourne International Games Week, Big Games Night Out is a free, accessible and all-ages event welcoming families and gamers from all walks of life – curious, casual, social to hardcore – to come together and celebrate amongst a spectacle of games, technology and play.
The full program line-up includes the not-to-be-missed Cosplay Parade and Runway Experience hosted by Myf Warhurst and pop star and Twitch streamer Montaigne, the Stray Gods Fashion Show, live performances from Tripod, plus games activations, tournaments, games swap meet, intergenerational games meet, prizes and more.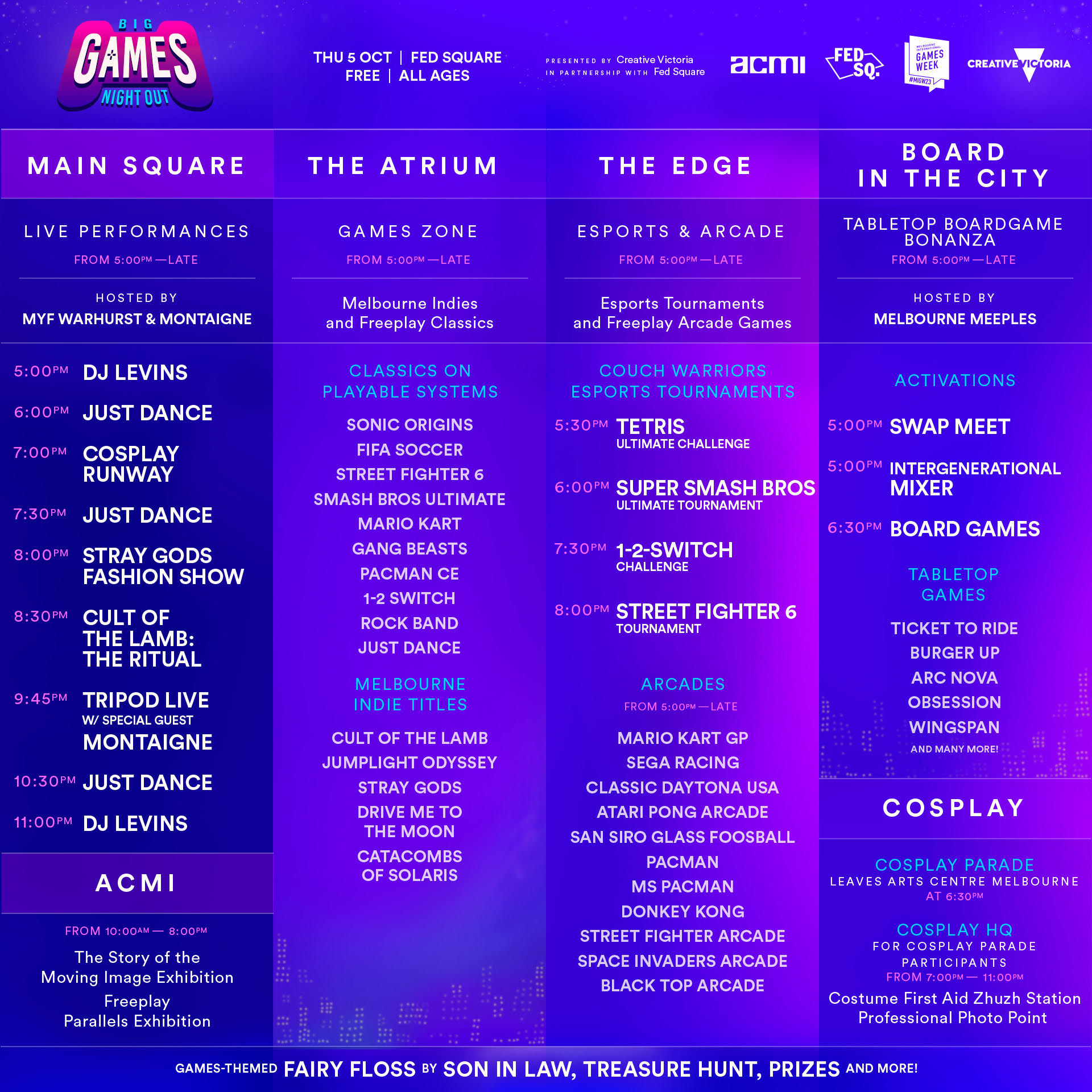 The Main Square will come alive with music, games and projections, with DJ Levins kicking things off at 5:00pm, Just Dance at 6:00pm leading into the Cosplay Runway at 7:00pm. Then it's more from Just Dance before the Stray Gods Fashion Show starts at 8:00pm.
Cult of the Lamb: The Ritual will begin in the Main Square at 8:30pm, with a live DJ performance by River Boy, giant animated projections featuring your favourite characters from the hit game, and large-scale puppets and performers roaming around Fed Square bringing the game to life.
From 9:45pm, get down to the Main Square to see a live performance from Tripod and special guest Montaigne.
In the Atrium's Games Zone, play the classics like Pac-Man Championship Edition, FIFA Soccer, Street Fighter 6, and Mario Kart; or try your hand at Melbourne's indie games like Stray Gods, Drive Me To the Moon, and Catacombs of Solaris.
The Edge will host a number of esports tournaments, alongside a bevy of beloved arcade games like Sega Racing, Space Invaders, Donkey Kong and more. With a mix of old-school arcade machines and screens to play multiplayer Switch games, there's a huge selection of retro and nostalgic games available to play for free, plus a special intergenerational arena for young and mature gamers to play and learn together in partnership with the Victorian Seniors Festival.
For lovers of tabletop games, Melbourne Meeples will be hosting a tabletop board game bonanza, plus Board in the City will be set up for individuals and groups to play Ticket to Ride, Burger Up, Obsession and more.
The Swap Meet gives gamers a chance to find their next challenge by swapping their old games for something new and revelling in some old-school nostalgia.
Exhibitions at ACMI will also stay open late (until 8:00pm), where you can see The Story of the Moving Image and lots of amazing local indie games at the Freeplay Parallels exhibition.
Whether you play games once a week or once a year, Big Games Night Out is a special opportunity to experience Fed Square like never before as it transforms into a playful paradise.
Big Games Night Out and MIGW are part of a Creative October – a bigger-than-ever series of creative events taking place across the state across the month with the support of the Victorian Government.
Big Games Night Out is funded by the Melbourne City Revitalisation Fund, a partnership between the Victorian Government and the City of Melbourne.
Key Facts:
Big Games Night Out is on Thursday 5 October from twilight to late, as part of Melbourne International Games Week delivered by Creative Victoria.
Visit gamesweek.melbourne/big-games-night-out to learn more
Sign up for the Cosplay Parade here
Melbourne International Games Week is an initiative of the Victorian Government, delivered by Creative Victoria in partnership with VicScreen, ACMI and IGEA. Events will be held from 30 September – 8 October 2023. For more information visit gamesweek.melbourne
About us:
Melbourne International Games Week is an initiative of the Victorian Government, delivered by Creative Victoria in partnership with VicScreen, ACMI and IGEA. Events will be held from 30 September – 8 October 2023. For more information visit gamesweek.melbourne
Contact details:
Terri King at Pitch – terri@pitchprojects.com or 0488 036 740
Bec Bridges at Pitch – bec@pitchprojects.com or 0405 655 245
Program info: gamesweek.melbourne
Stay informed and connect: @GamesWeekMelbs
Images available here
Venue map and timetable available here