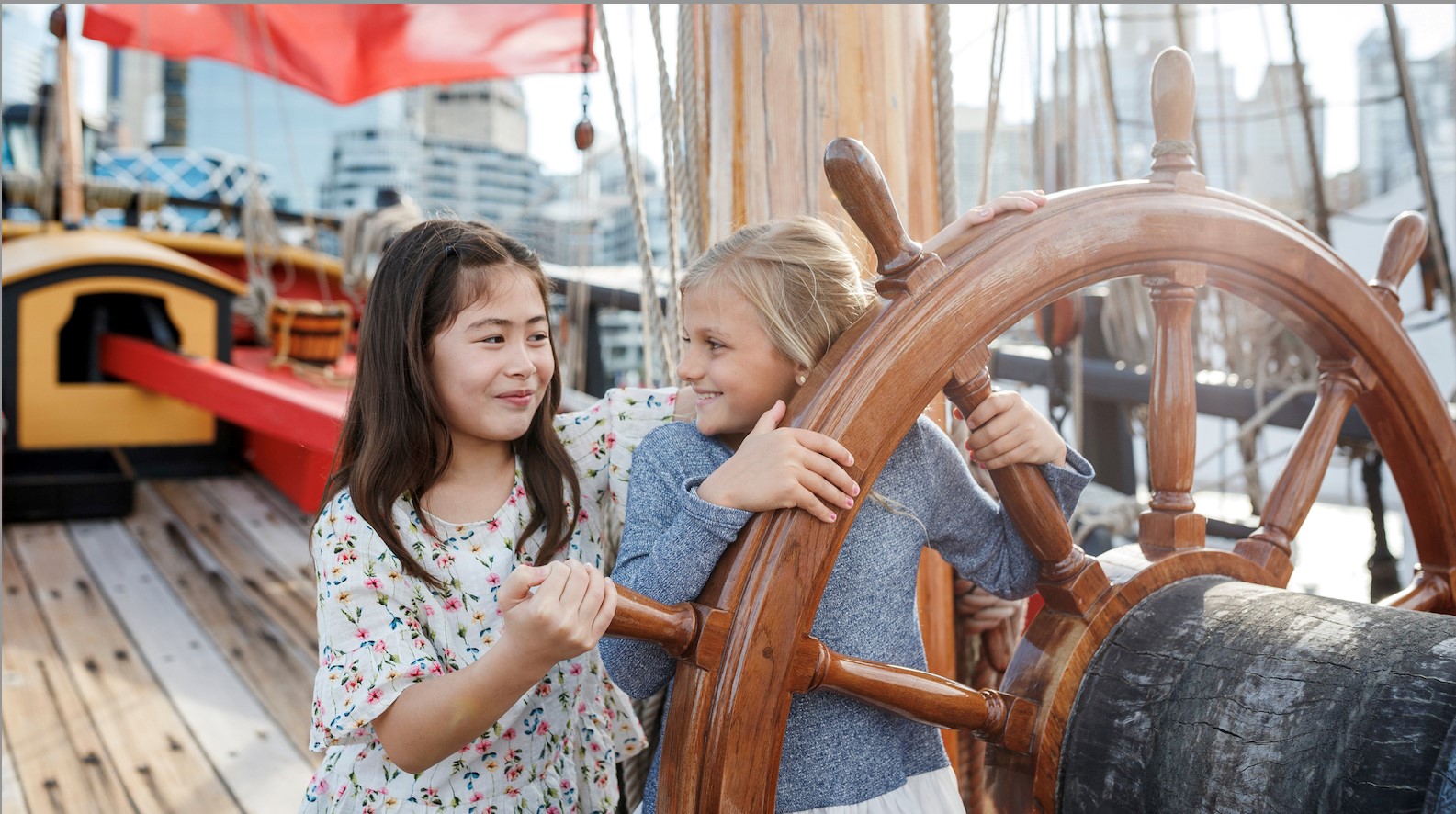 Spring school holiday programs 24 September - 8 October 2023
The Australian National Maritime Museum will buzz this spring with exhibitions, vessels, hands-on workshops, themed creative activities, films and more.
It's a whole day of fun for the whole family with oceans of fun things to do every day!
Explore our EXHIBITIONS (Mana and Baru and Wildlife Photographer of the Year), get hands-on with creative artmaking and experiments in our KIDS ON DECK activity space, explore touchable objects and specimens at the CABINET OF CURIOSITIES, climb on board the Museum's fleet of VESSELS, relax with a FILM SCREENING, adventure on our SEA COUNTRY ACTIVITY TRAIL and discover innovative solutions to plastics pollution at the SEABIN OCEAN HEALTH LAB.
We will also have drop-in WEAVING & STORYTELLING, ROVING PERFORMANCES, UNDER 5s TOURS, UNDERWATER DRONES, CREATIVE WORKSHOPS and more.
KIDS ON DECK - SALTWATER STORIES - Play, artmaking and discovery
Enjoy creative capers, hands on experiments and art making inspired by the MANA and BARU exhibition, Saltwater stories and the science of ocean conservation.
Sculpt, collage and weave your own amazing artworks and take home slippery and spectacular science experiments.
Open 10.30am – 4pm daily
Included in any paid museum entry ticket

Free for members/ annual pass holders

All ages welcome. Recommended for ages 4-12 and carers

No bookings required
BAMAL GALLERY
Story Sundays and Weaving Wednesdays
24 Sept -8 Oct
Join in creative cultural activities for all ages facilitated by First nations artists and elders- storytime, music and weaving workshops
Free entry

No bookings required

11am – 3pm

All ages welcome
CREATIVE WORKSHOPS for 8-14 yrs
Young Inventors (1 day workshop)
Wednesday 27 or Thursday 28 September
10am – 4pm
Experiment with engineering creations that move, float, fly and spin. Learn about different vessels and how they work, then invent your very own! Explore the basics of mechanical engineering in a day of fun with this engaging workshop inspired by current exhibitions.
Bookings essential

$65 members or early bird

$75 general
* This course is eligible for creative kids vouchers
Rock the Boat Music video (2 day workshop)
Wednesday 4 – Thursday 5 October
10am – 4.30pm
Create and star in your own imaginative music video inspired by our vessels and exhibitions. Learn clever techniques in music production, directing and choreography with professional composer James Brown, renowned for his work in creating scores for theatre shows, exhibitions, films and television. Have your finished work featured in a special event screening for family and friends.
Suitable to all levels of experience.
Cost: $150 / $130 members/ earlybird

Bookings essential
* This course is eligible for creative kids vouchers
SEABIN OCEAN HEALTH LAB
The Seabin Ocean Health Lab is the first of its kind in the world, Seabin scientists analyse marine debris – from macroplastics to tiny nurdles, sucked from the sea by the 30 Seabins stationed around Sydney Harbour. Dive deep into the stories behind the data and learn about what we can do to turn the tide on marine pollution.
Open for tours: daily in school holidays
Recommended ages 5 to adult
Free entry

Check tour times and activities on the day of your visit.
CABINET OF CURIOSITIES- SALTWATER STORIES
Explore wonderful and curious specimens, tools, art works and materials in this hands-on activity in our galleries.
10.30am – 11.30am, 2–3 pm
Daily in school holidays
OPEN AGE WORKSHOPS
Underwater Drones (Ages 8 to adult)
Game on! Explore below the surface of the harbour with our underwater drones. Have fun testing your gaming skills by challenging family and friends to see who's the best U-Drone Pilot.
Underwater drones sessions include a private workshop with our ocean-science educators and access to amazing underwater footage highlights to keep and share
Sundays 24 September 1, 8 October
Tuesdays 26 September and 3 October
Sessions: 12pm, 12.30pm, 1pm, 1.30pm, 2pm, 2.30pm
Drones workshops are suitable for wheelchair users.

Drone workshop sessions can cater to for 1 person per session or a group of up to 4 players (family/friends) may share a session.

$30 general/ $20 members (includes See it All museum admission for one player)
SEA COUNTRY ACTIVITY TRAIL
Explore amazing works by Aboriginal and Torres Strait Islander artists these holidays with fun and creative activity trails around the museum.
Free with entry

Available every day from 24 September
ROVING PERFORMANCE
Bubble- art and science
Encounter clever characters and fun physics as performing artists and science communicators unlock the wonders of everyone's favourite experiment- bubbles! Learn about the relationship with light, water, weather and gravity as you play and experiment with gorgeous gigantic bubbles.
Roving sessions 11.30am, 12.30pm, 1.30pm
Sundays, Tuesdays, Wednesdays, Thursdays 24 Sept – 8 Oct
All ages

Free with museum entry

No bookings required
Mini Mariners (2-5 years and carers)
SEPTEMBER – Alphabet Animals
Tuesday 26th and Saturday 30th
Session 1: 10:30am - 11:15am
Session 2: 11:30am - 12:15pm


A is for anemone, Z is for Zebrafish. Take a journey through the alphabet of all things furry, feathered and finned as we spot amazing animals in the Wildlife Photographer of the Year exhibition. Enjoy touch tours with creature specimens, movement, music, games, craft and free play in our themed activity space.
OCTOBER – Drip, Drop, Splash!
Tuesday 3rd and Saturday 7th
Session 1: 10:30am - 11:15am
Session 2: 11:30am - 12:15pm
Swish, Bubble, Splash and Dive into the wonderful world of water in a character guided through the museum galleries. Discover stories about water and how we use it every day. Sing songs, enjoy messy play activities and make your own bubble painting to take home.
Child $12. Adult $8 Members FREE.

Booked playgroups welcome.

Online bookings essential
Further program information can be found at www.sea.museum/whats-on/events/school-holidays
For images click here Media images
Media contact: Steve Riethoff e: steve.riethoff@sea.museum m: 0417 047 837