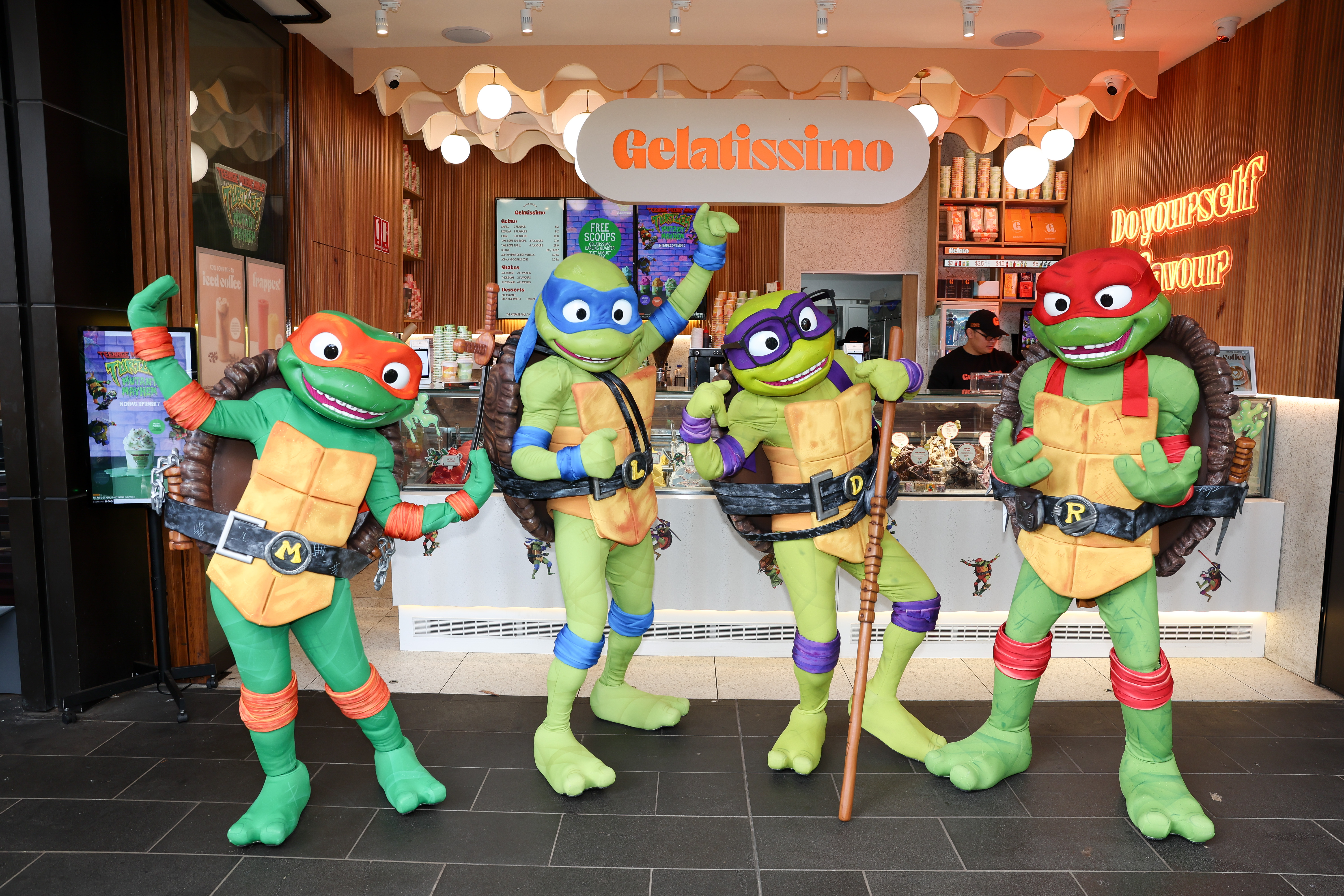 Join in on the fun with Gelatissimo's newest collaboration to celebrate the release of Teenage Mutant Ninja Turtles: Mutant Mayhem, in cinemas September 7. Gelatissimo are unleashing an army of flavour obsession to celebrate with 5 awesome flavours: Mutant Madness, Donatello's Dragonfruit and Lychee, Leonardo's Lolly Wonderland, Raphael's Raspberry and Michelangelo's Mango.
Get ready to unleash a taste sensation that will awaken your inner hero with their limited-edition Mutant Madness Gelato. Brace yourself for a mouth-watering adventure as you dive into a 'radioactive' sour green apple gelato, oozing with turtally awesome sprinkles. It's bound to be a hit among lean, mean and green ninjas and their human friends alike.
Each turtle has carefully chosen their favourite gelato flavour to help unleash their turtle powers. Get ready to go turtally wild for Raphael's Raspberry or embrace the powers of Michelangelo's Mango. Donatello has wisdom... and Dragonfruit and Lychee Sorbet! Or step into Leonardo's Lolly Wonderland, where sweetness meets ninja skills... All served up in limited edition Teenage Mutant Ninja Turtles cups and cone holders (whilst stocks last).
"Teenage Mutant Ninja Turtles are loved by all generations. We are extremely excited at Gelatissimo to be partnering with such an enduring, iconic and loved brand. Personally, I can't wait to go wild with Raphael's Raspberry, one of my favourites too!" says Brad Richter, GM Marketing & Product Development Gelatissimo.
To celebrate the campaign, Gelatissimo hosted a FREE scoop event at their Darling Quarter (NSW) store on Thursday 31st of August from 3-6pm giving out over 1,000 scoops in only 3 hours! Donatello did not take his cravings lightly with fans selling out Donatello's Dragonfruit and Lychee in record time, followed closely by Michelangelo's Mango! With long lines and excited families who had the chance to snap a shell-fie with Leonardo, Donatello, Raphael and Michelangelo while enjoying their free scoops of their limited edition Teenage Mutant Ninja Turtles: Mutant Mayhem flavours, fun was had by all.
Want another reason to shout Cowabunga!? Straight from the turtle lair, Gelatissimo are giving you the chance to pocket a staggering $5,000 cold hard cash*. To enter, simply head to the link below, embrace your inner hero and let the turtles guide you to that sweet $5k. Enter Here.
Feeling that turtle power? Consumers can head into any Gelatissimo store Australia wide dressed as your favourite Ninja Turtle to score yourself a free scoop of any of their Teenage Mutant Ninja Turtles: Mutant Mayhem flavours until October 5th. Available via the Gelatissimo Club Gelato app only.
All 5 flavours are available in Gelatissimo's 46 Australian stores for a limited time only while stock lasts.
If you would like to taste any of these Turtle Powered flavours please contact Gelatissimo at marketing@gelatissimo.com.au
*T&C apply. Visit www.gelatissimo.com.au for more details.
Website: gelatissimo.com.au
Instagram: @gelatissimogelato
Facebook: @gelatissimoau
About us:
About Gelatissimo
Since opening in Sydney in 2002, Gelatissimo has been proudly bringing its flavour obsessed approach to gelato to every occasion. Mixing the freshest and finest quality ingredients with traditional techniques, a splash of imagination and global inspiration, Gelatissimo serves experiences with a difference you can taste. Quality ingredients and pure indulgence made the Australian way. Gelatissimo is now available in 46 stores throughout Australia and in 22 overseas locations including Singapore, Philippines, Saudi Arabia, Bangladesh, the USA and Thailand, with their inspired approach to everyone's favourite Italian treat creating Gelatissimo moments, all over the world.