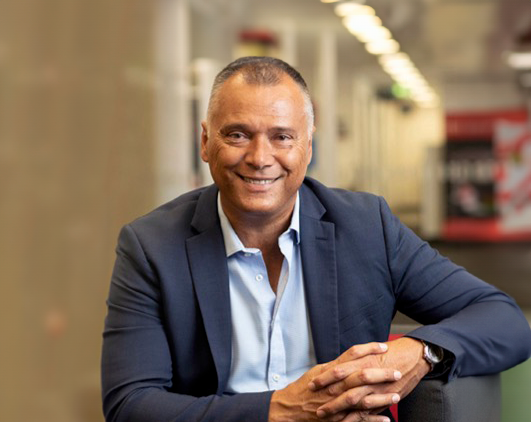 Critically acclaimed journalist, author, radio and television presenter, documentary film maker and Wiradjuri and Kamilaroi man, Professor Stan Grant Jnr will deliver the 22nd Vincent Lingiari Memorial Lecture at Charles Darwin University (CDU).
The Vincent Lingiari Memorial Lecture is held annually by CDU and commemorates the historic Wave Hill Station walk-off led by Gurindji leader Vincent Lingiari in 1966. Over 200 Aboriginal workers and their families protested appalling pay and living conditions on Vesty's station.
This landmark event was a catalyst for First Nations people not only in the Northern Territory but also across Australia to have their rights to traditional lands recognised and for those lands to be returned.
It also inspired national change for equal wages and conditions for First Nations workers.
Professor Grant's lecture titled "Two kinds of time: how we can meet each other again in Australia" will explore the clash of understanding between European notions of time, measured in progress and production, vis a vis First Nations' concept of circular time, an "everywhen" that is imbued with meaning.
In his lecture, which is inspired a poem by Aboriginal artist David Mowaljarli, Professor Grant will unpack how this rupture of time disjoints us and suggests if all we have is history, then we are condemned to conflict.
Importantly, he also asks, can we reimagine the time and space between and meet each other again in Australia?
Professor Grant said the biggest challenge of our age is living with the weight of our history.
"Every war I have covered as a reporter emerges from a rupture of time. We live in a world where difference defines us yet as Einstein said the great tragedy of humanity is the illusion of separation. I need to put time right," Professor Grant said.
For more than 30 years Professor Grant has worked as a highly respected member of the media including working with outlets such as ABC, SBS and CNN International.
Professor Grant is also an award-winning author and documentary director having written and featured in a full-length documentary titled 'The Australian Dream' which looks at the role racism played in the demonisations of Australian Rules Footballer Adam Goodes.
His many years of international reporting has provided a deep understanding of the politics and history of Asia and the Middle East and resilience of their people.
He was recently appointed as the Director of the Constructive Institute Asia Pacific and Professor of Journalism at Monash University.
Professor Grant said it is an honour to deliver the Vincent Lingiari Memorial Lecture.
"Vincent Lingiari is an inspiration and someone who made our nation better and brought the peoples of Australia closer together," Professor Grant said.
"This is a critical opportunity to speak with love and generosity at a time when our nation needs the best of us."
"Vincent Lingiari showed us what is possible. He showed us that we can be better. That persistence and courage can win."
CDU's Deputy Vice-Chancellor of First Nations Leadership & Engagement, Professor Reuben Bolt said the Vincent Lingiari Memorial Lecture provides an opportunity for the community to gather and commemorate a key moment in Australian history.
"CDU is proud to hold the Vincent Lingiari Memorial Lecture as a way to honour Vincent Lingiari's legacy, leadership and the events of 1966, and to also recognise the important advancements made since that landmark protest," Professor Bolt said.
"However; we understand that there is still much work to be done to strengthen the relationship between First Nations and non-Indigenous peoples to better recognise the rights of First Nations peoples."
"All of us at CDU are very much looking to listening to Stan Grant's insightful lecture and commemorating a key figure in the history of First Nations land rights."
Last year's Vincent Lingiari Memorial Lecture, which was held on Gurindji Country for the first time, was delivered by author, union official and advocate for the Uluru Statement from the Heart, Thomas Mayo.
Mr Mayo paid homage to Vincent Lingiari and highlighted the learnings from the courage of the Gurindji people. A full list of previous lectures can be seen here.
The 22nd Vincent Lingiari Memorial Lecture will be held at CDU's Mal Nairn Auditorium at the Casuarina Campus on Friday 6 October.
To attend the lecture please register here.
Contact details:
Emily Bostock
Acting Research Communications Officer
T: +61 8 8946 6529
M: 0432 417 518
E: media@cdu.edu.au