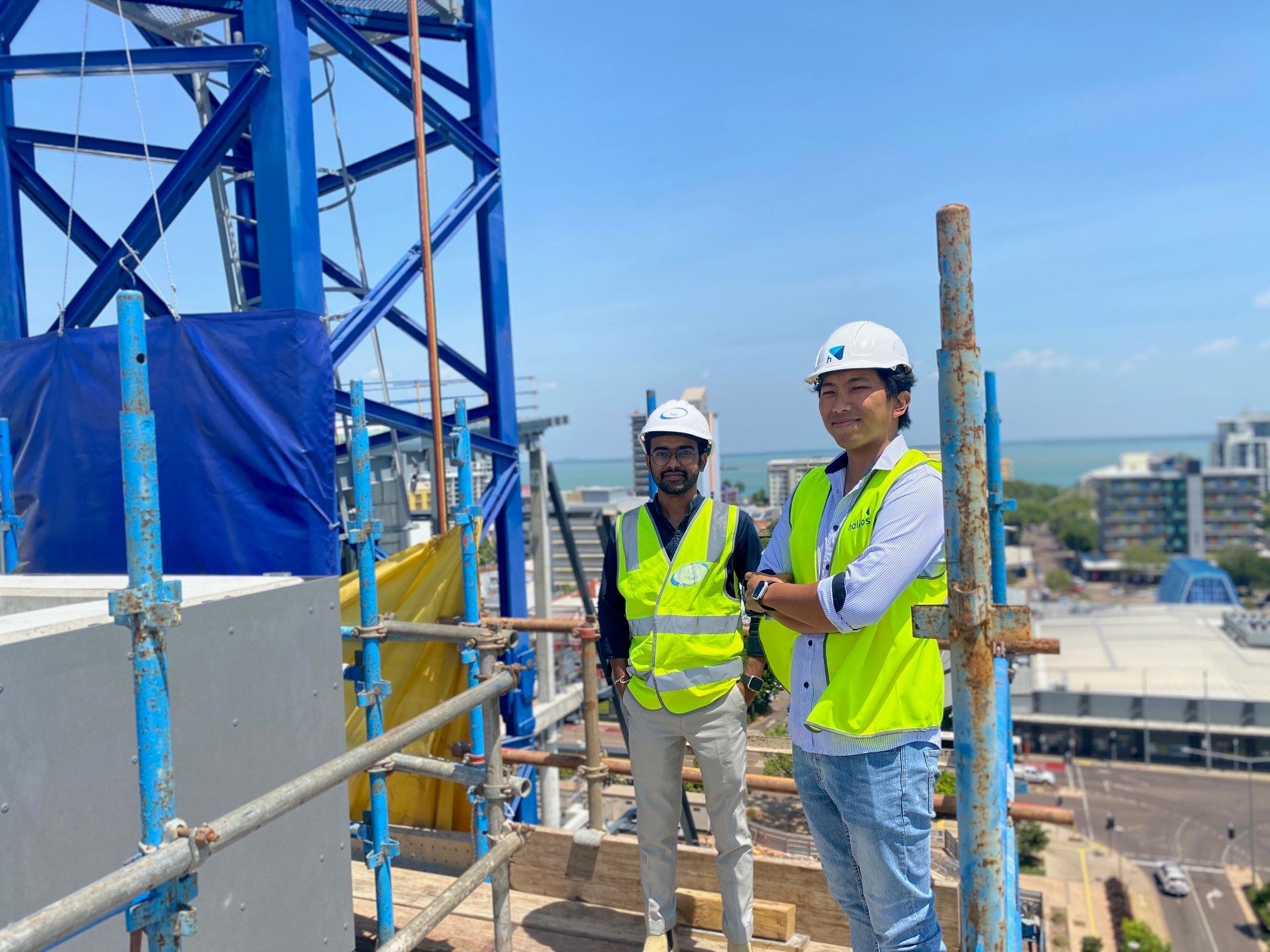 Two Charles Darwin University (CDU) students are laying the foundations of their careers in engineering, while also helping to build the University's future.
CDU's Education and Community Precinct will be the home of future students, and right now Master of Engineering students Kevin Gondaliya and Allen Glo are helping to build it.
In his final year, Mr Glo has taken his knowledge of civil and structural engineering to the next level by interning with Darwin-based construction company Halikos Group.
"My education in civil and structural engineering from CDU is coming to life," Mr Glo said.
"This has been an invaluable hands-on experience. What I have learnt about structural integrity and materials science is being applied to a real-world project, right here in Darwin. I'm very grateful that God has blessed me with organisations like Halikos and CDU to help kickstart my career."
Also known by the Larrakia name Danala, the city campus is currently being fitted out with walls and ceilings progressing internally, the external façade and roofing works continue to make visible progress, and external landscaping and public realm works have also commenced.
Mr Glo said he initially thought of going into engineering design, but his involvement in the project has broadened his interests in project management and construction.
"One of my goals in life is to be able to point at a building and say that I played a part in its construction – the fact that my first project is CDU's new campus is already a great achievement."
Specialising in mechanical engineering, Mr Gondaliya is in his second year of study and has been interning for the past three months with infrastructure consultancy Capital Insight, who have been advising CDU as Project Director and Project Manager since commencement of the planning phase.
"I've never worked in construction before so I've learnt something new every day, whether it's how to do a site observation or progress report, manage competing priorities, or work with a team," Mr Gondaliya said.
"The support of my mentors has allowed me to sharpen my skills in mechanical engineering and gain a better understanding of project planning, including safety and quality assurance. I'm thankful to CDU and Capital Insight for giving me this golden opportunity."
CDU Vice-Chancellor Professor Scott Bowman said the city campus will revitalise Darwin's education potential in Northern Australia and beyond.
"Giving students like Kevin and Allen the opportunity to be involved in such a major project for the Northern Territory is setting them up for success even before they graduate," Professor Bowman said.
"This campus is our commitment to ensuring academics, students and the Darwin community reap the benefits of having a modern, high-quality tertiary education facility right on their doorstep.
"With construction rapidly progressing before the start of the wet season, we are already looking forward to opening the doors for semester two next year."
Contact details:
Alayna Hansen
Communications Officer (Projects)

T: +61 8 8946 7479
M: 0422 811 892
E: media@cdu.edu.au
W: cdu.edu.au