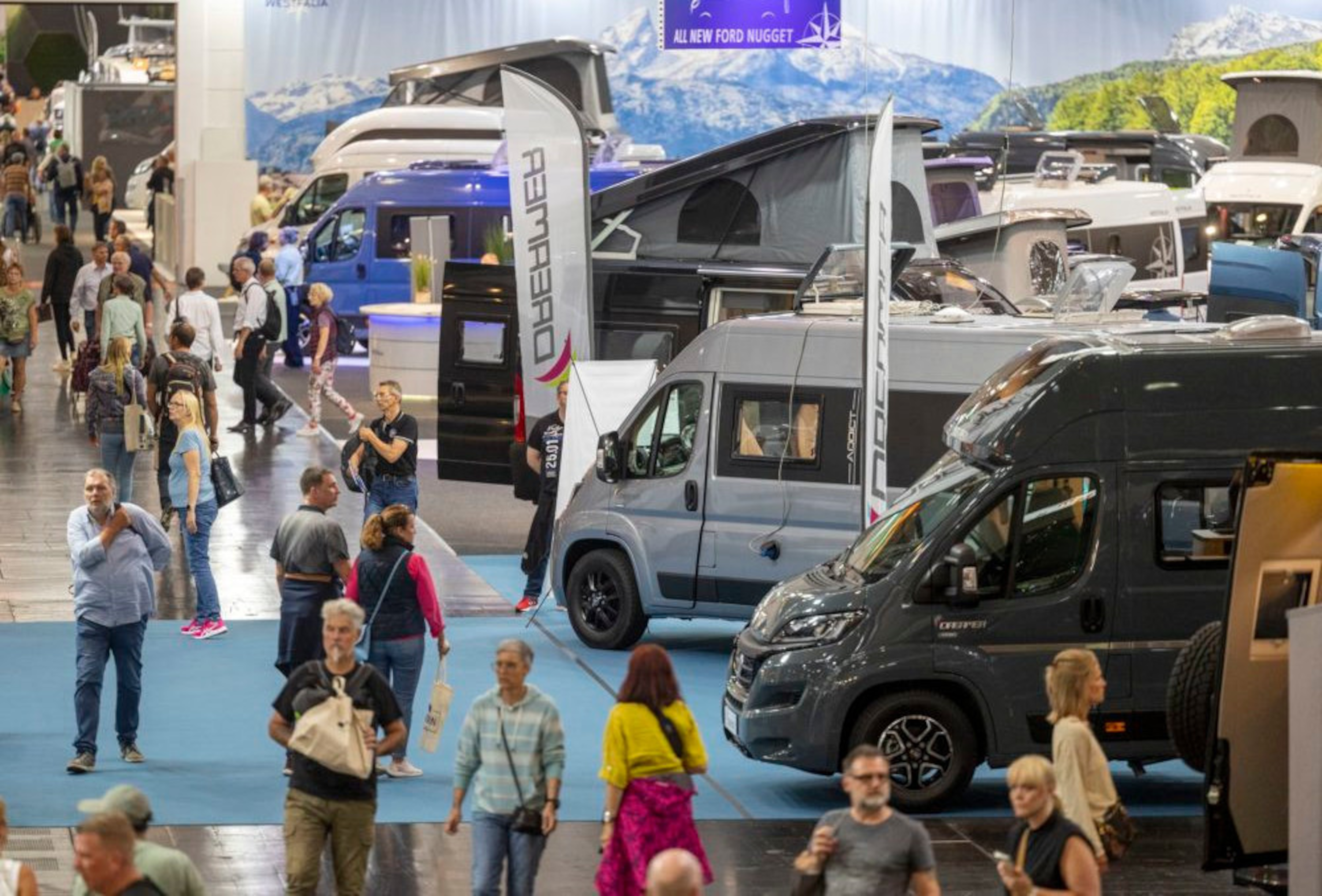 One of the world's largest RV trade shows has convinced a globally successful Australian exporter that the future of the industry lies in clean, green, safe, and simple electric technology.
Aus J Hot Water Solutions Managing Director Jay King attended the Carvan Salon in Dusseldorf, ending September 8, after 254,000 visitors from 65 countries had passed through its doors to see the displays of more than 750 exhibitors.
"Compared with my last visit more than 10 years ago, there was strong interest in not only electric RV technology, but also fully electrically driven RVs. You know the EV future is arriving when a major US company like Winnebago joins with a European innovator like Vöhringer to present the first fully electric prototype motorhome suitable for series production."
Jay's company – which produces both gas and electric heaters – used the occasion to offer the world's first showing of the latest 12V/120V Gen 3 Duoetto electric water heater for future-focused adventurers who like their adventuring to be clean, green, and safe.
The new 2.65 US gallon (10-liter) Duoetto Gen 3 water heater – which will be available commercially for distributors and customers before 2024 – is intended for the North American and broader 12V DC/120V AC RV, caravan, camping, and marine, yacht, and powered boat markets.
"In addition to traditional RV owners and builders who like the simplicity and safety of electric water heaters, there is a new generation of RV adventurers who like their travels to be clean and green."
"RV builders like the fact that they don't have to plumb in a separate gas circuit, and the expanding number of families, single women and younger travellers are also very careful about what they leave behind in pristine environments." The original Duoetto 12V/240V has been so popular that some US OEM's have bought it solely for its 12V capacity.
Gen 3 complements this original 12V/240V Duoetto water heater design, which is also exported globally along with a host of shower points and accessories that are adding to Aus J's Australian sales and exports to Europe, North and South America, Africa, Asia, and the Middle East.
"After selling more than 30,000 of our product worldwide, Aus J is taking the next big step now by expanding international and local distribution of our expanding range of quality products, which are proven in use with OEM RV producers as well as individuals around the globe."
"We see vast ongoing potential in the RV market where we can forge relationships and partnerships with like-minded people who value quality existing product, plus ongoing technical innovation and our RV problem-solving services that we offered at Carvan Salon 2023."
About us:
Aus J (www.ausj.com.au) offers a range of innovative gas and electric water heaters with models for domestic, commercial and recreational applications, including a 240V 10-litre Aqueous water heater designed to provide homes with near-instant hot water and reduce the wastage by having the heater located under the sink.
Contact details:
Jack Mallen-Cooper
PR Consultant
Whyte Public Relations
(02) 9901 4306
whytepr@whytepr.com.au