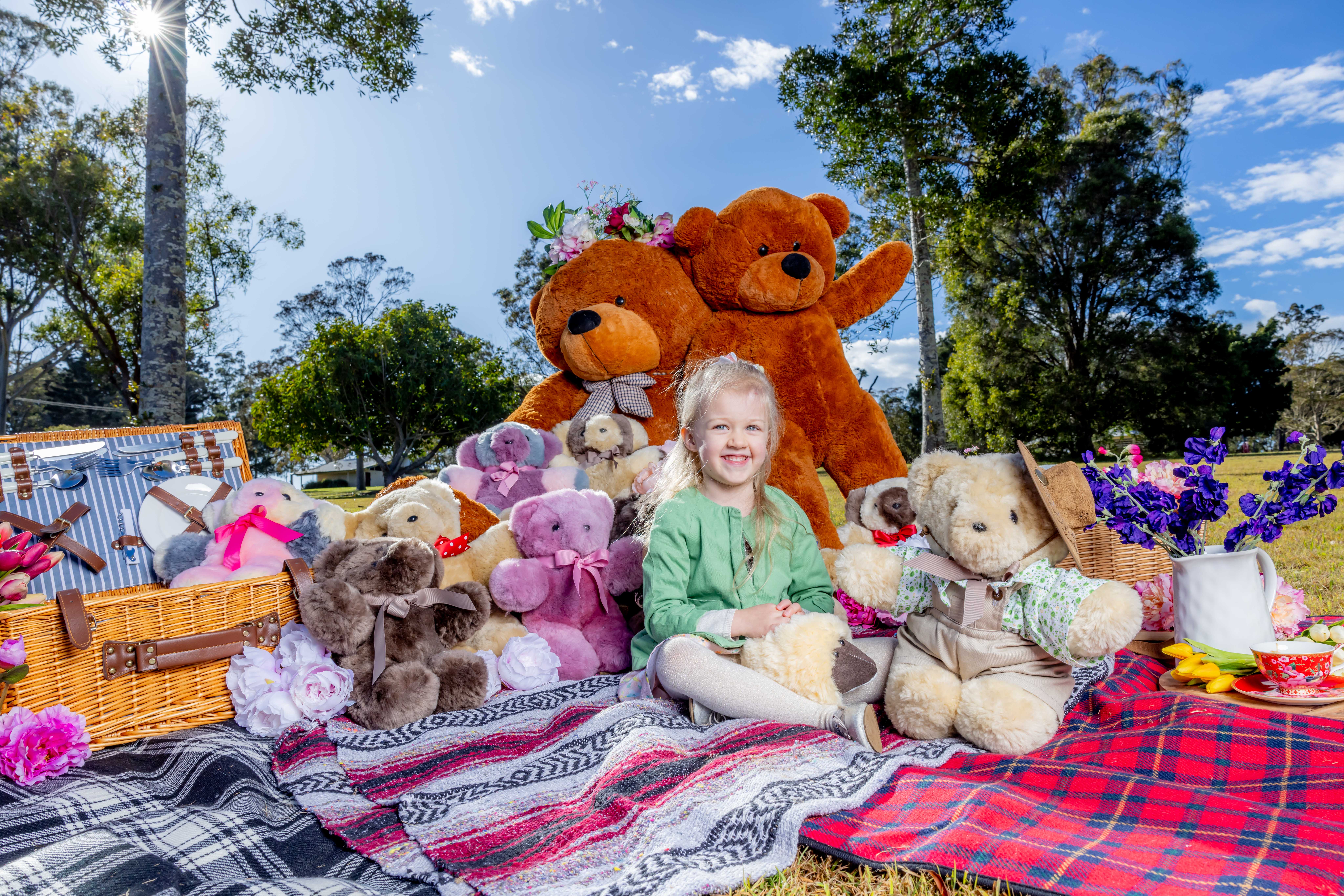 It's going to be Unbearably cute fun:
Toowoomba Carnival of Flowers' second Teddy Bears' Picnic
The Toowoomba Carnival of Flowers may be famed as Australia's most beautiful event, but there's a special gathering that happens during this celebration that's just unbearably cute – it's the Teddy Bears' Picnic at Picnic Point (of course!), and there's no woods to go down to, just acres of fun!
To be held on Saturday 23 September and featuring interactive shows, fairy bread making, colouring-in stations, roving entertainment, sausage sizzle and of course a Teddy Bear Parade, this is one for the young, and the young at heart! Kids of all ages are encouraged to bring their own teddy bears to join in the fun and the event is free to attend!
In a very special coup, Australia's famous Tambo Teddies will be attending with an extra special guest!
Last year, this iconic Australian teddy bear designer created a tribute bear for the gardeners of Toowoomba Carnival of Flowers. He was incredibly cute, decked out with a teddy bear 'Akubra' style hat, khaki bib overalls and a sweet green floral shirt 😊 ready for a day's gardening. This year we will have another very special gardening Tambo Teddies called 'Baree Blossom' to be won, just by attending the event!
"Everyone loves their teddy bears, and we want to see as many bears at the Teddy Bears' Picnic as possible," Toowoomba Regional Council Environment and Community Committee Chair Cr James O'Shea.
"We have a great group of entertainers coming who will lead a teddy bear parade and there will be prizes for the best-dressed bears and there'll be a teddy roll call.
"So much work goes into the gardens for Toowoomba Carnival of Flowers. The team plants 190,000 bulbs and seedlings so it's great that Tambo Teddies have paid tribute to our gardeners."
WHAT: Toowoomba Carnival of Flowers' Teddy Bears' Picnic
WHEN: Saturday 23 September
TIME: 8:30 – 11:30AM
LOCATION: Picnic Point, 164 Tourist Road Toowoomba, QLD 4350
https://tcof.com.au/event/teddy-bears-picnic/
Toowoomba Carnival of Flowers is celebrated all of September and will be headlined by over 190,000 spectacular blooms. The famous three-day Festival of Food and Wine will be held from 8 to 10 September, showcasing the best in regional produce and Australian music in Queens Park.
Toowoomba Carnival of Flowers 2023
1 – 30 September 2023
The FULL PROGRAM is LIVE at tcof.com.au Accommodation, day trip and longer stay itineraries are all available.
For more information contact Kath Rose & Associates on 0416 291 493 or kath@kathrose.com