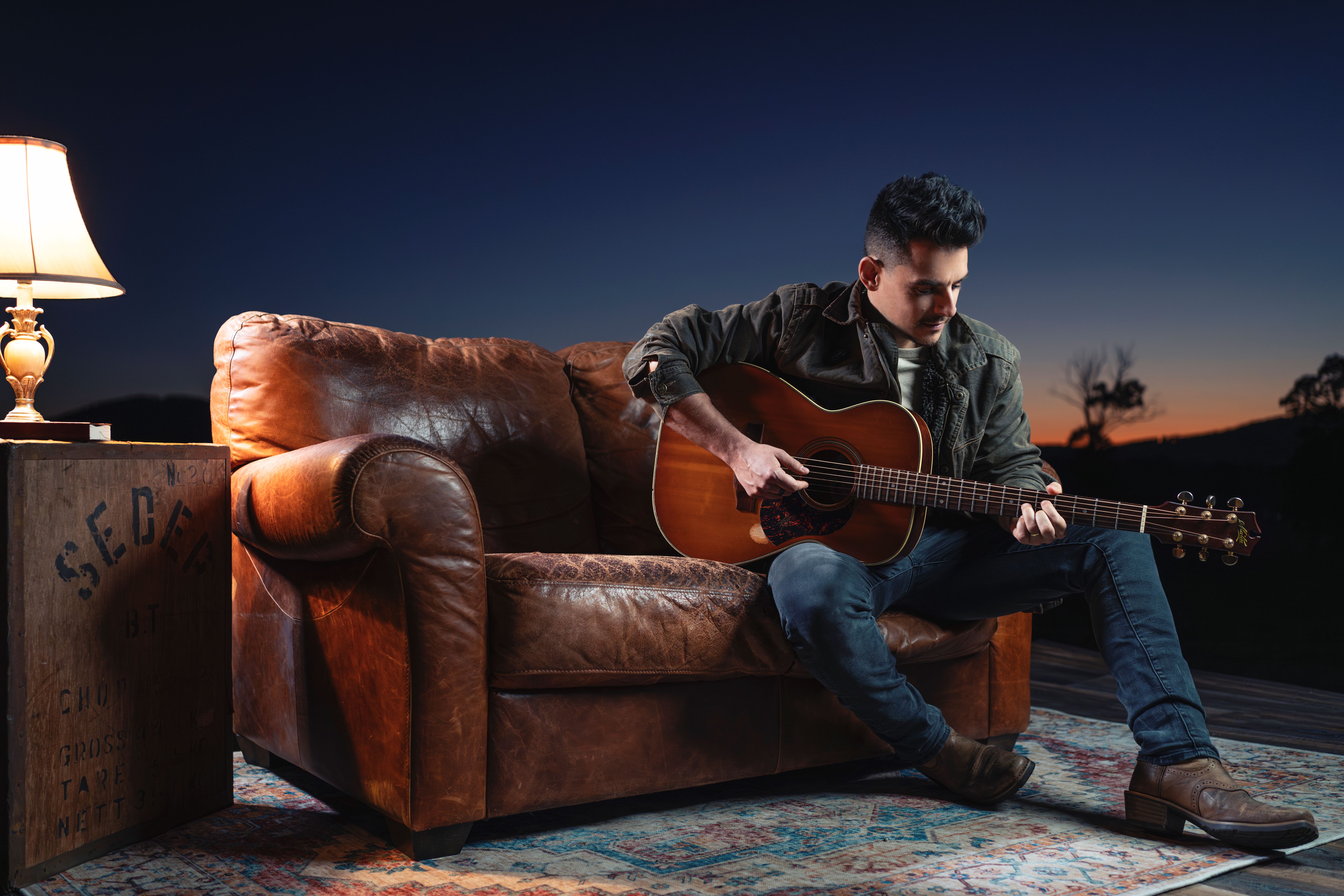 When James Johnston released his debut single, 'RAISED LIKE THAT' two years ago, he never could have anticipated the whirlwind that followed. Six #1 airplay hits, 54.5 million global streams and two Golden Guitars later, James is easily Australia's most exciting Country Music artist. This week the song that started it all has just been certified ARIA platinum.
But there's more.
The bloke who grew up near the small town of Wingham in New South Wales, and sings of country life with an authenticity that makes a drover cry, a farmer sigh, a young jackaroo spin, a country girl smile and city folk wistful, will this Friday make Australian music history.
His album RAISED LIKE THAT (The Album) releases on Friday and will be Australia's largest debut Country album ever, a body of work featuring 20 extraordinary tracks and a heartfelt celebration of country living. His sound is modern and unique with driving guitars, pounding drums and his gravelly vocal centre stage. It works his boots off.
The stunning debut contains moments that revel in joy and nostalgia, yet dares to dwell on the real hardship and adversity that faces so many people living in the country and on the land.
There's anthems that will fill dancefloors and raise hands in the air, and quiet stories of empowerment, hardship and love that will bring tears to knowing eyes. His words are lived-in and he sings with incredible heart because he was raised like that and he did grow up there.
What's more, James is a helluva live performer, having spent the past two years touring and performing on stages from Mount Isa to Melbourne, and all stops in between; he's as at home in a studio as he is on the back of a semi-trailer in Deniliquin (where he happens to be this weekend).
"I wanted to share songs about the good but also the often less talked about side of country life. When it's all said and done, I hope this album makes you feel proud of where you call home," said James. "Music has forever been the way I can express myself in the most honest way possible," admits the singer-songwriter. "I've always loved albums that allow the listener to truly get to know an artist. RAISED LIKE THAT, is that for me."
James called on his mates and longtime collaborators to realise his epic vision for RAISED LIKE THAT. Nashville-based hit-maker, Justin Wantz, racks up production credits on a mammoth 17 tracks, alongside Australia's Gavin Carfoot and Liam Quinn, while Ilya Toshinskiy steps in to produce the rousing, 'WE GREW UP ON'.
While nine of the debut's tracks were penned by Johnston alone, he shares songwriting duties with the other 11with long-time collaborator, Nolan Wynn, producers Michael DeLorenzis and Michael Paynter and fellow artists Kaylee Bell, Jared Porter, Melanie Dyer, and Zac and George, among others. The empowering, 'A COUNTRY GIRL CAN', even credits Johnston's wife, Taliarose Johnston.
Songs like 'I STILL CALL IT HOME' and 'GOOD TO BE BACK' celebrate small town values, while the more intimate, 'THIS LAND IS KILLING ME' highlights the trials and tribulations of life on the land. Songs like 'GOT IT GOOD' and 'SEEING YOU SOON' (featuring James' eldest son, Koda) allow listeners to have a more personal look into James's life, in which he shares the love and admiration he has for his wife and two boys but also the struggles of being away on the road.
Life on the road has been rigorous for Johnston, having just completed a national tour with Australian heavyweight, Morgan Evans. The star has appeared at countless festivals - CMC Rocks, Berry's Big Country, Gympie Music Muster, Meatstock, Tamworth Country Music Festival – you name it! He's soon slated to light up stages at the rowdy, Deni Ute Muster and Far North QLDs, Savannah in The Round.
Since releasing his debut single, Johnston has amassed a jaw dropping 54.5 million global streams. Not only that, but his six #1 airplay hits have earned him a run of 110 consecutive weeks in the Top 20 of the Country Hot 50 National airplay chart. He's been nominated for a QMA Award, an APRA Music Award and was a 2023 Rolling Stone Australia Award nominee for Best New Talent. But all his hard work was rewarded in January when he received two Golden Guitar Awards – New Talent of The Year and Vocal Collaboration of the Year.
RAISED LIKE THAT (The Album) releases on Friday 29th September 2023.
About the songs in James' words….
RAISED LIKE THAT - a song that captures my story and those of the people and places that shaped me to be the person I am today. RAISED LIKE THAT tells the story of community, integrity, and a celebration to a way of life of people who grew up in a small close nit community. The anthemic production and lyrics are reminiscent of Eric Church and Kip Moore and the track is undeniably infectious.
KEEPIN IT COUNTRY - tips it's hat to the rockin' live country bands of the 90's! With chicken pickin' guitar solos to wailing fiddles, KEEPIN IT COUNTRY is sure to be a dance floor filler at the local honky tonk.
COUNTRY BOYS - the story of the way I would spend weekends growing up in the country! From riding dirt bikes to loosing summers swimming in the creek, COUNTRY BOYS is my childhood wrapped up into one song!
SMALL TOWN GIRL – is about finding yourself back in your hometown and finding the one! From buying up dirt, to cranking up Garth, she reminds you of all that you love about that life in a small town.
THIS LAND IS KILLING ME - after a phone call late one night from an old friend of mine, I sat down and penned this one. The song tells the story of a farmer calling his friend to confide in his emotional desperation and tell that not all is okay. THIS LAND IS KILLING ME holds a message that life on the land is hard and the importance of reaching out to friends when times are tough to help you get through.
WORTH ITS WEIGHT IN GOLD - I was born and raised on my family farm in regional NSW. This is the story of a real-estate investor coming to buy the family property without respect to the history that the land holds. It's powerful cinematic style production paints a vivid picture evoking a deep seeded pain that echoes throughout the song.
WE GREW UP ON - anyone that grew up in the country knows that one of the best days was when you got your first car. It was more than just a car; it was your first taste of real freedom. Turn it up!
GOOD TO BE BACK - paints the picture of driving back through your little hometown and pulling up in the drive to a life that holds the memories of your childhood. It's a feeling I know all too well, growing up on a small rural property.
GROWING UP - follows the story from young love to settling down, to passing on the lessons learnt through that journey to the next generation. It's a lifetime in one song.
SOME THINGS NEVER CHANGE (+ Zac & George) - Zac & George and I wanted to make a song about old mates reconnecting, and this is a celebration of those friendship that last forever. I wrote SOME THINGS NEVER CHANGE in Nashville just before I flew home to Australia, listening back to the demo on the plane ride home, I knew we had captured something special.
GOT IT GOOD - a celebration of the simple things in life. The roof over your head, the job that pays the bills and the love that's waiting for you at home.
OLD COUNTRY BARN - I wrote this on a long drive from Brisbane to Tamworth with nothing but the steering wheel to make the beat. This track can be blasted just as loud at home in a country hoedown as it can at a rocking festival.
ANYTHING LIKE ME - inspired by the birth of my first-born son, as a lot of parents ask themselves, what will their child's future look like and will they follow in their own footsteps. It's my own life, a universal story of growing up with its ups and downs. The song comes full circle with the final statement "I can't tell the future so I'll have to wait and see, if this boy will be ANYTHING LIKE ME"?
SEEING YOU SOON (Ft Koda) - after spending so long on the road travelling between shows, I yearned to get back home to see my family. This is the story of the long drive to see my young boy KODA who features on the track.
WORLD UNDER MY TYRES - 16, and a full tank of gas! WORLD UNDER MY TYRES is the story of taking off with your best mate to hit the open road for the first time.
COUNTRY GIRL CAN - a song for the country girls and inspired from comments on my TikTok from country girls around the world after I put the question out there, what makes a country girl a country girl. I then went through 1000's of comments to shape A COUNTRY GIRL CAN.
SMALL TOWN - I wrote this one on the drive back home to Wingham. I had been spending quite some time in the city and I was just so excited to get back to my family farm. I think so often when you grow up in a small town you thinks there is something so much bigger and better out there. Only until you step away you realise the magic of a small town and a close community. My family farm is still on the outskirts of my small town of Wingham and it's still one of my favourite things to go back to.
SAME SONGS (+ Kaylee Bell) - a celebration of the music that defined a generation. Grown from a single TikTok video, SAME SONGS is my first collaboration, when I reached out to fans on who they'd like to see me collaborate with I was inundated with requests to partner up with Kaylee on this song and she rose to the challenge writing a verse that is tribute to the female artists that she grew up on.
MY PEOPLE - a song about the spirit of a country music festival! Rolling up in your ute with your best mates to see your favourite bands! I grew up with great artists like Garth Brook, Alan Jackson and Brooks and Dunn and I have always wanted a song reminiscent of these artists. MY PEOPLE was recorded using a live band in Nashville and includes the iconic elements of fiddle and harmonica found in so many of the great country songs of the 90s.
I STILL CALL IT HOME - When I was 17, I left my little hometown to chase the dream of music, but wherever I go that little, small town will always be home. I STILL CALL IT HOME is that story. The line 'Proud to say where I come from' emphasises the strong connection I still have to the place that shaped me into the artist I am today.
Website: www.jamesjohnston.com
Facebook: www.facebook.com/jamesjohnstonmusic
Instagram: www.instagram.com/jamesjohnstonmusic
TikTok: www.tiktok.com/@jamesjohnstonmusic
YouTube: www.youtube.com/jamesjohnstonmusic
FOR bookings and or management enquiries, please contact Beau Thomas (TOBE ARTISTS) on 0437 148 782 or email beau@tobeartists.com
FOR interviews or more, please contact Kath Rose on 0416 291 493 or email kath@kathrose.com or Jules Delemare jules@wildheartpublicity.com 0407 861 319
Key Facts:
Young country singer-songwriter James Johnston will make Australian music history this history, with his album RAISED LIKE THAT Australia's largest debut Country album ever, a body of work featuring 20 extraordinary tracks.
Contact details:
FOR bookings and or management enquiries, please contact Beau Thomas (TOBE ARTISTS) on 0437 148 782 or email beau@tobeartists.com
FOR interviews or more, please contact Kath Rose on 0416 291 493 or email kath@kathrose.com or Jules Delemare jules@wildheartpublicity.com 0407 861 319