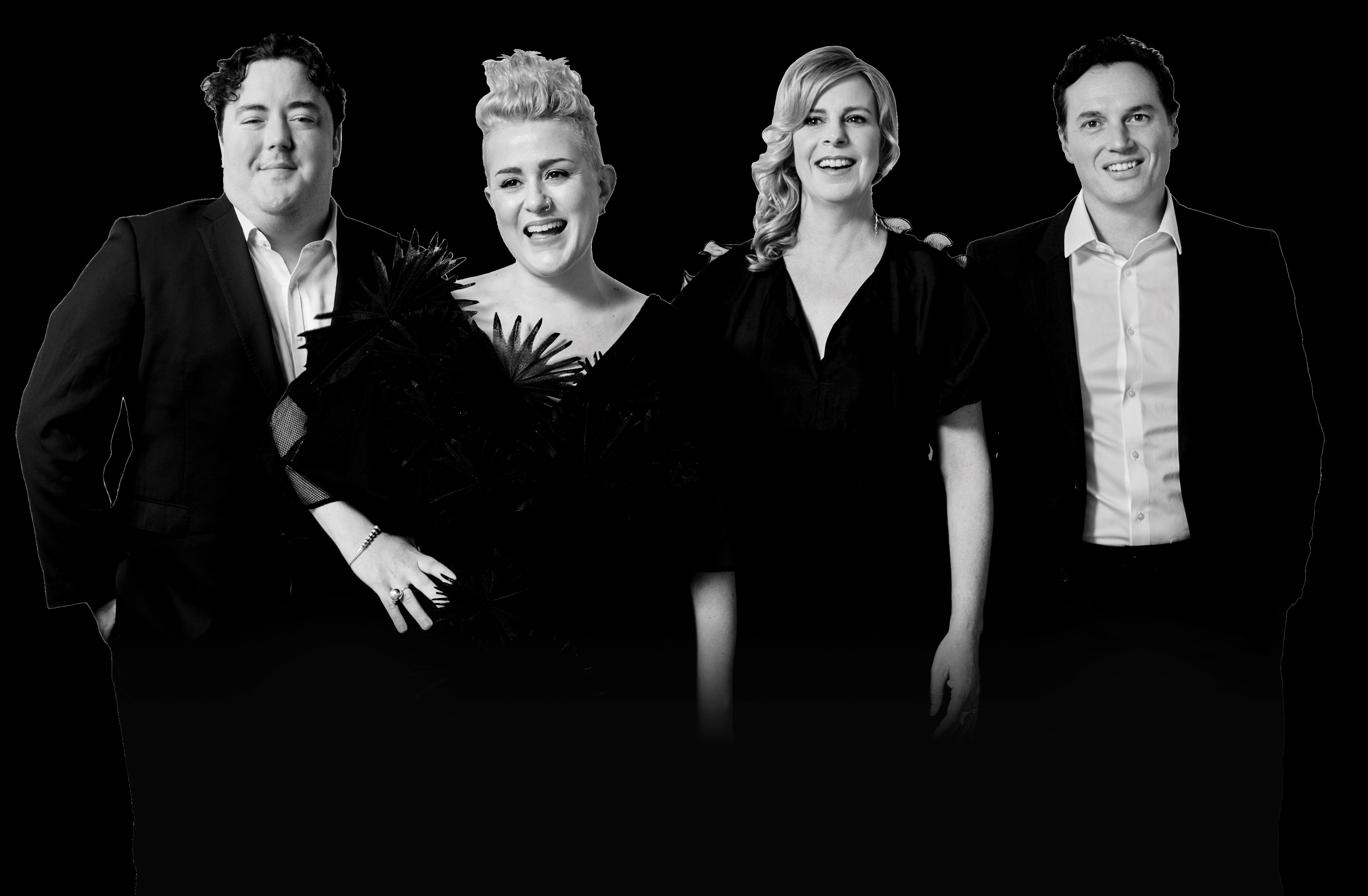 The new soundworld of Katie Noonan's Australian Vocal Ensemble (AVÉ) will be shared when they launch their debut album 'Tumbling Like Stars' in a mesmerising concert on September 10, at the Brisbane Festival.
AVÉ, led by the multi-platinum and five times ARIA Award-winning artist Katie Noonan, presents a unique and visionary performance that celebrates a new vocal soundworld in an intimate chamber setting exploring the evocative words of Brisbane poet David Malouf.
AVÉ, consisting of four exceptional Australian vocalists: mezzo-soprano Fiona Campbell, tenor Andrew Goodwin, bass-baritone Andrew O'Connor, and soprano Katie Noonan herself, share a passion for storytelling through music which has led them to collaborate with twelve Australian composers to set poetry by the iconic Australian writer David Malouf.
Noonan expresses her excitement about AVÉ, saying, "For years, I have been dreaming of singing in an a cappella ensemble like AVÉ. Surrounded by these three truly extraordinary artists is challenging and inspiring, and I believe we're creating a special and unique sound world that I hope will bring succour and joy."
The heart of AVÉ's repertoire for this program lies in the essence of Brisbane/Meanjin, where they are based. Reflecting this commitment, the ensemble has chosen David Malouf's evocative poetry to weave distinct Brisbane narratives into their performance. Malouf's poems beautifully capture the stories of the area with deep affection and rich detail, adding a unique local identity to AVÉ's program.
As Dame Quentin Bryce AD CVO, the Patron of AVÉ, beautifully puts it, "Imagination, ideas, magic; hallmarks of Katie Noonan's contribution to our cultural life. Sparkling, enriching, and inclusive in every sense, again and again, she amazes with her capacity to translate dreams into reality, captivating us with the way she lifts our hearts, taps into our emotions, laughter, sometimes a raw nerve or two, an awakening, with generosity in spades."
The performance will celebrate the release of their first full album 'Tumbling Like Stars' which features an exquisite selection of tracks, each bearing the mark of a living Australian composer, including Anne Cawrse, Robert Davidson, Connor D'Netto, Iain Grandage, Thomas Green, David Hirschfelder, Alice Humphries, Zac Hurren, Stephen Leek, Katie Noonan, Richard Tognetti, and Jessica Wells.
Be a part of this one-of-a-kind intimate chamber music experience celebrating Meanjin/Brisbane as AVÉ takes the stage at the Brisbane Festival on September 10th, 2023.
Event Details
Date: September 10, 2023
Time: 6.30pm - 8.30pm
Venue: Queensland Conservatorium Griffith University
Event: AVÉ – Australian Vocal Ensemble: 'Tumbling Like Stars' Album Launch
Website: Brisbane Festival
Album Release: Digital album available from August 4, 2023 (ABCL0027D)
Don't miss out on this musical experience that champions new Australian work and celebrates the art of storytelling through a new and unique sound world.
For media opportunities, imagery and more, please contact Kath Rose on kath@kathrose.com or 0416 291 493