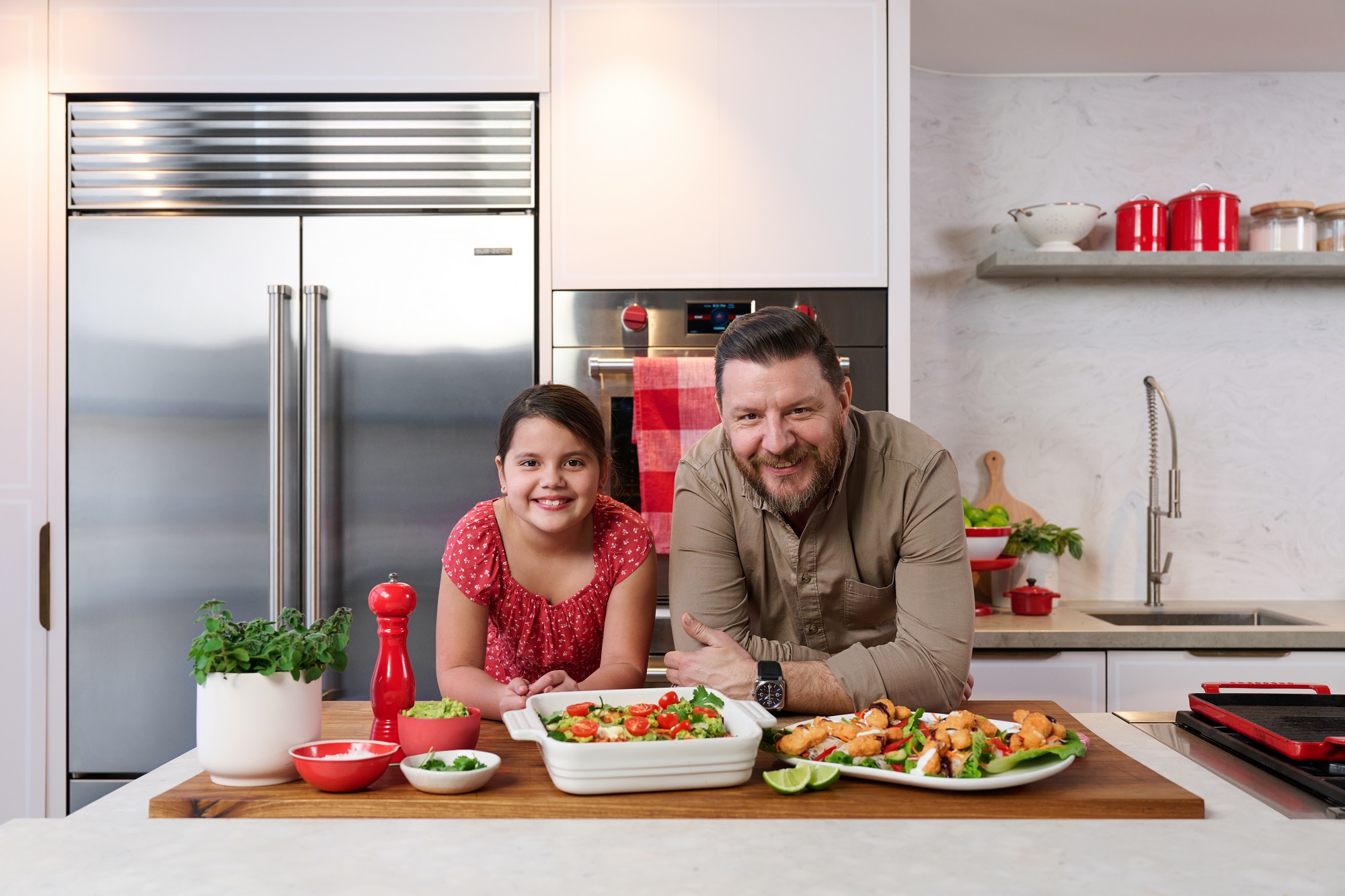 8-year-old Charlee Feildel has joined dad Manu in the on-screen kitchen to create two recipes cooking with chicken as part of Ingham's Dinner Done.
Charlee took to the camera with confidence and ease, helping Manu to cook Mexi-Bean Loaded Chicken Chippees and Tempura Chicken Nugget Lettuce Cups.
How Mexi-Bean Loaded Chicken Chipees came to be…
At first, Charlee wants to go out for dinner to have loaded fries. Manu, comfortable in his slippers, is not so keen, and suggests Mexi-Bean Chicken Chipees instead.
Showing her cheeky personality, Charlee challenges Manu: "Papa, I always see you judging people on TV. So, because I really want those loaded fries, tonight I'll be judging you. No pressure."
Together Charlee and Manu cook the chicken chipees in the oven, mash the guacamole, cook the corn, and layer the cooked chipees with olives, corn kernals, salsa and cheese – returning it all to the oven to melt. After presenting the loaded chipees with guacamole, halved cherry tomatoes, sour cream, and coriander it's time to taste.
And the final score Charlee gives her celebrity chef dad? "Presentation, good. Smell, good. Taste, good."
View the Mexi-Bean Loaded Chicken Chipees recipe here, and the tutorial video with Manu and Charlee here.
Tempura Chicken Nugget Lettuce Cups – created as a twist on San Choy Bao.
"I've been a kid for over eight years, and its time for us to change things around here," announces Charlee. "I love Mumma's San Choy Bao, but what if we use chicken nuggets?"
Manu agrees, "That's a great idea. What about lettuce cups, vermicelli noodles, some salad vegetables, chicken nuggets and a dressing over the top?"
Manu shows Charlee how easy it is to use an air-fryer, and Charlee shows Manu how to really shake the dressing.
On the couch, Manu and Charlee reveal what this father-daughter duo is all about.
Charlee: "I really like spending time with my dad and making dinner with him."
Manu: "It's always fun to be working with my daughter. She seems to understand the gig for some reason."
When asked who the better cook is, Charlee doesn't miss a beat: "He's pretty good, but I think I'm a bit better."
View the Tempura Chicken Nugget Lettuce Cups recipe here, and the video cooking tutorial with Manu and Charlee here.
Ingham's Dinner Done was launched earlier to provide quick, simple, and delicious recipes to get midweek dinners done with flavour and fun. All the Dinner Done recipes are available at www.inghams.com.au/dinner-done , plus Ingham's has launched a free recipe e-book, "10 Easy Dinner Done Recipes the family will love", available to download from inghams.com.au.
And to help Aussie's get dinner on the table with the rising cost of living, Ingham's has launched a cook-snap-win Dinner Done competition – giving away eight $500 grocery vouchers from September to December 2023. Learn more about the competition here: https://inghams.com.au/inghams-dinner-done-cook-and-snap-competition/
To learn more about Ingham's and Ingham's Dinner Done, visit inghams.com.au and follow Ingham's on Instagram @InghamAustralia Facebook @ingham's and YouTube @Inghamschicken
Key Facts:
8-year-old Charlee Feildel has joined her dad Manu in the kitchen to cook up some new recipes to get Dinner Done – and show who is the better cook!
About us:
Ingham's is the largest integrated poultry producer across Australia and New Zealand, employing 8,000 people. It supplies locally-farmed chicken, turkey and plant-based protein products to major retailers, quick-service restaurant (QSR) operators, food service distributors, wholesalers and to export channels. Ingham's was incorporated in March 2016 and is listed on the ASX as Inghams Group Limited.
Ingham's is proud to participate in the RSPCA Approved Farming Scheme as a Producer in Australia, with animal welfare and sustainability two of the company's top priorities. For more information, visit inghams.com.au
Contact details:
Email: jess@wearesprout.com.au