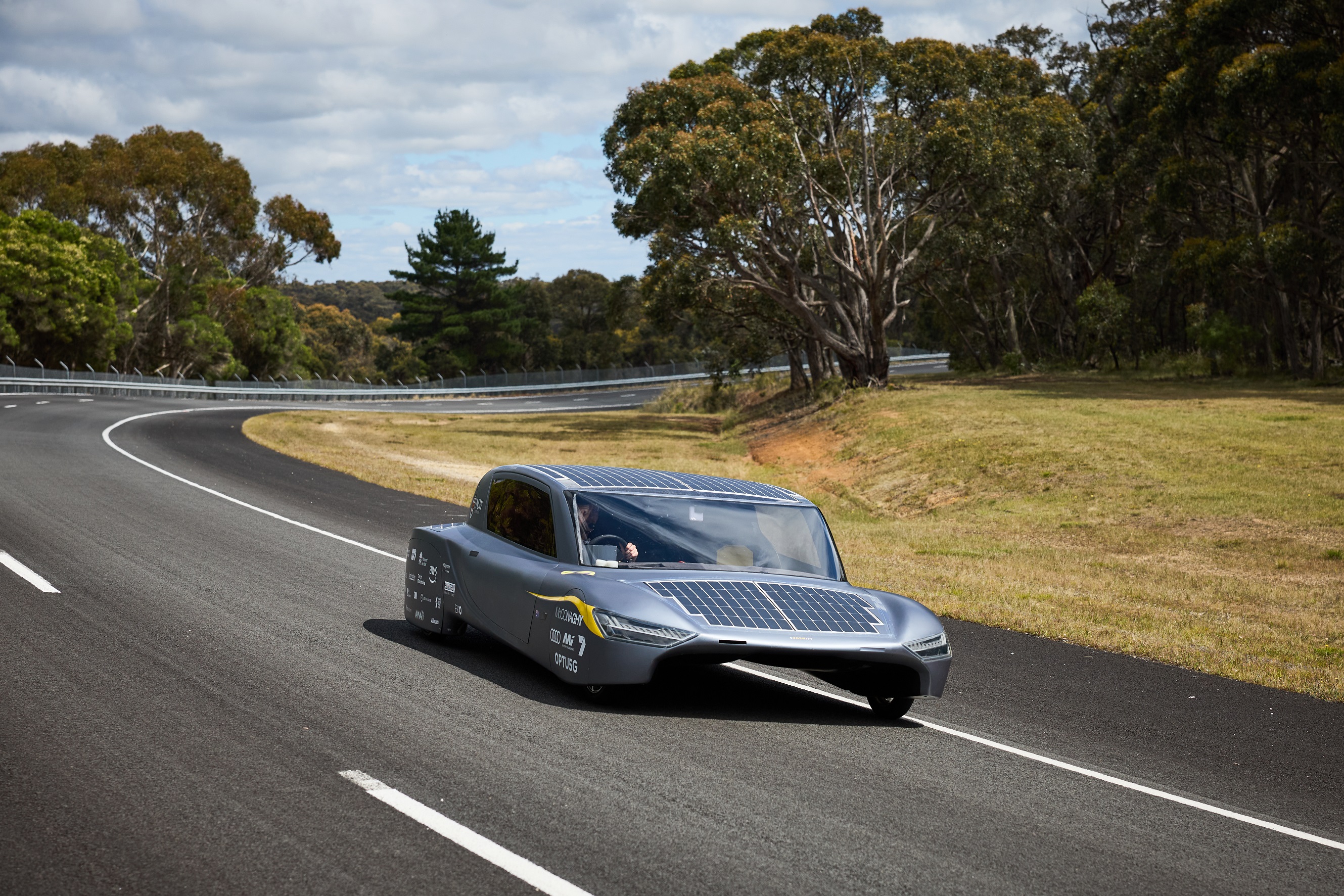 The world's fastest electric vehicle over 1000km on a single charge is aiming for more glory when it competes in the prestigious Bridgestone World Solar Challenge next month.
UNSW Sydney's Sunswift 7, a student-built solar-powered car, is attempting to claim the honours against teams from across the globe in an amazing race that covers over 3,000km from Darwin to Adelaide.
Sunswift already holds a Guinness World Record after completing 1,000km on a single charge in under 12 hours in December 2022.
And in yet another technological breakthrough, the team will be using Elon Musk's SpaceX Starlink system to livestream continuous footage from inside the car all the way back to UNSW Sydney as it races through the middle of the Outback.
Media opportunities (filming & interviews) are available on September 28 at UNSW Sydney Kensington campus before the team head to Darwin for the World Solar Challenge event.

The Sunswift car will be fitted with 5G transmission equipment from Optus and Cradlepoint, allied with cloud computing services from AWS, to send a live video feed via Starlink satellites to a big screen on UNSW campus — where students and staff will be able watch the action real-time from thousands of kilometres away.
Telemetry from the car will also be beamed back to a group of student engineers working as race control from special Spacecube modular buildings set up in the middle of campus.
Sunswift Racing Team Principal, Professor of Practice Richard Hopkins, was previously Head of Operations at the Red Bull F1 team, but likens this latest development to NASA's space missions.
"Effectively we are going to be broadcasting the race live from our car in the middle of the desert all the way back to Sydney using 5G mobile," Prof. Hopkins said.
"We will have a race control team back on campus at the university checking all the telemetry and data from the car. It's very much like NASA's mission control where all the people in Houston are able to monitor what is happening when the rocket goes into space.
"This is about showcasing the technologies and showing that we can broadcast video from the middle of nowhere and livestream that back to a jumbo screen on campus for people to cheer us on."
EVENT: Interviews & filming opportunities with Prof. Richard Hopkins and the student team ahead of Sunswift 7's attempt to win the Bridgestone World Solar Challenge.
DATE: Thursday September 28
TIME: 9.30am-11.30am
LOCATION: Eleanora Kopalinsky Lawn, UNSW Sydney Kensington campus (parking available in Barker Street Parking Station via Gate 14 entrance)
Key Facts:
UNSW's student-built Sunswift 7 car will be livestreaming from the middle of the Outback using 5G and Starlink satellites as it competes in the Bridgestone World Solar Challenge.
Contact details:
Cecilia Duong, News & Content Coordinator, UNSW
cecilia.duong@unsw.edu.au