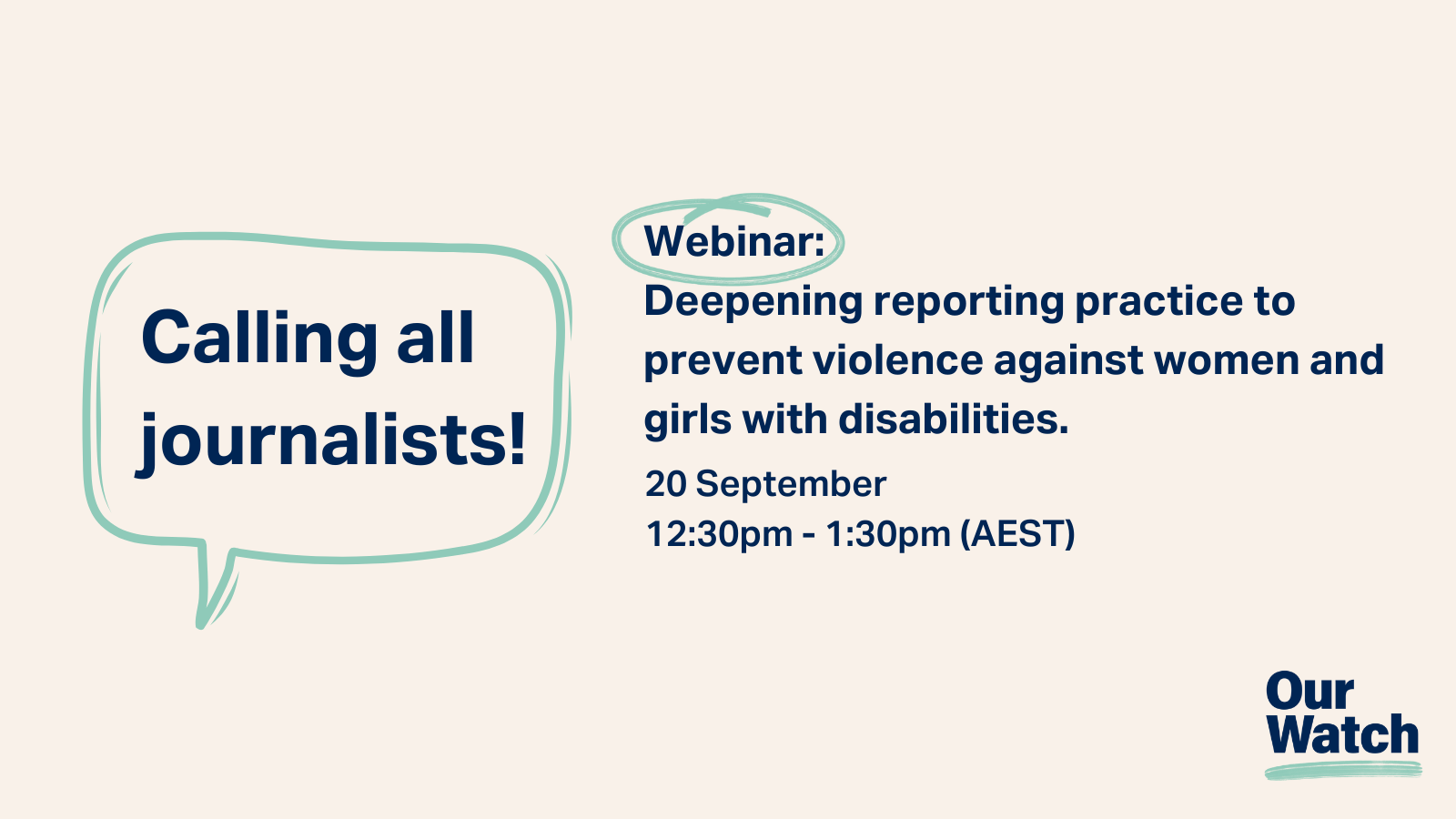 Our Watch, a national leader in preventing violence against women invites media to attend a free one-hour online masterclass on Wednesday 20 September from 12:30pm to 1:30pm (AEST).


This masterclass is timely, given the upcoming release of the Disability Royal Commission Report and the final review of the NDIS. These reports will inevitably highlight the discrimination and violence that women and girls with disabilities continue to face in their daily lives.


Deepening media reporting practice to prevent violence against women will be moderated by ABC Disability Affairs Reporter Elizabeth Writer. It offers journalists and media professionals the opportunity to deepen reporting practice through respectful and accurate representation.


It will be held online on Wednesday 20 September, from 12.30pm to 1.30pm (AEST).


The webinar covers how to best use case studies that incorporate lived experiences and how to best challenge stereotypes and promote understanding.


The webinar will also help journalists better understand the drivers of violence for women and girls with disabilities.


The webinar panel of experts includes:
Tess Moodie,

V

iolence prevention advocate

Kristy Hill, lived experience disability ad

vocate, Brisbane Domestic Violence Service Resound Group

Kat Reed, CEO of Women with Disabilities

ACT

and Intersectionality

advocate



In Australia, women with disabilities are more than twice as likely to have experienced physical or sexual violence than women without disabilities. With around 17% of Australian women and girls having disabilities, media professionals have a valuable role in shaping public discourse and narratives and can be influential in ensuring that these reports get the exposure they deserve.


This webinar aligns with Our Watch's resource, Changing the landscape. By attending, you will help redefine the media's coverage on violence against women and girls with disabilities, promoting accountability and ensuring that media coverage avoids perpetuating the harmful narratives that can lead to violence.


This event will have AUSLAN interpreting and closed captions available.


About us:
Our Watch is a national leader in Australia's work to stop violence against women and their children before it starts. The organisation was created to drive nation-wide change in the practices, norms and structures that lead to violence against women and children.

Contact details:
Contact:
mediamakingchange@ourwatch.org.au