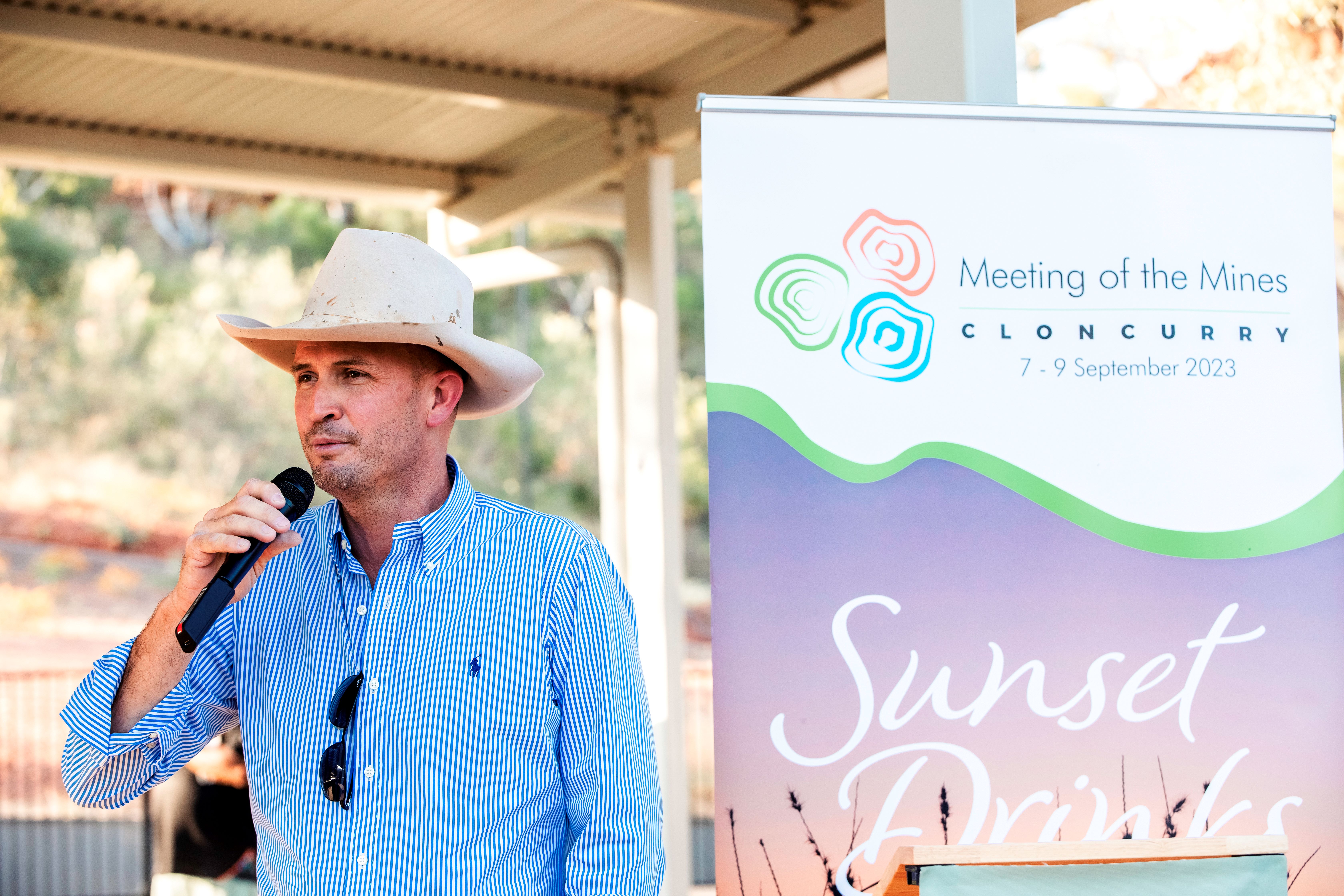 Prosperity and sustainability key discussions at the inaugural Meeting of the Mines conference in Cloncurry
There was a moment at the inaugural Meeting of the Mines conference in Cloncurry last week when Cloncurry Shire Council Mayor, Greg Campbell, asked delegates for a show of hands to support his call for a better regime to recognise, and return an equitable amount of royalties, to the regions where they are generated. The support was unanimous.
"If the State wants to realise the mining potential in Cloncurry and the North West region, continual investment in the area is essential," said Mayor Campbell.
"Constant maintenance and improvement of utility infrastructure like roads and rail, as well as water and energy, are critical enablers of development."
"Social infrastructure in mining communities, such as a modern hospital, is crucial to a successful construction sector. Plans and funding need to be in place ready to action in response to growing populations; to ensure adequate education, housing, health and community services," he said.
Attendees were in agreement that an equitable distribution of royalties begins with the needs of the directly impacted communities.
The Meeting of the Mines was a pivotal industry conference was a four day event which attracted a diverse gathering of influential decision-makers, esteemed thought leaders and distinguished experts to delve into the core issues defining the contemporary mining sector.
The event served as a vivid showcase of the mining industry's commitment to creating balance between prosperity and sustainability while fostering collaboration among stakeholders.
Mayor Campbell expressed his genuine appreciation, affirming, "The 2023 Meeting of the Mines Conference has been an incredible opportunity to unite and explore the future of mining in our region. The diverse discussions and expert insights have undoubtedly paved the way for growth and prosperity."
Guest speaker Lawrie Conway, CEO and MD of Evolution Mining, felt privileged to speak at the event and expressed how proud Evolution Mining was to sponsor the inaugural event.
"Meeting of the Mines showcased the potential of the Cloncurry region and highlighted the Mayor's passion for the region, which is matched with an equal amount of passion to realise the full potential benefits that mining can deliver. The depth and breadth of attendees, the line-up of speakers and the diversity of topics discussed reflected this. Evidently a lot of hard work by many went into delivering a unique and enjoyable experience," said Mr Conway.
Guest speakers included:
Lance McCallum MP, Assistant Minister for Energy
Fleur Kingham, Chair of Queensland Law Reform
Jason Economidis, the Chief Operating Officer of South32
Neville Power, Chairman of Metals Acquisition Corporation and Deputy Chair of Strike Energy Ltd
Colin Langton of Powerlink
These speakers spoke about the diverse aspects of mining communities and presented projects and investments. They also discussed sustainable mining futures, Road User Agreements, Flood Damage, and the pivotal role of Resource Mayors in the industry. Water management, an essential consideration in mining, was thoroughly explored through panels featuring experts from CSIRO and Sunwater. The conference continued to valuable insights with presentations centred on mining finance and economic development, shedding light on the dynamic North West Mineral Province.
Participants departed not only with a wealth of knowledge but also with a renewed zeal to drive the industry toward greater heights.
Mayor Greg Campbell is already looking towards 2024, after receiving such positive responses from attendees. "Our goal is to foster critical discussions between industry and government for the benefit of local people and businesses. Mining holds a pivotal role for Cloncurry and North West Queensland, and this conference enables Cloncurry to lead the conversation, establishing visions and goals with the full engagement of the industry."
THE FULL CONFERENCE PROGRAM IS HERE: Cloncurry Mining (meetingofthemines.com.au)
Meeting of The Mines – speakers and panellists:
Mr Lance McCallum MP, Assistant Minister for Energy (speaking on behalf of the Premier)
Nev Power - Metals Acquisition Limited
Lawrie Conway- Evolution Mining
Jason Economidis- South 32
Ben McInerney - AIC Mines
Colin Langton - Copperstring (Powerlink)
Fleur Kingham - Queensland Law Reform
Maria James - MITEZ
David McJanet - CSIRO Land and Water
Nicole McCartney - CSIRO
Sarah Watson - Harmony Eva Copper
William Weaver - Sunwater
Hiti Taluja - Centrex
Colin Randall - Korella Fertilizers
Dan White - Incitec Pivot
Andrew Barger, Policy Director, Qld Resource Council
Luke Croton - Critical Minerals Queensland (GeoResources Delivery, Queensland Government)
Julian Bodenmann - Preston Law
Bradley Jones - Premise
Brenden Quabba - APP Group
Mayor Danielle Slade - Mt Isa City Council
Mayor Greg Campbell – Cloncurry Shire Council
Deputy Mayor Janene Fegan - McKinlay Shire Council
For media interviews, imagery and more, please contact Kath Rose on kath@kathrose.com or 0416 291 493
For more information about the conference or future events, please visit meetingofthemines.com.au.