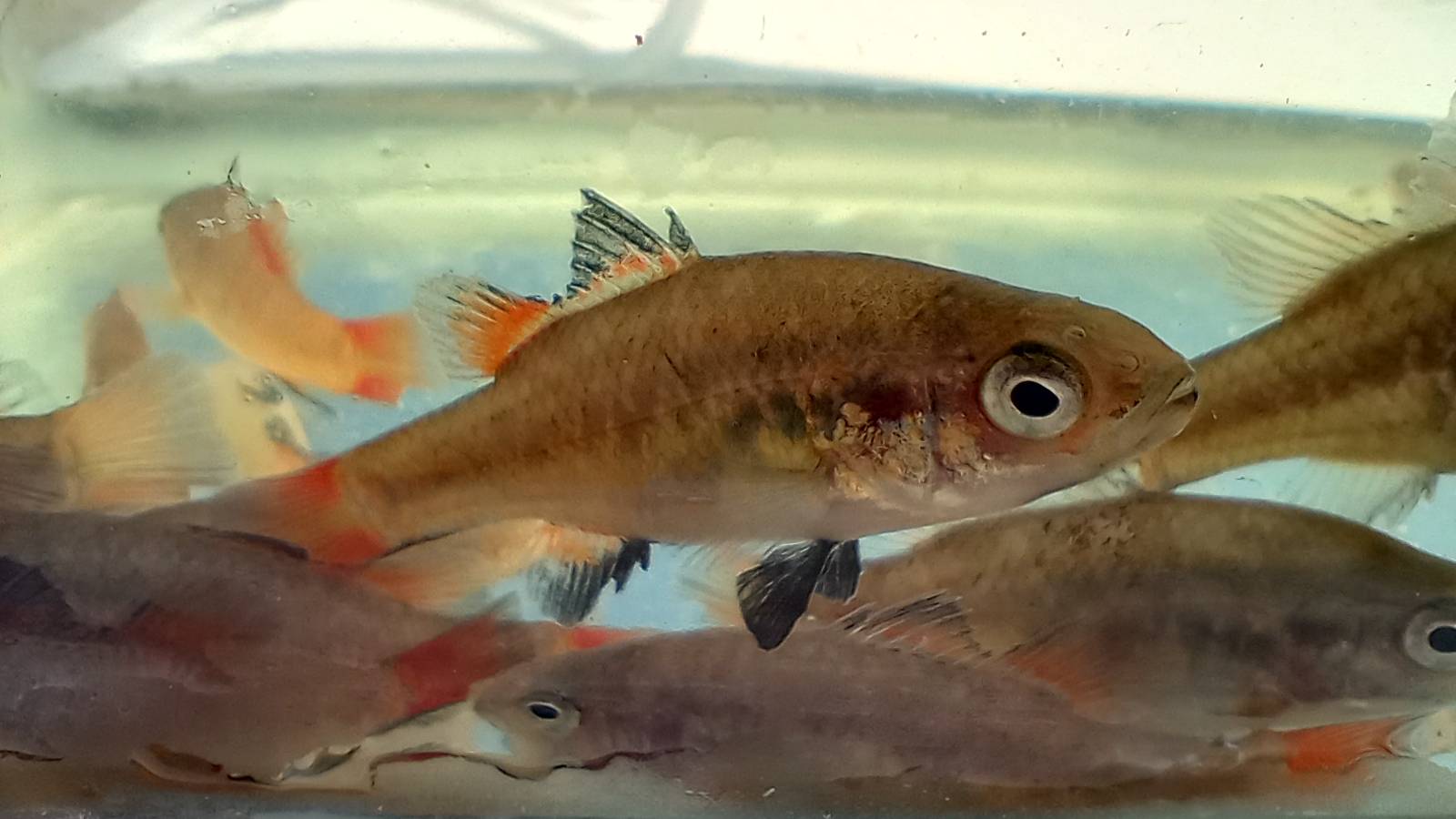 Southern Pygmy Perch are small in stature, but they are in danger of disappearing altogether in NSW without efforts to restore habitat and create new breeding populations to give this little fish a fighting chance.
OzFish Unlimited - Australia's fishing conservation charity, Landcare NSW and the NSW Department of Primary Industries - Fishing have been working hard in a collaborative project to help restore their numbers. 
The organisations have restored fish habitats at Oolong Creek, 80km north of Canberra, to support the dwindling population of the species (Nannoperca australis), a small fish that grows to a maximum size of a mere 85mm. 
OzFish's River Repair Bus members and a hardy band of volunteers from Gunning District Landcare have remove invasive woody weeds from the tributary of Jerrawa Creek. 
They have also helped renowned fish ecologist Associate Professor Mark Lintermans from the University of Canberra and staff from the NSW Department of Primary Industries Fisheries to catch Southern Pygmy Perch at a wild breeding area.
A variety of nets were used to take a subset of around 200 of them to a site upstream of a waterfall so they can establish a population away from the threat of alien species. 
In NSW there are only three populations that remain after widespread loss of habitat and predation from alien species like redfin and carp. The Southern Pygmy Perch is listed as an endangered species in NSW. 
They are a great natural indicator of the health of our waterways – in larger streams they are an important food source for larger fish like golden perch and Murray cod as well as birds like wild heron.  
"Once abundant across the state, the species has suffered major population declines and is now only found in minimal locations in NSW," Braeden Lampard, OzFish's Murray-Darling Basin Senior Program Manager, said.  
"If action isn't taken to preserve and support their numbers, there is a very real threat they could become extinct." 
Professor Lintermans said they would continue to monitor the site and translocate more Southern Pygmy Perch in the coming years.  
"For threatened fish translocation, the ideal measure is that you have offspring of offspring. The fish that you've put in there have grown up and bred and then the offspring from that breeding have grown up and bred so you have three generations of fish in a population. 
"Then you're confident that you know it's going to stick." 
Luke Pearce, the NSW Department of Primary Industries Senior Fisheries Manager - Habitat & Threatened Species Unit, said further potential sites had been identified to be natural hatcheries that would continue repopulation efforts in the region.  
 He added that it was important to highlight that redfin are not only an alien species but highly damaging, along with carp, to native fish, particularly small-bodied species like the Southern Pygmy Perch.  
"It's astounding how many people I come across who think redfin are a native species and that they're benign in their impact. They're so voracious and abundant and they breed up in big numbers," he said. 
"They invade new areas and there's an explosion in the population where they dominate the system. In that initial boom is when the real damage is done - they can decimate populations of natives and wipe them out." 
The first stage of the Oolong Creek project involved removing woody weeds, such as crack willow, blackberry, and white poplar, which are negatively impacting the waterway habitat along a 2km stretch of the creek from the Gary Cosgrove Bridge. 
The project is part of OzFish's Driving Fish Habitat Action partnership with Landcare NSW, in collaboration with Dalton Community Association, NSW DPI Fisheries, and renowned researcher Mark Lintermans, with funding support from the NSW Recreational Fishing Trusts, the Australian Government through the CRC Program, and BCF – Boating, Camping, Fishing. 
About us:
About OzFish
OzFish Unlimited is a national environmental conservation charity established to improve the health of our rivers, lakes and estuaries. It is a member-based organisation dedicated to make our fishing grounds healthy, vibrant and more productive. Their active work includes; habitat restoration such as resnagging, riverbank planting, clean-ups, fishways, shellfish reefs and educational and community capacity building programs.
Contact details:
If you would like further information or to interview Braeden Lampard or Mark Lintermans about the project, please contact OzFish Unlimited Communications Manager Paul Suttor
0421 491 229 | paulsuttor@ozfish.org.au