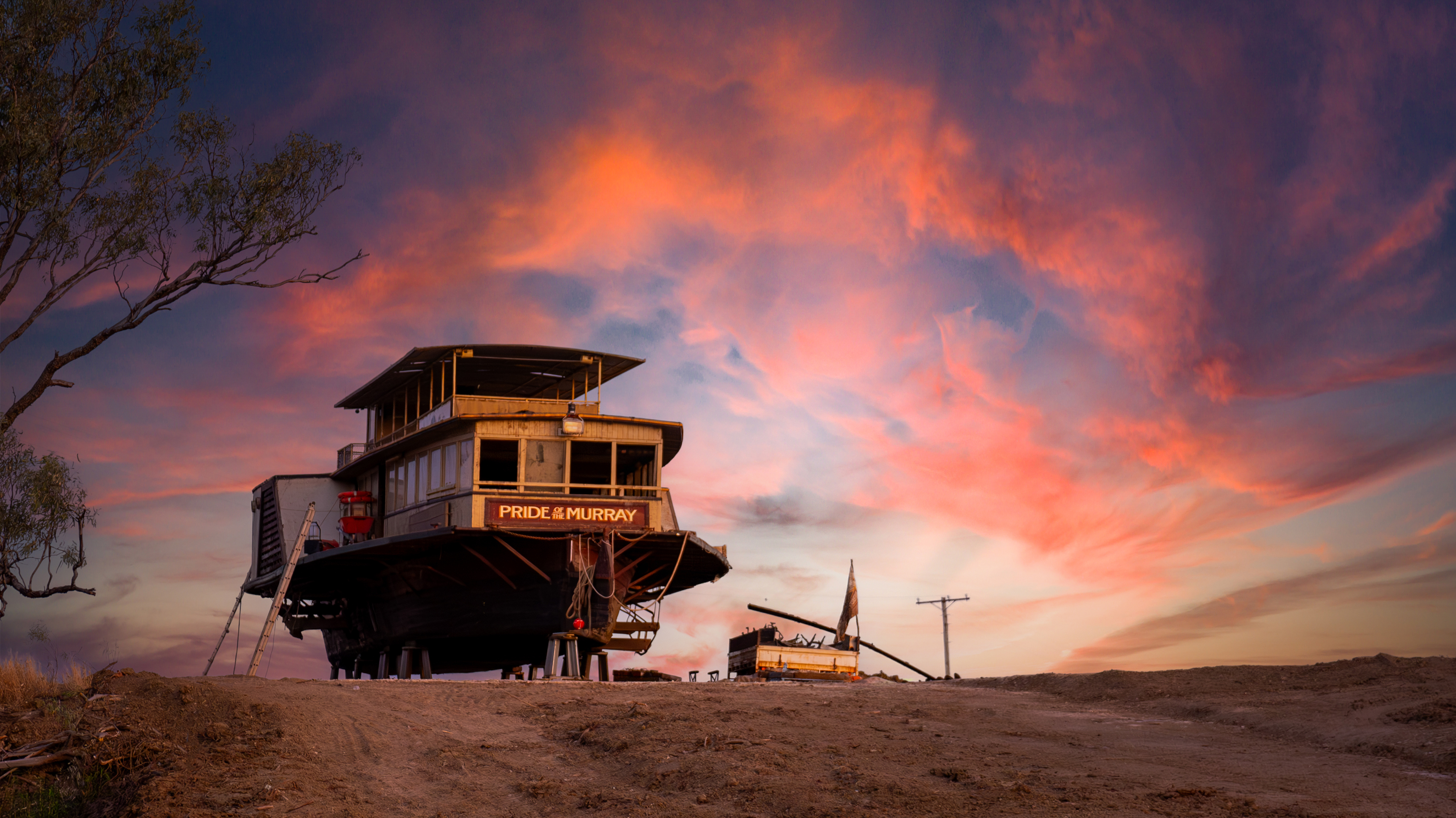 Today Richard Kinnon, owner and founder of Outback Pioneers, announced that sadly the Pride of the Murray will not be able to cruise again.
He said it was with a very heavy heart that, following her recent salvage after six months underwater, they have realised that it will not be possible for her to return to cruising on the Thomson river. This is because she would now need large portions of her hull and superstructure replaced to bring her up to a current certifiable standard for a passenger vessel. Even then, it is likely that getting insurance underwriting would be impossible or prohibitively expensive.
Such wide-spread replacement of vital parts would also detract from her original heritage value and charm.
He said that, despite this setback, he is still absolutely committed to restoring her superstructure but for a land-based role, and that he will commission a replica paddlewheeler to take over her cruise duties.
Richard Kinnon said it has been a very difficult decision over the past days facing the reality for this much-loved boat but this 'Double Vision' will give certainty that she will be honoured and preserved as close to original condition as possible. At the same time, guests will be able to experience a wonderful Pride of the Murray II cruise which will replicate everything guests enjoyed aboard the original.
"If there had been an obvious reason for her sinking and a simple fix for that, we would have done it. That was always what we intended," Richard Kinnon said.
"But the boatbuilders made it clear that, after a sinking, a boat of this age would need to be virtually rebuilt from scratch to guarantee she would pass certification requirements.
"I know many, many people who have followed her progress will be very disappointed and I can assure them that no-one is more disappointed than we are after all the effort and love we've put into her.
"The place we all wanted her was back on the water. But I can do the next best thing by giving her a berth beside the river, restoring her glory and giving her a new role in telling the story of pioneer riverboats.
"We haven't decided exactly what her role will be yet but she will still be here and preserved for future generations.
"Together with her identical 'twin', she will remain a tourism highlight for Longreach and will also reflect on her strong connections with Echuca in Victoria."
Richard Kinnon said it was too soon to say when the restoration and new paddlewheeler would be ready.
"We're only just digesting the reality ourselves and there's a lot of thought and planning to do now," Richard Kinnon said.
"It will also depend on how quickly we can raise the necessary funds for the restoration.
"We are aiming to be ready to tell everyone more and launch our fundraiser in the first half of October.
"Whatever we decide for the Pride of the Murray's new role, in the not-too-distant future Longreach visitors will be 'seeing double' with a Pride of the Murray I and Pride of the Murray II working together to tell the pioneer stories.
"I thank everyone from the bottom of my heart for their support and patience through this unfolding story. I hope you will all stay with us for the next developments and that we will make Australia proud with a suitable tribute to this much-loved paddlewheeler.
"It's not the end of the Pride of the Murray but a new chapter in her incredible life story."
ENDS
Key Facts:
• The Pride of the Murray will not cruise again.
• Certification and insurance implications after the sinking have made it impossible for her to return as a passenger vessel.
• Richard Kinnon plans to build a replica Pride of the Murray to cruise the Thomson.
• The original Pride of the Murray will be restored in a different tourist role.
• Comprehensive inspections have not revealed any obvious reason for the boat's sinking.


Contact details:
Nicki Lloyd
Outback Pioneers
0412 415 514