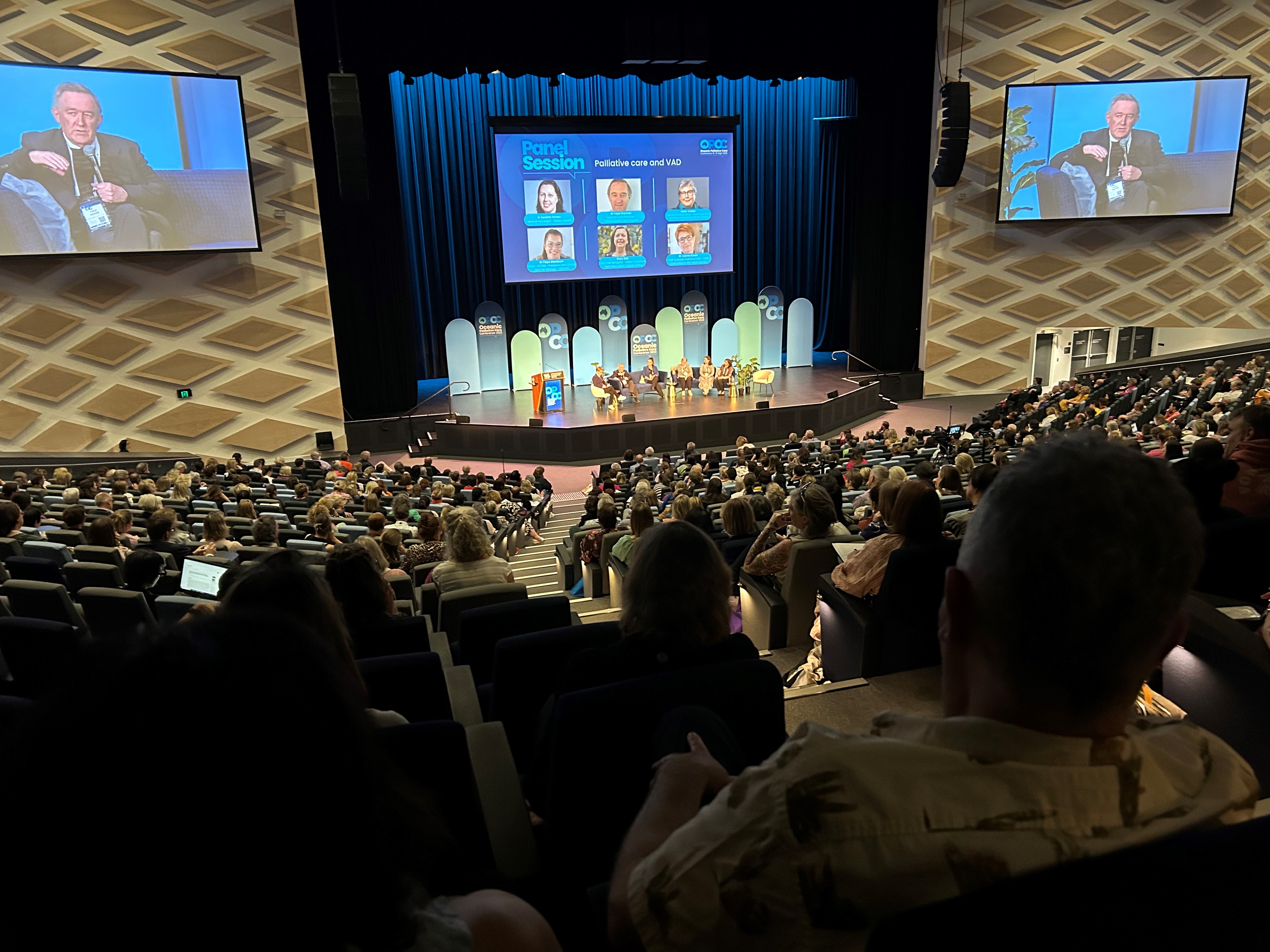 Close to 1400 delegates who took part in the Oceanic Palliative Care Conference are back in their communities inspired and energised by a busy three days of leaning, connection, and fun!
"The program featured over 215 speakers who pointed to powerful ideas, research, and models of care around the theme of 'shaping stronger health systems, delivering quality palliative care.
This was our biggest conference ever -a powerful moment in our sector's history and future." says Camilla Rowland, Chief Executive Officer, Palliative Care Australia (PCA)
Held at the International Convention Centre, Sydney, health professionals and volunteers from across Australia and the globe took part, representing a range of backgrounds including aged care, primary health, oncology, paediatrics, disabilities, and specialist palliative care.
"Bringing a palliative care approach to all parts of health and care sectors was a key theme – and by that we mean bringing a co-ordinated, wholistic team approach to someone's care, listening to and working with the person and their family, and focussing on quality of life as a key outcome," Ms Rowland says.
"The current conversation around an Aboriginal and Torres Strait Islander Voice to Parliament also opened thinking around the value of co-designing health services and policy in collaboration with the people they are meant to serve.
"It's also clear that the implementation of voluntary assisted dying across Australia is something people want to talk about, especially how palliative care can support those making that choice and how we as a sector support the doctors, nurses and allied health professional involved.
"And finally, we also left with a passion for empowering community in the delivery of palliative care, as well as an appreciation for the role friends, family and social networks play at the end of someone's life.
Here's what delegates had to say about the 2023 Oceanic Palliative Care Conference:

"Well done on bringing everyone together again. It was lovely to be able to share, catch up and network."

"Thank you for your kindness, patience, and support. This is one of the best conferences I have attended. Well organised and coordinated."

"Loved it. So well run. MC Joanne Doran was fantastic in every way! The venue and food was wonderful. The content was amazing. Loved the gala ball."

"A big thank you! An honour to receive a scholarship. Can't wait for 25OPCC in Brisbane."
"Thank you to everyone who was there in person or watching online – we are a strong, dynamic passionate community, and after four years of online meetings and conferences it was so great to meet together again in this way," Ms Rowland says.
"We are very grateful for our sponsors for making this possible, including the Australian Department of Health and Aged Care, Silver Chain, NSW Health, Cancer Australia, University of Technology Sydney, Menarini, Calvary, and Quality of Care Collaborative Australia (QuoCCA)."
All conference presentations were recorded and in the coming weeks Palliative Care Australia will be looking at ways to distribute and share that rich content more widely.
"The conference comes at a critical time of health, aged care, and disability reforms, and PCA will take many learnings forward in our policy and advocacy work with government," Ms Rowland says.
Contact details:
Ian Campbell
P: 0417 482 171
E: ian.campbell@palliativecare.org.au