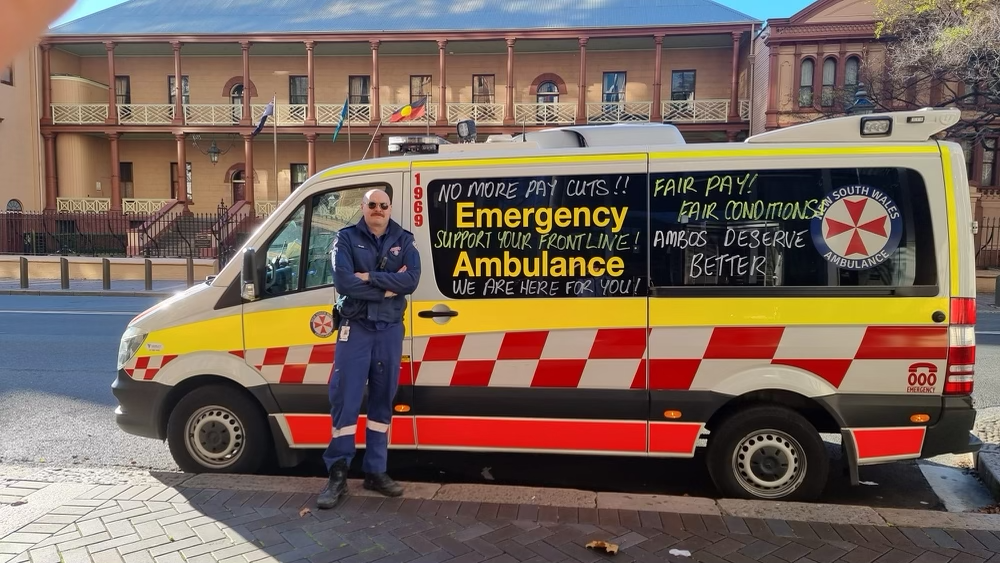 PARAMEDICS SLAM THE NSW GOVERNMENT'S BUDGET BETRAYAL
Tuesday 19 September 2023
The union representing thousands of Paramedics employed by NSW Ambulance has slammed the Premier's 2023/24 Budget for its lack of funding to support frontline workers. With half-baked measures and no new pay offer for the current financial year, Paramedics have been left in the dirt by the Government.
"It is disgraceful that the Treasurer is on TV touting the 2023 Budget as providing support for Paramedics. This budget is a betrayal of Paramedics and every single frontline healthcare worker in the state," says APA (NSW) President Brett Simpson.
"The Government keeps saying that they can't offer us a fair wage because of a 'budget blackhole'. During the Pandemic, when our patients needed us, we didn't throw our hands in the air and say 'it's all too hard'. We put on our uniform and went to work, even though we knew it put our lives at risk."
"It's time for the Government to stop lying and obfuscating, and actually do their job."
The union has vowed to continue their fight for fair pay. In response to the Government's budget betrayal, they have announced renewed industrial action. From Thursday 21 September to Monday 25 September, APA (NSW) Paramedics will be recommencing KPI & Billing Bans, Special Events Bans, and Staff Movements Bans.
"Paramedics will never back down from our fight to be paid what we deserve. We will never back down from advocating for regional communities. We all deserve better," continues Mr Simpson.
"This is a Treasurer with training wheels, who is more concerned with juggling numbers than saving lives."
"The Premier has his head in the sand when it comes to the problems plaguing NSW Ambulance."
"What good is bribing healthcare students with scholarships when you're then locking them into five years of poverty with the lowest Paramedic wages in the country."
"The recent staffing announcements are like putting a band-aid on a bullet hole, as healthcare workers abandon NSW in droves. How helpful are 500 extra rural and regional staff if we can't keep the ones we already have?"
"In the past decade, Paramedics have taken on dozens of new clinical skills and sacrificed themselves through gruelling natural disasters and health emergencies, all while providing better care for our patients and easing the strain on the healthcare system. Once again we've been rewarded with a kick in the teeth."
"With sky-rocketing inflation and interest rates, we are struggling to pay our mortgages and rent. This Government is once again asking Paramedics to shoulder the financial and emotional burden of their mismanagement".
"Thankfully Mr Minns has invested in an app for mental health, which Paramedics will put to good use as a result of his abandonment."
"We won't stop fighting until the Government follows through on what they've promised Paramedics and the people of NSW."
Media Contact - 0432 415 303 or admin@apansw.com.au
Contact details:
Media Contact - 0432 415 303 or admin@apansw.com.au