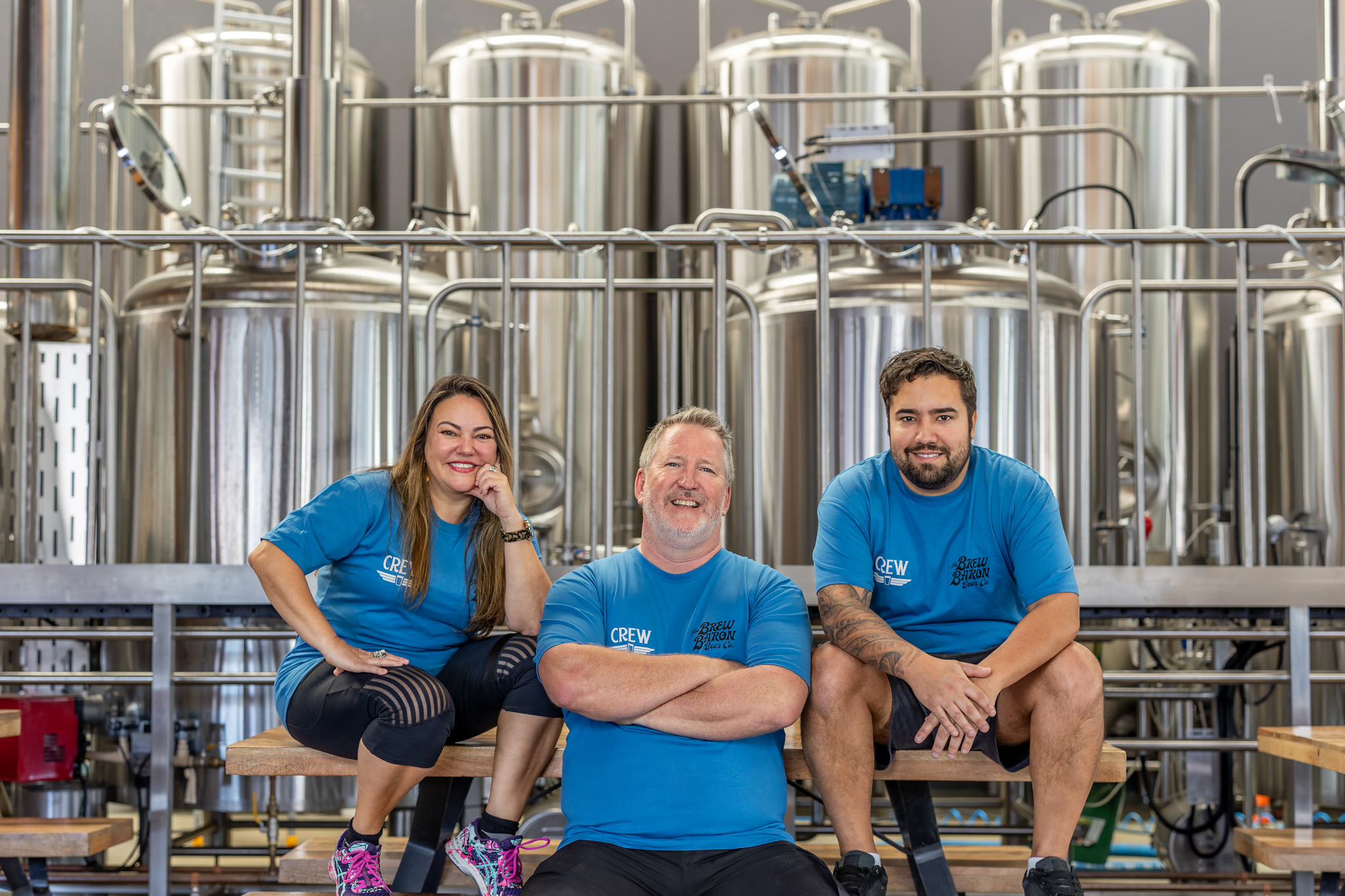 Parched Brewery in Brisbane's West End becomes The Brew Baron Beer Co.
Parched West End Craft Brewery has officially become The Brew Baron Beer Company. The new brand, and brewery, are family-owned and operated by Brad Sayer, Rita Ferraro and Gibran Ferraro Firmo.
Having purchased the troubled Parched Brewery in June 2023, Brad and Gibran have been working hard to acquaint themselves with the West End community, while keeping the great tasting beers that the community loves, but also addressing some much-needed improvements – to beer, food and the brewery experience for customers. And so, it's now time that the brand changes, and with this, we'd like to introduce you to The Brew Baron Beer Company.
While The Brew Baron Beer Co. focusses on its fictional "Baron" character, it represents the owners' own fun, quirky and tongue-in-cheek outlook on life. The Baron stands for quality (in food and beverage served at the brewery) and providing a great value-for-money experience. Apart from the obvious branding changes, patrons can now enjoy a newly constructed deck (due to open, soon), a pool room on the mezzanine level, improved food and beer menus, introduction of big screen TVs with Fox Sports, leather chesterfield sofas, which are due to arrive by the end of September and the re-introduction of live music.
"My wife, stepson and I have purchased the brewery, and made the changes that we think will improve things, for our customers" said Managing Director, Brad Sayer. "Gibran, is a qualified chef and has led improvements to the food menu by using fresher ingredients, introducing his native South American flavours and adding more value-for-money pricing. In the brewhouse, we've been fortunate to keep long-standing great brewer, Matt Wolfe, but given him greater autonomy to do what he does best - brew great beers. And we've changed the customer area to provide a more engaging and comfortable experience. Finally, our customers will find Gibran and/or me onsite, at all times, so they can approach us and share their thoughts directly with us. The brewery remains a small, West End family owned and operated business. With the support of the West End community, we'll continue operating and supporting it."
Open 12pm til late, Wednesday to Sunday (closed Mon/Tues)
391 Montague Rd, West End (Entrance via Rogers St)
Facebook: facebook.com/brewbaronbeerco
Instagram: instagram.com/brewbaronbeerco
Web: www.brewbaron.com.au
THE Brew Crew
Brad Sayer
Dr Brad Sayer is our Founder and Managing Director. While you may find Brad behind the bar, pouring beer, or waiting on tables to assure customer service standards, he is responsible for managing the commercial aspects of the company, along with its strategic direction. But, like most people, Brad loves mouth-watering succulent BBQ that falls off the bone, washed down by a dark ale, which is probably why he also assumes responsibility for overseeing customer satisfaction, which includes everything customers may experience during their time at the Brew Baron, ranging from service standards, the food menu, beer selection through to the 'atmosphere'. If you would like to let Brad know your thoughts about your time at the Brew Baron, he's always open to listening.
Gibran Firmo
Gibran Firmo is our Founder and Director at the Brew Baron Beer Company. After 10-years feeding our soldiers in the Australian Defence Force, Gibran is responsible for the food menu, which includes sourcing, testing, trialling and developing it to complement our craft beers. As a qualified chef, Gibran is a strong advocate for only using fresh ingredients, sourced from local providers, which exude great flavour. Gibran, who is originally from Rio de Janeiro, Brazil applies his practical and technical skills to ensure our great chefs and cooks, turn qualify ingredients into great food that bursts with flavour.
Rita Ferraro
Dr Rita Ferraro is one of our Founders and is a Non-Executive Director. Rita is perhaps most influential in the family's decision to purchase a craft brewery and has been a great supporter for the concept to get into craft brewing. She envisioned a place where friends, colleagues, and the whole family (including the family puppies) could meet, have fun, and relax while enjoying great food and craft beers. During the day, Rita is a professional linguist, academic, writer and teacher of Portuguese and Spanish languages. After hours, she uses her versatility to do everything that is needed, including sharing her ideas and sensible advice for the brewery.
Matty Wolfe
Head Brewer Matty Wolfe is a jack-of-all-trades and our Head Brewer, to boot. He is well-known and regarded across the brewing industry as an extremely knowledgeable and capable brewer. He is recognised and credited with brewing many of Parched Brewery's award-winning beers which have received awards at the Indies and Royal Queensland Beer Awards. But, not being one to rest on his laurels, Matty continues to explore and develop the Brew Baron's beers with a view to meet customers' changing tastes. So, check out any of Brew Baron's beers in-house, at festivals, competitions or other licensed premises, and you'll be tasting one of Matty's creations.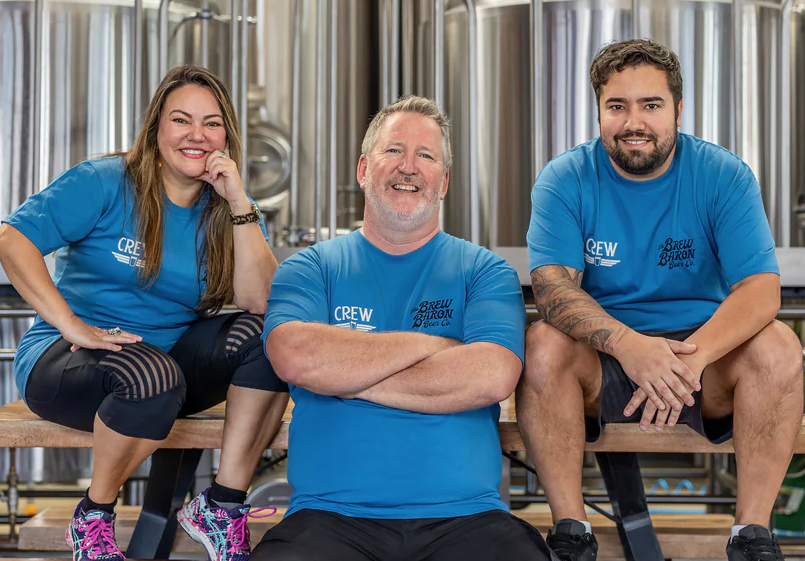 RITA (Left), BRAD (Middle), & GIBRAN (Right)
OKTOBERFEST EVENT
How could we not? With Brissy missing out on its iconic beer event this year, we thought we'd make a 4101 day of it with our own Westoberfest. Join us on Sunday, 1st of October from 12pm for German beers, food, Oompah band, and a lot of laughs. Tickets will be on sale soon.
FORTNIGHTLY LIVE MUSIC - SUNDAY
Every second Sunday there is live music on the 'Brew Stage' between 2pm – 5pm
TRIVIA EVERY THURSDAY
Brains & Brews! Unlock your inner genius every Thursday at 6:30pm. Grab your "smart mate" or that "eccentric-neighbour-who-surely-must-know-a-bit-about-something" (you know the one) and join us for a frothy night of FREE trivia hosted by Quizmeisters! There is $100 cash, and a carton of beer to win each week.
MORE INFORMATION: Kath Rose, 0416 2901 493 or kath@kathrose.com