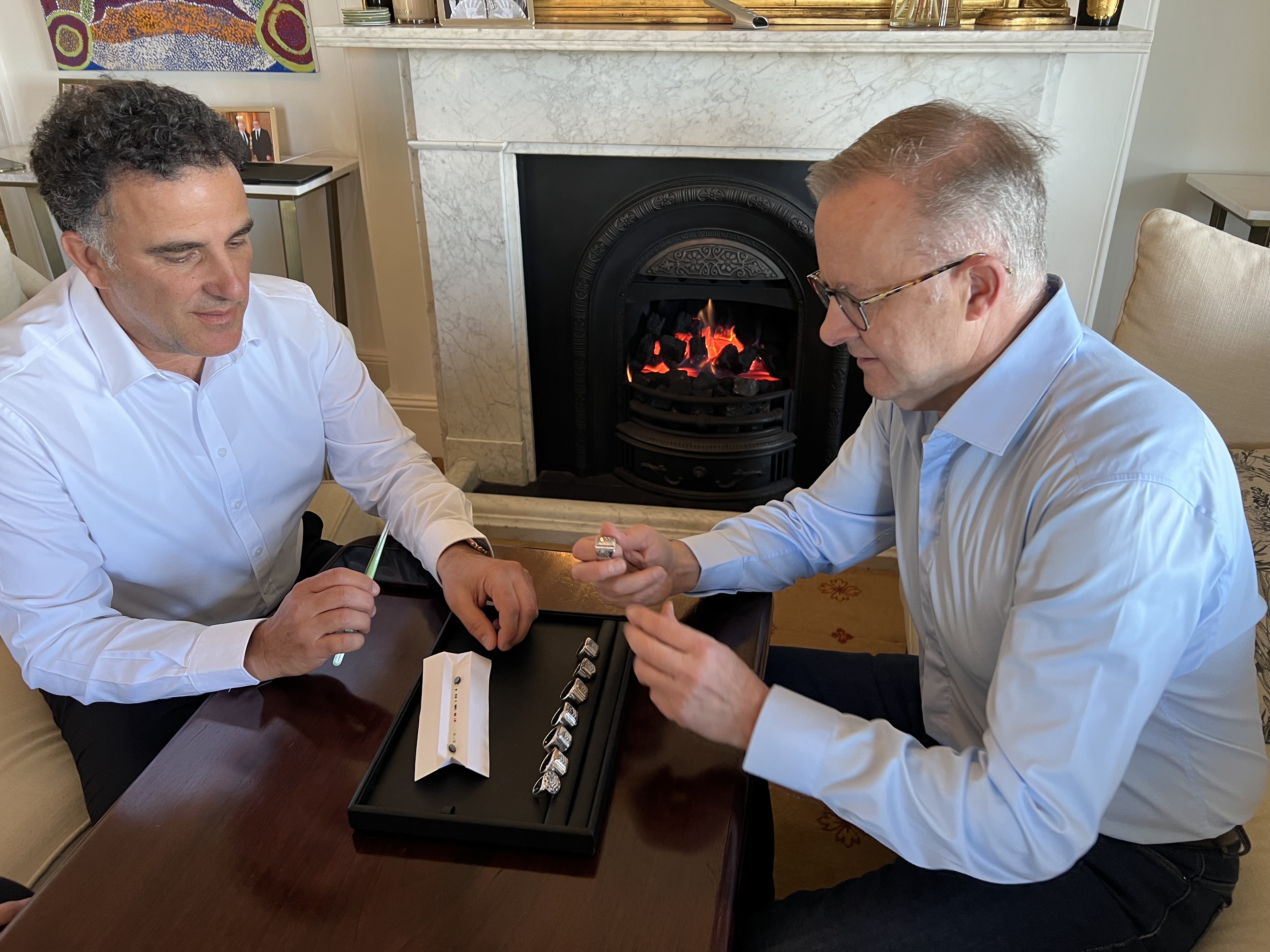 27 September 2023: SYDNEY: Affinity Diamonds today announced the 2023 NRL Men's and Women's Grand Final Rings have been designed by Australian Prime Minister Anthony Albanese.
Each year, Founder and CEO of Affinity Diamonds, Sam Rahme, gives the honour of designing the ring to a prominent Australian.
Over the years, the guest designers have included Ray Warren, Police Commissioner Mick Fuller and Johnathan Thurston.
"As a rugby league fan, it truly is an honour to work with Affinity Diamonds to design these incredibly important rings for the winners of the men's and women's NRL Grand Final," Prime Minister Albanese said.
"The design I have chosen gives a nod to our Australian national flower, the Golden Wattle and includes yellow sapphires. This is the first time these stones have been used and I know the players will wear these rings with pride."
Since 2015, Affinity Diamonds has been designing and producing the iconic NRL Premiership rings and medals.
"Prime Minister Albanese has taken on the design task with great enthusiasm, and we are incredibly proud to work with him on this project," Affinity Diamonds CEO Sam Rahme said.
"The design he has chosen is truly unique. The ring has player numbers engraved on one side and on the opposing side it has a kangaroo and emu. The inclusion of these native animals represents an admired virtue of rugby league players of never taking a backward step."
Based in the heart of Sydney and Auckland's CBD, Affinity Diamonds has been sourcing the finest diamonds on the market for 20 years.
Originally founded by Sam Rahme in 2001, Affinity Diamonds was born out of a passion for exquisite luxury and the urge to make the intangible more accessible for everyday people.
ENDS
Media contact: Candice Lester, E: candice@houseofpr.com.au, M: 0401 367 343
Key Facts:
Australian Prime Minister Anthony Albanese has worked with Sam Rahme from Affinity Diamonds to desing the NRL Grand Final rings for the Mens and Womens grand final winners. The rings will be presented this weekend.
Contact details:
Candice Lester, House of PR, 0401 367 343 or candice@houseofpr.com.au