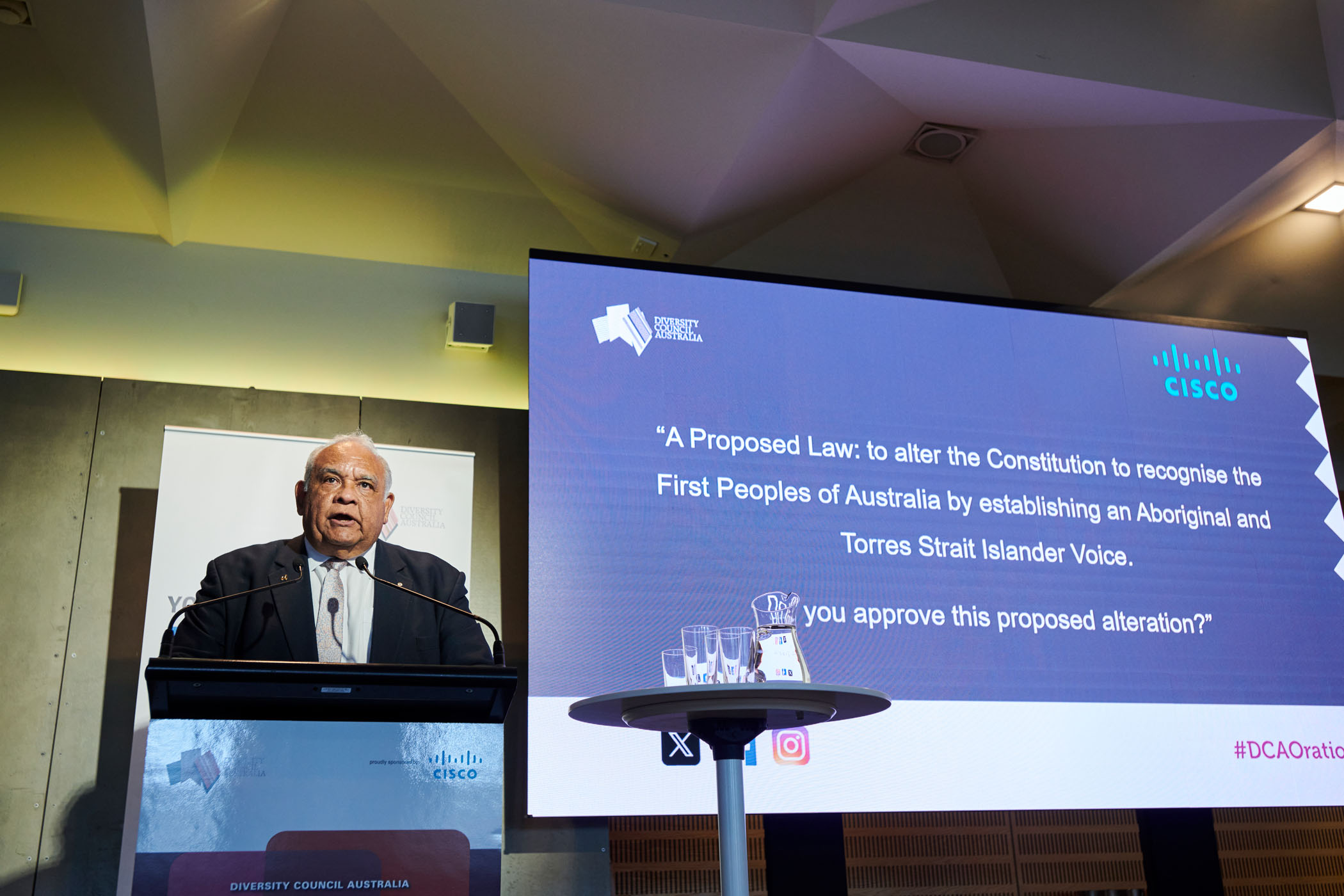 Professor Tom Calma AO has called on Australians to focus on "facts and not opinions or the extreme hypotheticals that prevail" in the final weeks before the Voice Referendum.
Speaking at Diversity Council Australia's Anna McPhee Memorial Oration in Melbourne yesterday just minutes after Prime Minister Anthony Albanese announced the long-awaited referendum date, Professor Calma urged Australians to stay informed and not be swayed by "the mis and disinformation that are being promoted by pundits who are ill-informed or have malicious intent".
"I stand here today with a passion many of you share – to enhance the rights and quality of life of Aboriginal and Torres Strait Islander people and to progress reconciliation and social justice," Professor Calma said."Walk with us for a better future for all. Start the journey and vote YES."
Taking place at Zinc at Federation Square on Wednesday, DCA's fifth annual Anna McPhee Memorial Oration was opened by DCA Chair Ming Long who welcomed a sold-out room of members and diversity and inclusion thought leaders.
Long emphasised the important role Australian businesses play in supporting employees through the debate and providing information and resources.
"It is clear to me supporting the Voice is not just a matter of social responsibility and a business investment in a sustainable future for Australia, it affirms our values and is a statement of what we stand for domestically and internationally," she said.
Professor Calma, Kungarakan Elder co-author the Indigenous Voice Co-design Process Report, and 2023 Senior Australian of the Year, gave a moving Oration explaining why this referendum is important for reconciliation in Australia, unpacking the principals behind the proposed change and dispelling some of the many myths surrounding the Voice.
Following a well-deserved standing ovation, he was joined on stage by Professor Nareen Young, Associate Dean (Indigenous Leadership and Engagement) who led an engaging panel discussion featuring:
Ian Hamm, Chairperson, First Nations Foundation
Antoinette Braybrook AM, CEO Djirra and
Julie Canepa, Director Digital Transformation CX APJC, Cisco

Professor Tom Calma, Antoinette Braybrook and Nareen Young
Hamm urged business to play an active part in the referendum debate.
"This country expects its corporations to play a positive role in its social construct, in its cultural identity, in who we are as a people," he said.
"Corporations have to do more than just make a buck. The question corporations are being asked repeatedly every day is: what are you doing to contribute to the society in which you live?"
Expanding upon this point, Canepa said Cisco felt the need to be transparent with its employees in its support for the Voice.
"Principles are just principles if we don't take action," she said.
"We need to have a plan for our employees if it doesn't go the way we want it to go and we need to have a plan for if it does go the right way. What's next? How do we continue to progress the conversation?"
When asked what Australians can do to support the Voice, Braybrook spoke about the weight of cultural load on First Nations people.
"I'm an Aboriginal woman and I want change for my family. I want my mum to be able to see this change, because she has endured so much," she said.
"I want her to see change. I want my nieces and my nephew to have a different future."
She said it was time non-Indigenous Australians carried some of this load.
"Take it on. Talk to your family and friends. Educate yourself. We're here to talk to you.
"We give so much of our life. This is our life. Carry some of the load."
DCA CEO Lisa Annese thanked this year's speakers and attendees for engaging in such an important discussion.
"We host our annual Oration to honour the memory of DCA's former Chair, Anna McPhee, a true champion of fostering a diverse and inclusive Australia where everyone may feel accepted and welcome," she said.
"I want to thank Professor Tom Calma for giving such an inspiring and thought-provoking Oration and presenting a compelling case for Australians to vote Yes! In the upcoming referendum.
"The Voice to Parliament referendum represents a pivotal moment in Australian history, and we all have an important role to play.
"Genuine inclusion must begin with reconciliation. There can be no genuine workplace inclusion while our First Nations Peoples are excluded from opportunities, and we as a nation do not address race relations, equality and equity, unity, institutional integrity, and historical acceptance by including First Nations People in the Constitution."
[ENDS]
Images: https://we.tl/t-l4Y2gWp74O
Media contact: Ali Coulton, 0430 242 682 | media@dca.org.au
Speaker bios:
Professor Tom Calma AO is a respected Elder from the Kungarakan and Iwaidja people, in the Northern Territory. As a long-time human rights and social justice campaigner, Professor Calma's credentials include being Co-leader, alongside Professor Marcia Langton, of the Indigenous Voice Co-design Process and co-author of the final report of that process which has become a foundational guide for the Voice to Parliament. He is a member of the Referendum Working Group, Chancellor of the University of Canberra and Co-Chair of Reconciliation Australia. He is also 2023 Senior Australian of the Year.
Professor Nareen Young is a descendant of the Gadigal Eastern Dharug people and one of Australia's leading and most respected workplace diversity practitioners and thinkers. Her work has had significant influence in the development of Australian diversity practice. She is Associate Dean, Indigenous Engagement and Leadership at the UTS Business School and leads the Jumbunna Institute's highly innovative Indigenous People and Work Research and Practice Hub. Nareen currently sits on the Indigenous Advisory group of National Australia Bank and the Aboriginal Advisory group of Insurance Australia Group and the boards of per capita, BlakDance and Evolve Housing.
Ian Hamm is a Yorta Yorta man who has been actively involved in the Victorian Indigenous community in a personal and professional capacity for many years. He is Chairperson to First Nations Foundation and has had a wide level of exposure to policy development and program management through his work with the Federal Government (Office of Aboriginal and Torres Strait Islander Health) and the Victorian Government (Department of Justice; Department of Planning and Community Development, Economic Development, Jobs, Transport and Resources).
Antoinette Braybrook AM is an Aboriginal woman who was born on Wurundjeri country. Her grandfather and mother's line is through the Kuku Yalanji. Antoinette is the CEO of Djirra, a position she has held since the service was established in 2002. Antoinette is also Co-Chair of Change the Record, Australia's only national First Nations led justice coalition of legal, health and family violence prevention experts.
Julie Canepa has 25 years diverse IT leadership experience leveraging people, process and technology to transform business & IT at Cisco. Julie works with Asia Pacific organisations to help them achieve their digital transformation objectives and is an Executive sponsor for Women of Cisco ANZ. Julie is also Chair of the IT Committee of the DCA Board.
About the Anna McPhee Memorial Oration: DCA's annual Oration has been named in honour of the late Anna McPhee, DCA's former Chair. Anna was an advocate on business issues across industry and politics but was also known for her advocacy on diversity and equal opportunity. She was the Director of the Equal Opportunity for Women in the Workplace Agency from 2004 to 2008 and she created the Equal Pay Day campaign in Australia in 2008. She was also Chair of DCA's Board between 2010 and 2015 and continued as a Director until 2016.
About DCA: Diversity Council Australia is the independent not-for-profit peak body leading diversity and inclusion in the workplace. We provide unique research, inspiring events and programs, curated resources and expert advice across all diversity dimensions to a community of over 1,200 member organisations. Our member organisations are estimated to employ nearly two million Australians, representing up to 20% of the workforce.