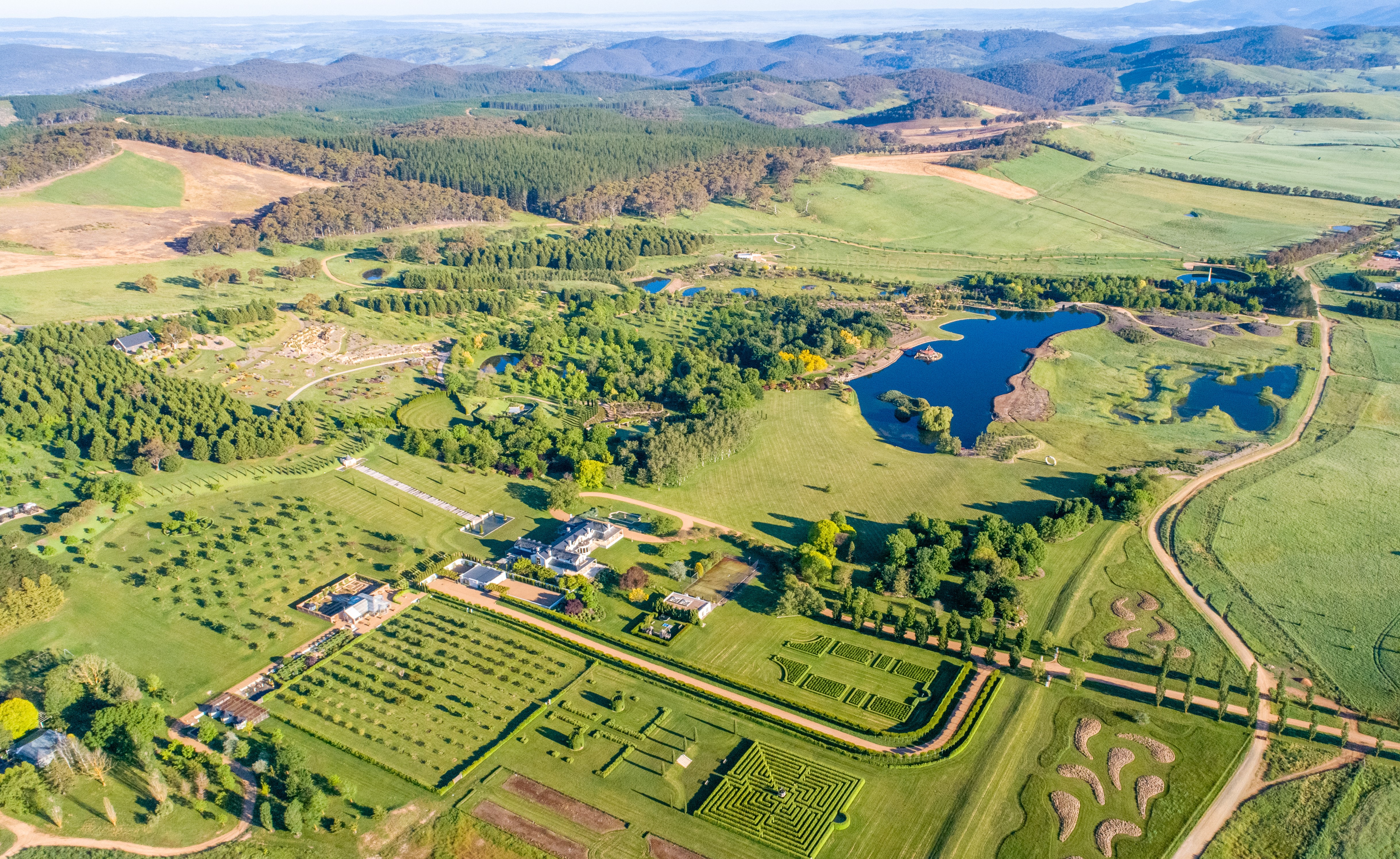 For release: Immediate
Spring Festival at Mayfield Garden
The return of Glamping and the introduction of music

Festival dates - 23 September to 22 October
Mayfield Garden has announced that its Spring Festival will return this year bigger and better than ever before with the return of onsite glamping and the introduction of live music.
From Saturday 23 September to Sunday 22 October, guests are invited to experience the full 65 hectares of the spectacular Spring garden - including the 50-hectare private family estate.
Apart from experiencing the extraordinary blooms and colours of an awakening Spring Garden, visitors to the private garden also get to enjoy one of Australia's largest English Box Hedge Mazes, the Mayfield Amphitheatre, Family Chapel, Water Garden, the Stumpery, and rowing on the Mayfield Lake.
Mayfield Garden's Alexandra Muldoon said Spring is one of the most popular times of the year for garden visitors.
""The garden literally explodes with colour," he said. "It is one of the most beautiful and spectacular times to visit a cool climate garden like Mayfield – with rhododendrons, water lilies, paeonies, viburnum and wisteria just some of the plants showing their full colours at this time of the year."
Glamping
This year, guests also have the opportunity to stay overnight with a Mayfield Garden Glamping Package.
The luxury glamping experience allows visitors exclusive late-night and early morning access to the garden, including access to the entire 65 hectares of flora and fauna, private family estate, as well as a gourmet three-course a la carte dinner.
Guests can choose to have a delicious artisanal breakfast delivered to their tent, or for an extra touch of luxury, have a catered sunrise/sunset picnic. The beautifully appointed tents are located by Mayfield's Obelisk Pond, and are fitted with an authentic natural fibre rug, Queen-size bed, luxurious mattress, high-grade linen and other comfortable furniture items.
The cost of glamping is $475 per couple per night, which includes accommodation in a Mayfield luxury tent, full garden entry and a three course a la carte dinner in the renowned garden restaurant.
Guests are also invited to bring their children, if aged under 16, to share their tent for an additional cost of $105 per child - which includes accommodation, garden entry and a two-course dinner.
Glamping Bookings: https://mayfieldgarden.com.au/glamping
Music
For the very first time, Mayfield Garden is offering a series of music performances during its Spring Festival, with a number of performers entertaining visitors over the long weekend which runs from Saturday 30 September to Monday 2 October.
The performance schedule is as follows:
Day 1: Saturday, 30 September
11.00am Pipe and Drum Band - Governor Macquarie Memorial Pipe Band will play the classic Pipe Band repertoire, plus covers of rock songs and other popular pieces.
2.00pm Opera by Design - A Classical and Opera Cross Over Concert at the Mayfield Performance Marquee.
Day 2, Sunday 1 October
11.30am Morning Melodies - Gregg Arthur Three-Piece sings Tony Bennett.
1.30pm The Bathtub Gin Orchestra – Delivering a captivating blend of 1920s stomp, early1930s swing and a hint of gypsy jazz.
Day 3, Monday 2 October
11.30am Magician: Jackson Aces. Magic and Illusions, at the Mayfield Performance Marquee.

Logistics
The Garden will be open during the Spring Festival from 9.00am to 4.30pm, with final entry at 3.00pm.
Day visitors to the garden can choose to bring a picnic lunch or book a table at Mayfield's popular garden restaurant.
Visit mayfieldgarden.com.au for more information.
About Mayfield Garden
Australia's largest privately-owned, cool climate garden, Mayfield is a living legacy of the Hawkins family who took their inspiration from the best gardens in Europe.
Beautiful in every season, 15-hectares of Mayfield Garden is open 363 days (closed Christmas Day and Boxing Day), while the Hawkins' Private Family Garden is an additional 50 hectares and open to visitors four times a year for seasonal festivals. The private garden features the country's largest English Box Hedge Maze, Cascade & Temple, Amphitheatre, Mayfield Chapel, Walled Kitchen Garden & Glasshouse.
Enjoy breakfast, lunch or a snack in Mayfield Café, or pre-order a picnic basket via our website that you can collect on arrival.
Located 15 minutes from Oberon, the 65-hectare garden is a two-and-a-half-hour drive from Sydney and a 75-minute drive from Katoomba through the World Heritage-listed Blue Mountains.
Contact details:
Chris Muldoon
Director Mayfield Garden
P: 0420 602 306
chris.muldoon@mayfieldgarden.com.au