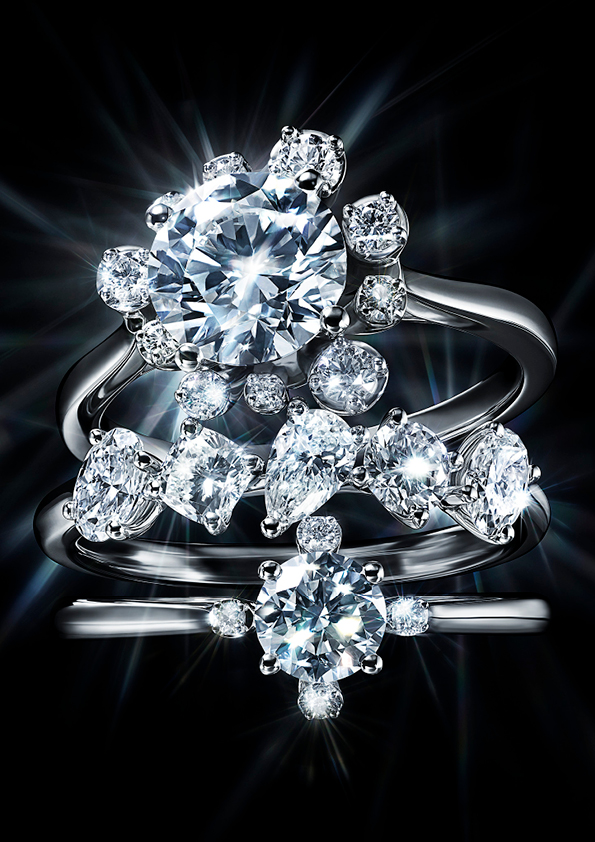 Building on the success of its debut Swarovski Created Diamonds collections in the USA and Canada, Swarovski announces the global expansion of its fine jewellery category across all flagship stores and key markets such as China, Italy, Korea, Japan UK, Australia, France, Germany, Austria, and the UAE.
The move is the next phase in a global roll out for Swarovski Created Diamonds and a mark of strategic intent for the Austrian crystal house as it accelerates its expansion into the category and prepares to launch 'Galaxy', the first fine jewellery collection designed by Global Creative Director Giovanna Engelbert. The 'Galaxy' collection will be unveiled at the launch of Swarovski's new 5th Avenue flagship store in New York this Fall.
This coincides with the announcement of a partnership with the International Gemological Institute (IGI), which will certify all laboratory grown diamonds in Swarovski's 'Galaxy' collection.
The independent body, which is a global leader for diamond assessment and has almost 50 years of experience in diamond grading, will certify the quality of every lab-grown diamond adorning new Swarovski Created Diamond collections according to the 4Cs of diamond quality: cut, colour, clarity, and carat weight.
Alexis Nasard, Swarovski Chief Executive Officer, commented: "Lab-grown diamonds will play a significant role in the future of the diamonds category, and they represent a strategic growth category for Swarovski. Our partnership with IGI will guarantee the quality of each stone in our forthcoming Swarovski Created Diamonds collections, enhancing consumer trust and confidence during our global roll out."
Roland Lorie, Chief Executive of IGI, commented: "Swarovski has been renowned for its precision cutting, innovation, and artistry since 1895. We are pleased our new partnership will ensure that every single stone is graded and certified according to the 4 Cs of diamond quality."
Swarovski Created Diamonds are 100% identical to mined diamonds – the only difference is how they originate. They are made using a process that replicates nature, resulting in a lab-grown diamond that is indistinguishable from a mined diamond in all chemical, physical, and optical attributes and are considered to be more environmentally friendly.
Entry into the fine jewellery market is a natural evolution for the brand, which has offered lab-grown diamonds since 2016 as part of its B2B portfolio.
The collection will be available from September 18 in stores across the US and Canada, including Swarovski's new 5th Avenue flagship store, which opens Fall 2023
For more information, please contact: global.pr@swarovski.com
NOTES TO EDITORS
SWAROVSKI CREATED DIAMONDS - FROM THE MASTERS OF LIGHT SINCE 1895
Swarovski Created Diamonds are the diamonds of the future.
Identical to mined diamonds in every way but how they originate, Swarovski Created Diamonds are made using an innovative process that replicates nature, resulting in a laboratory grown diamond that is indistinguishable from a mined diamond in all chemicals, physical, and optical attributes. Once grown, after forming layer-by-layer from a tiny carbon seed, they are precision-cut and polished to perfection revealing maximum brilliance, scintillation, and fire. Swarovski Created Diamonds are graded using the 4Cs of clarity, colour, cut, and carat weight. Swarovski Created Diamonds offer the perfect access point for those desiring the luxury of diamonds. Stones of 0.25 carat and larger carry a microscopic laser inscription "SWAROVSKI CREATED DIAMOND" as a guarantee of quality and Swarovski's expertise, craftsmanship, and mastery of light.
ABOUT SWAROVSKI
Masters of Light Since 1895
Swarovski creates beautiful crystals-based products of impeccable quality and craftsmanship that bring joy and celebrate individuality. Founded in 1895 in Austria, the company designs, manufactures and sells the world's finest crystals, Swarovski Created Diamonds and zirconia, jewellery, and accessories, as well as objects and home accessories. Swarovski Crystal Business has a global reach with approximately 2,300 stores and 6,600 points of sales in over 150 countries and employs more than 16,600 people. Together with its sister companies Swarovski Optik (optical devices) and Tyrolit (abrasives), Swarovski Crystal Business forms the Swarovski Group. A responsible relationship with people and the planet is part of Swarovski's heritage. Today this legacy is rooted in sustainability measures across the value chain, with an emphasis on circular innovation, championing diversity, inclusion, and self-expression, and in the philanthropic work of the Swarovski Foundation, which supports charitable organisations bringing positive environmental and social impact.
About IGI
The International Gemological Institute (IGI) has 29 laboratories and 18 education facilities in major diamond and jewellery centers around the world. For over 45 years, IGI has provided the fine jewellery community and consumers with a broad range of services including natural and laboratory grown diamond reports, coloured stone grading and origin reports, as well as jewellery identification and appraisal reports. With the increase of lab grown diamonds in the marketplace, IGI screens millions of natural and lab grown diamonds in order for the industry and consumers to receive the product they expect. Regardless of location or marketplace, an authentic IGI Laboratory Report is the common language of trust and confidence in the
gemological world. www.igi.org/