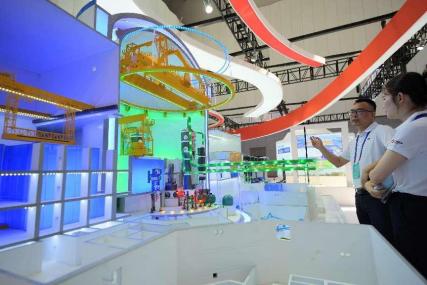 YANTAI, China, Sept. 1, 2023 /Xinhua-AsiaNet/--
On August 30, the 2023 Green, Low-carbon and High-quality Development Conference concluded with fruitful highlights.
Before the opening of the conference, Shandong set up a decision consultation committee to serve the decision-making of the provincial CPC committee and provincial government. During the conference, an exhibition of achievements in green, low-carbon and high-quality development was held. The Research Institute of the Ministry of Commerce issued a Report on Green Trade Development of China, and the conference issued reports such as a Report on the Development of Offshore Wind Power and PV, A List of Top 100 Clean Energy Enterprises of China and White Paper on the Development of Clean Energy Industry in China, which were significant as a valuable reference for related fields and industries to obtain important information and establish the high-quality development standard.
During the event, a total of 3,121 cooperation projects have been promoted with a total investment of 4.63 trillion yuan, and 70 projects worth 132.4 billion yuan have been signed, covering key fields such as major industries, infrastructure, platform support, social livelihood and ecological environment protection, according to the News Office of the People's Government of Yantai.
The event has also established a platform for expanding the exchanges and cooperation on green, low-carbon and high-quality development. In addition to key project presentations and centralized signing activities, there were also promotion and business negotiation events for replacing old growth drivers with new ones so as to meet the market demands and deepen pragmatic cooperation.
Source: The News Office of the People's Government of Yantai