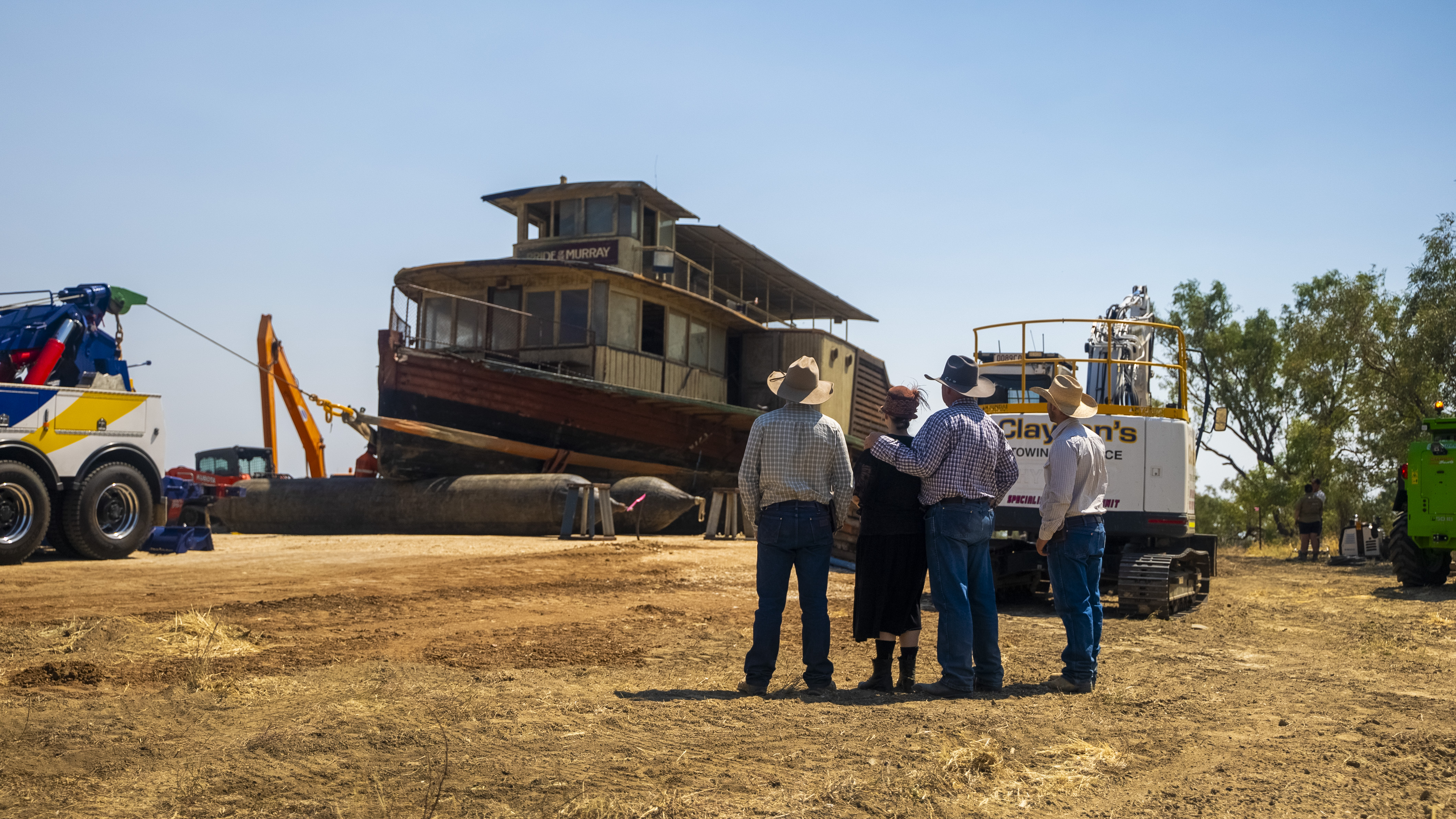 FOR IMMEDIATE RELEASE
The Pride of the Murray paddlewheeler, which sank in the Thomson River six months ago, has been successfully raised from the water and is now on her hard-stand on the riverbank.
Owner of the 99-year old boat and Outback Pioneers founder Richard Kinnon said that, whatever emerges in the coming inspections, she will be restored and have pride of place in Longreach.
"She's an incredible old lady. You could feel her spirit and almost hear her heartbeat as we pulled her out," Richard Kinnon said.
"I can say for sure she will be restored to tell her stories – not just for outback Queensland but to inspire all of Australia."
The boatbuilders will be in Longreach today to assess her and the marine surveyors are coming next week.
Richard said it will not be until they have all the reports that they will be able to guarantee she can be made seaworthy again but that, whatever happens, she will be restored and have an important role as an Australian icon.
"If it's humanly possible, she will be back on the water for her centenary in 2024. That's definitely the plan." Richard said.
"If for any reason she can't be re-certified as a passenger vessel, we will still bring her back to life and give her an exciting new role.
"I know she is going to be an outback celebrity as she has such presence, and so many people around the country have been touched by her story."
The complex lift of the boat has not been without its challenges (including a snagged air bag and a few brown snakes!) but the 30-strong team took a moment to celebrate today.
Richard Kinnon said a fundraising campaign will be important to get the restoration happening quickly.
"After investing so much in the original restoration, this time we will also need to ask our mates for help to fund this restoration.
"We will launch a fundraising campaign in a month or so but in the meantime people can donate through our Pride of the Murray website," Richard said.
He also said that to ensure her future preservation, $1 from every Outback Pioneers Starlight's Cruise Experience will go towards her preservation costs.
"This will mean tens of thousands of dollars each year will be put aside so she can always be maintained in peak heritage condition," Richard Kinnon said.
"It's an important piece of history and a beautiful vessel we have here. We owe her our respect and to be custodians for future generations."
The Pride of the Murray was bought by Richard Kinnon in 2022 to expand the Outback Pioneers Starlight's Cruise Experience in Longreach. She was transported overland from Echuca, Victoria in what was one of the biggest maritime moves in Australian history. She was then restored and cruised the Thomson River for a few months before the end of the 2022 tourist season, drawing visitors from around the country. Her sinking in March 2023 was a devastating blow for all who loved her.
ENDS
ACCESS STILLS HERE
Video links below
This VNR contains sound ups from Richard Kinnon owner of POTM and Chris Baldwin who was the Project Manager for the recovery. Overlay includes vision in chronological order of the recovery over the past three days.
Key Facts:
• The Pride of the Murray paddlewheeler has been successfully raised from the Thomson River.
• Richard Kinnon is determined to restore her as an outback icon.
• There will be a fundraiser to help with the estimated $1.5 million cost of restoration.
• Boatbuilders and marine surveyors will make further assessments next week.
Contact details:
Nicki Lloyd
Outback Pioneers
0412 415 514
Dean Miller
0408 911 104