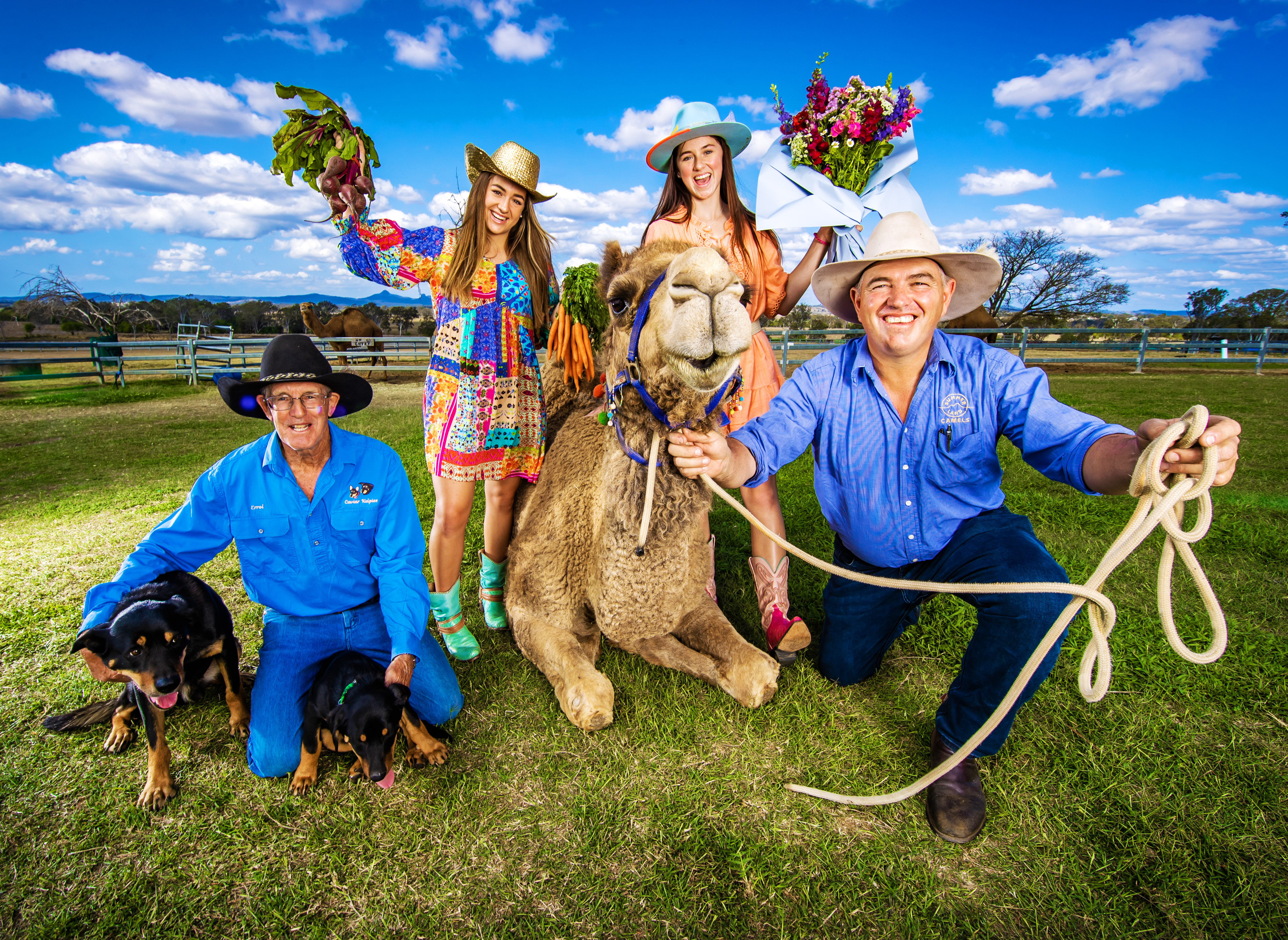 Bush talent, flavours and performers centre-stage at the BUY FROM THE BUSH QLD FESTIVAL:
this Saturday September 16
More than 110 stalls from creators, makers and hosts from right across regional and rural Queensland PLUS some famous Kelpies put on a show, and there will be Fire Whip-Cracking! Images here
If you miss EKKA, yearn for dirt under your boots, and for knowing where what you are buying comes from, then clear the diary for SATURDAY SEPTEMBER 16 and the BUY FROM THE BUSH QLD FESTIVAL at Summer Land Camels. And there's some extra special guests – the brilliant working dogs from Caviar Kelpies will show off their incredible skills, and Walter Whip will perform Fire Whip-Cracking (as seen on Australia's Got Talent).
This celebration of the flavours, food, faces, wines, tourism experiences, talents, crafts and products of the bush is a showcase what makes the Australian bush – and the people who call it home – so special. Plus, it's the PERFECT opportunity to stock up on authentic gifts for Christmas, that will make a difference.
Here's why: Queenslander Kerri Brennan started Buy From the Bush QLD in 2018 while her family-run cattle property on the Darling Downs was in the grips of a seven year drought.
"Buy from The Bush QLD has always been about supporting the Queensland bush battler with strength in numbers," said Kerri, who is also the mother-of- five. From my own pain of not knowing how we were going to pay the bills or keep the kids at school, and knowing so many other women and families in rural Queensland who had started side-hustles to make ends meet, I knew that if we put the call out, an army of supporters would assemble, and this is what we have experienced."
"We have invited makers, growers, producers, artists and businesses from as far away as Clermont. Summer Land Camel Farm is perfect for an event of this scale, being just 45 minutes from Brisbane and just over an hour from the Gold Coast, with plenty of parking, loads of fabulous space and of course, camels!"
"People in the city have always been wonderfully supportive of Aussie entrepreneurs, and Buy From The Bush QLD was conceived to make that connection especially strong with Aussie businesses from country areas."
Summer Land Camels CEO Paul Martin said it was a privilege to host the BUY FROM THE BUSH FESTIVAL.
"Being a proud bush business, we can't wait for September 16, and to welcome what will be a wonderful representation of bush businesses, from flavour makers, growers, wine makers, handmade wares, tourism providers, entertainers and more. We also have live music, camel rides, farm tours, kids' games, face painting, guest speakers and other activities – it'll be the best of the bush, right on the doorstep of the city!".
In addition to the 110 stalls, there's:

Food trucks

Fire Whip-Cracking Show
Working dog demonstrations

Camel Rides (book on the day)

Blacksmith demonstrations

Llamas from The Llama Farm

Cooking demonstrations

Heritage tractors from Milbong Tractor Club

Chainsaw Art by L.D. Spiders

Farm Tour (booking link below)

Live Music by Silk N Oak

Vodka & Gin tasting

Licensed Cafe

Farm shop

Face painting and kids activities

Much more!
BUY FROM THE BUSH QUEENSLAND FESTIVAL
Saturday September 16, 9am to 3pm
Tickets are $10, U12 free - https://summerlandcamels.rezdy.com/catalog/406431/events
Plenty of on-site parking available
Sorry, no dogs allowed.

About Buy From The Bush Queensland
This initiative started in mid-2018 as a Facebook page for women doing it tough on the land, and has since blossomed into an online community of bush businesses, creatives and a broad array of family-run side hustles across the rural regions of Queensland. Kerri Brennan, a Darling Downs cattle producer based an hour south of Toowoomba, saw the need to support the family farm.
About Summer Land Camels
It's Australia's largest commercial Camel Dairy, situated in the fertile 'food bowl' of Queensland's Scenic Rim. We embrace sustainable and regenerative agriculture to produce the most pure and healthy Camel Milk products. Summer Land Camels is passionate about building a better understanding of camels and camel farming in Australia.
By capturing wild camels from the Australian outback and training them, we contribute to solving a nationwide problem. By rescuing wild camels from being culled in the Australian outback and training them, we contribute to solving a nationwide problem. Building a sustainable industry that harnesses the incredible potential of these beautiful animals is what drives us every day. Only 45 minutes from Brisbane, we provide a unique farm experience, including meals and drinks in our Homestead Café, camel rides, farm tours and a farm shop. www.summerlandcamels.com.au
Contact details:
Kath Rose
0416 291 493
kath@kathrose.com