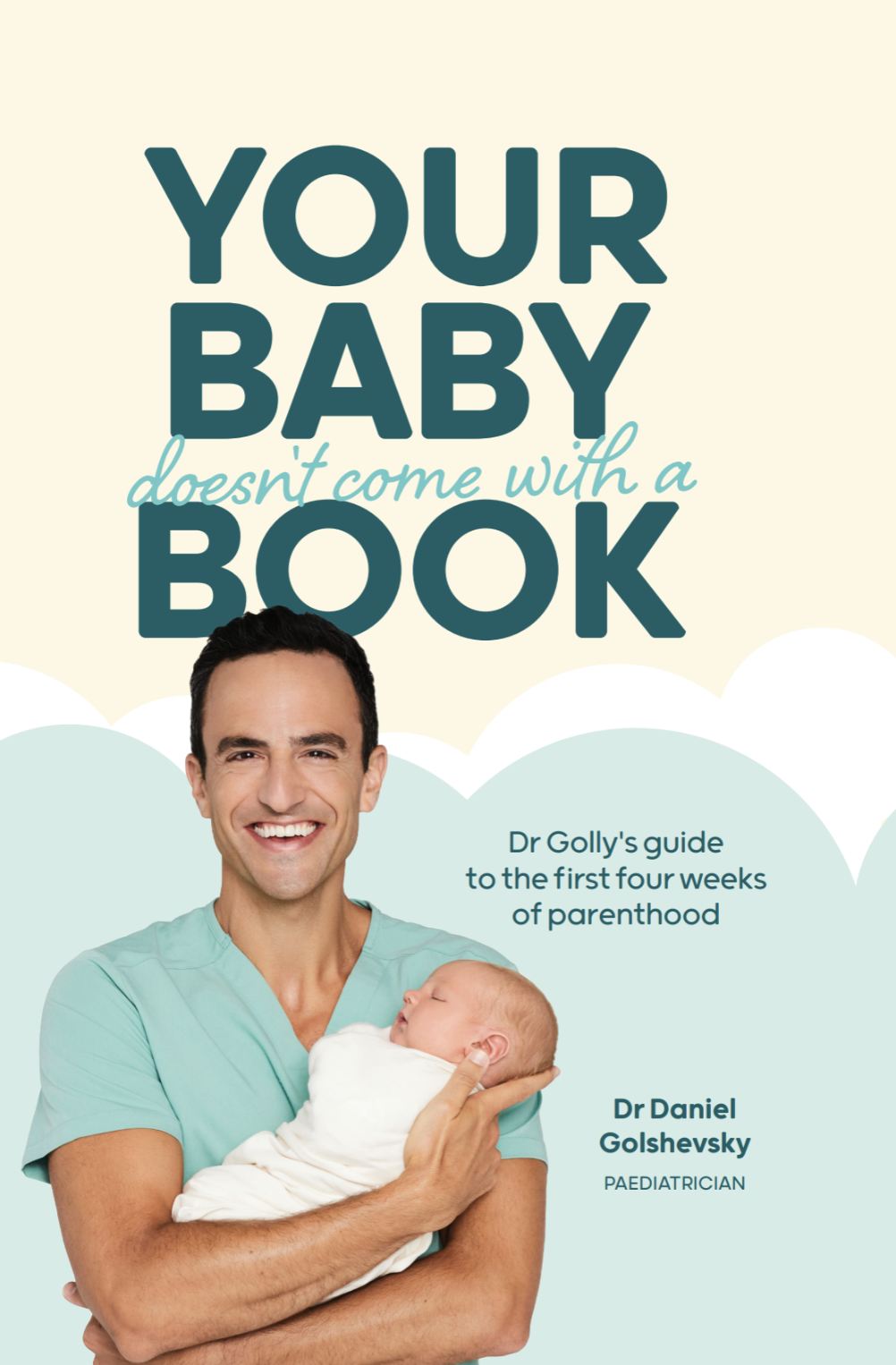 Acclaimed Australian paediatrician, podcaster and father of three, Dr Daniel Golshevsky – also known as "Dr Golly" – is on a mission to empower parents with knowledge and confidence to ensure they thrive not just survive the first four weeks of parenthood.
His first book, launching 20 September 2023, will provide a comprehensive, accessible and reassuring guide to prepare for the first few days and weeks of parenting. It's the book every family wished they had and the book new families will swear by.
From getting ready for the hospital to why your baby may look like an alien when they first arrive, Your Baby Doesn't Come With a Book distills Dr Golly's extraordinary and distinct (professional and personal) experience into an essential guide for first-time parents.

Setting himself apart from authors of other parental help guides, the book is illustrated and colour coded so it's easy to read and pick up or refer back to whenever you need. The book covers an extensive list of everything they need to know including:
Preparing their home
What dads can do
Understanding their baby's cues
How to feed, settle, swaddle and bath a baby
PLUS Dr Golly's famous active burping technique
With a focus on turning the volume up on your innate 'parental instincts', and protecting breastfeeding mothers Dr Golly's debut book recognises the power of dads, non-birthing, and non-breastfeeding parents – a paradigm shift from the typical focus on mother and baby. The helpful handbook also explores the importance of the individual needs of every child, recognising that there's no one-size-fits-all solution when it comes to babies and parenting.
By taking a holistic approach and addressing the whole family, the book equips parents with the tools they need to master the first four weeks of their new family, allowing the birthing parent to prioritise rest and recovery and both parents develop deeper bonds with their baby. The comprehensive guide aims to help parents, caregivers, and families to better understand their baby, interpret signs and cries, hone parenting skills and to ultimately empower readers to trust their innate parental instincts.
"As a father of three, I know that becoming a parent is a remarkable and life-changing experience.
Parenting newborns is one of the most exhilarating roller coasters life has to offer - the first four weeks in particular are an incredible time, but they can be overwhelming as babies don't come with an instruction manual," said Dr Daniel Golshevsky.
"Over the past decade working in clinics, I've looked after thousands of newborns. Yet when I had my own gorgeous children, we faced unexpected challenges. During that period, a comprehensive resource like Your Baby Doesn't Come With a Book would have been instrumental in helping build our knowledge and confidence. I'm extremely passionate about supporting other families to become happier and healthier, and hope this book helps to bring those navigating parenthood for the first time some peace of mind. If I want new parents to take away anything from this book it's to know 'you've got this'. There's no better parent for your baby than you," Golshevsky added.
Your baby Doesn't Come With A Book is the essential parenting guide for all d parents-to-be. Now available for pre-order via Booktopia or where all good books are sold.
RRP $29.99 | IMAGERY HERE
ABOUT THE AUTHOR
Dr Daniel Golshevsky (Dr Golly) is a Melbourne-based paediatrician and father of three. As a general paediatrician, he cares for babies, children and teenagers of all ages, managing physical, mental and behavioural development as well as illness and emergency. Over the last decade Dr Golly has become the go-to paediatrician when it comes to unsettled babies and poor sleep. His philosophy and passion for empowering parents, protecting mothers and the heavy involvement of dads and non-breastfeeding partners has earned him a loyal following. He has since become a trusted media commentator on everything to do with babies and toddlers, and his online sleep and settling programs have become the essential guide for thousands of families across the globe.
Contact details:
Lucy Roff
0403 125 314
Lucyroff@tidepr.co