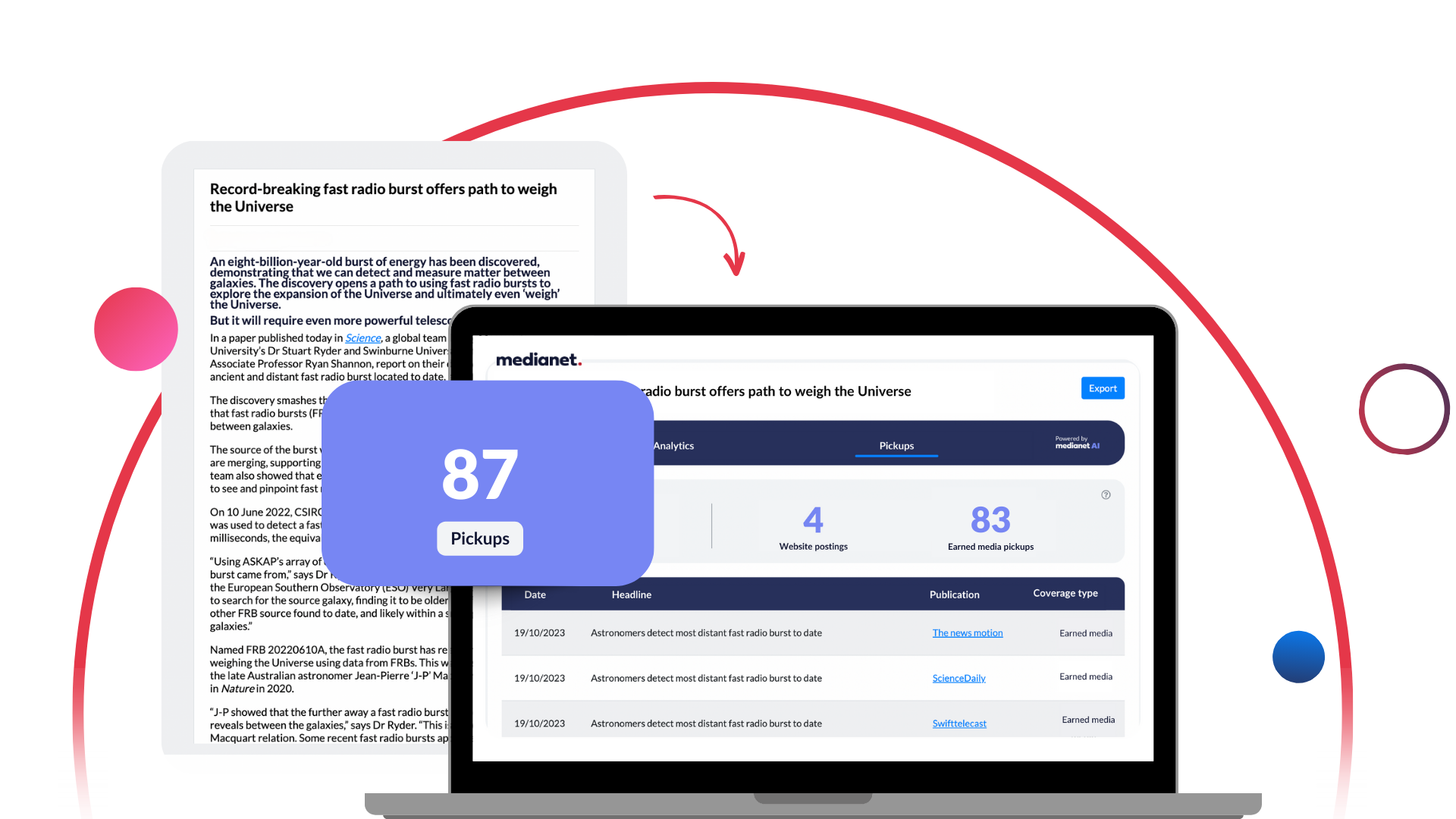 Medianet's Pickup Tracker is the first and only of its kind in Australia

The new feature allows PR professionals to access their media coverage across 2000 online media sources

Unlike other tools in the market, there is no setup required and it's available to any Medianet user at no additional cost.
PR professionals will now be able to access their press releases' media pickups without the need to set up a media monitoring tool.
The AI-based tracker was released today to all Medianet platform users and is the first and only of its kind in Australia.
By matching the content of the release against two thousand online media sources across Australia and New Zealand, the Pickup Tracker will provide continuous updates on earned media coverage to users 12 hours after sending their press release.
To access the revolutionary tool, the only requirement is to distribute press releases via Medianet. Unlike other tools where the user has to set up an alert, keywords or boolean searches, there is no setup required to see media pickups with the new feature.
Medianet Managing Director Amrita Sidhu described it as a far more accurate and "game changing" alternative to the manual, time consuming and costly tools currently being used to gauge PR success.
"PR professionals were always given very few options to prove the outcomes of their work. They would either have to use inefficient tools and set up manual alerts, or have to pay a significant amount of money just to see their pickups. Now there is a cost-effective way that solves a big problem for anyone who sends press releases," Sidhu said.
"Medianet always provided reporting on pitch opens and clicks. This takes visibility and transparency for users to a new level, whether that be for the purpose of reporting to clients or colleagues, or analysing results to improve future campaigns."
As the #1 Media Intelligence provider in Australia, Medianet subscribers already have access to a comprehensive database of over 36,000 media contacts and outlets and detailed reporting on direct engagement rates for press releases distributed to journalists via the platform. The new feature will be available to all Medianet subscribers for use on their next press release distribution.
Access the Pickup Tracker along with Medianet's other PR services here: www.medianet.com.au/products
About us:
Medianet, a division of Mediality, is a media intelligence business servicing both the media and public relations industries. Medianet's integrated PR platform includes a comprehensive database of Australian and New Zealand media contacts and market-leading tech for press release distribution.
Contact details:
Media contact:
Amrita Sidhu, Medianet Managing Director
M: +61 481 177 686
E: asidhu@medianet.com.au
Mercedes Carrin
Medianet Head of Marketing
M: +61 430 729 397
E: mcarrin@medianet.com.au