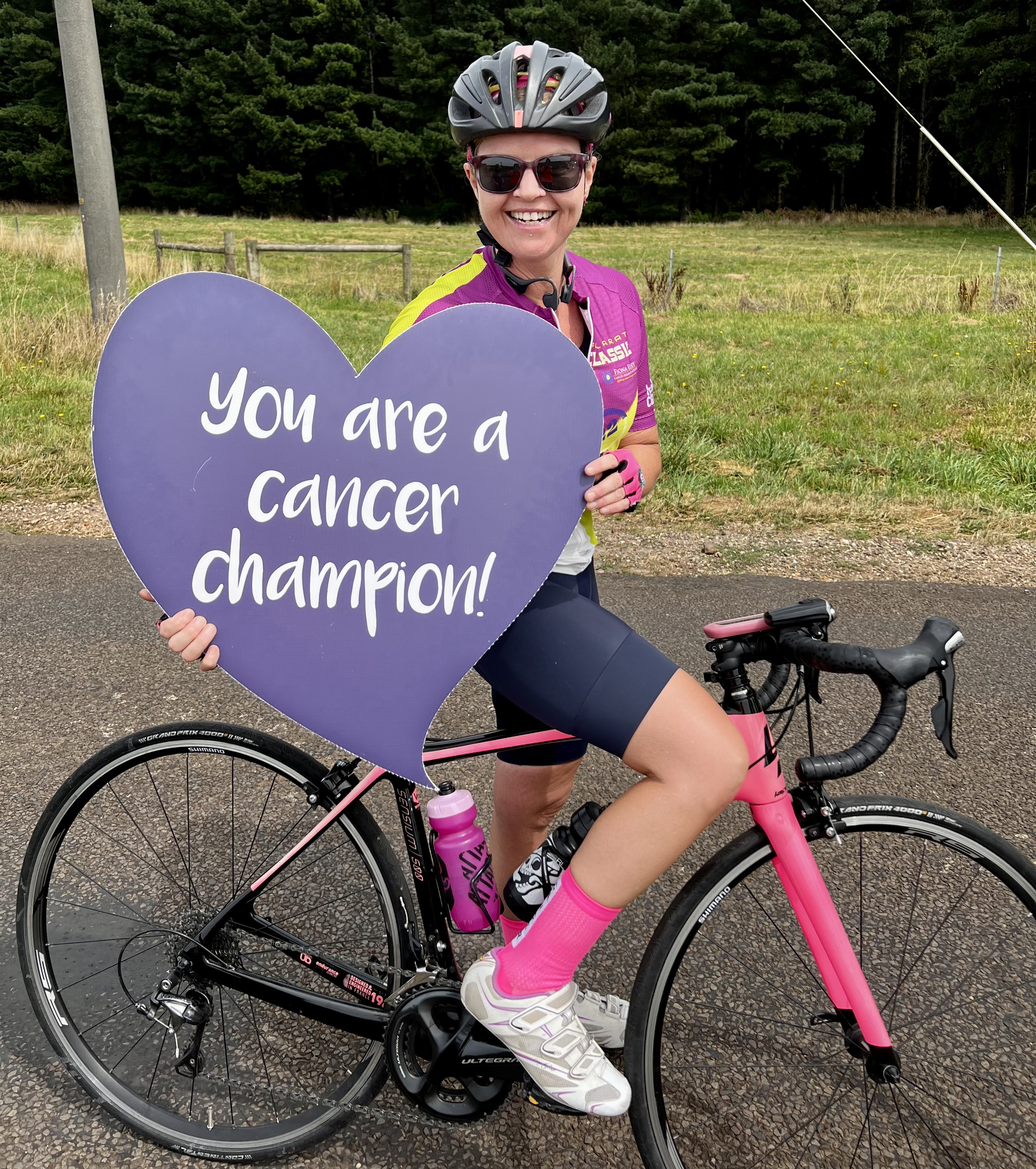 31/10/2023
Today marks the last day of international Breast Cancer Awareness Month. Throughout October, Australia's leading consumer breast cancer organisation Breast Cancer Network Australia (BCNA) has shared information around how exercise and other types of support can help you to live well, through powerful personal stories of real Australians affected by breast cancer.
BCNA member Carla Mills highlights the role exercise played following her diagnosis with triple negative breast cancer at 38.
"The road has been pretty bumpy, I've been diagnosed with PTSD related to the cancer," Carla said. "Starting to cycle and exercise saved my life, it's like my meditation."
There is tangible evidence demonstrating how psychosocial factors and exercise can improve the quality of life and the emotional wellbeing of cancer survivors, so the recommendation is to move as much as possible. "The silver bullet is exercise, so I recommend you stay mobile and active," said Clinical Psychologist Dr Charlotte Tottman, whose popular breast cancer podcast Upfront About Breast Cancer – What You Don't Know Until You Do is one of the many resources available on the BCNA website.
Carla underwent a double mastectomy, IVF, and then chemotherapy, however she had to wait two years to begin the reconstruction process, which compounded the effect on her mental health. "Some days it was difficult to leave the house – to go out with no hair, no eyelashes, no eyebrows, and no boobs," she said. "After six-and-a-half years and multiple surgeries I now have breasts that my surgeon and I are almost happy with, but I still struggle with body dysmorphia."
Carla set up her Facebook page, Cancer Unplugged, because she feels talking about her experience and connecting with others supports mental wellness. "Breast Cancer Awareness Month tends to be awash with pink, so one year I shared photos on my Cancer Unplugged Facebook page of my scars and drains hanging out because I wanted people to see the reality of breast cancer," Carla said.
Those affected by breast cancer are likely to require different types of support at different times. BCNA's theme for the month 'Living Well, Your Way', recognises that many people struggle to 'live well' following a diagnosis of breast cancer and that a quality lifestyle looks different for different people.
"If you're struggling with your mental health, find someone to talk to and don't give up on getting help," Carla said. "Contact BCNA, use their online resources, or find a local breast cancer support group."
On the last day of international Breast Cancer Awareness Month, BCNA would like to highlight that – with 20,458 women and 217 men expected to receive a diagnosis in 2023 – raising awareness around the different support and resources available to help people live well with or beyond breast cancer is essential year-round.
BCNA offer trusted information and a variety of resources – from a free Helpline, podcasts/webcasts, My Journey, Service Finder, and an Online Network to connect with others – which can all be accessed when and where they are needed via BCNA's newly refreshed website at www.bcna.org.au.
Upfront About Breast Cancer – What You Don't Know Until You Do Season 2: Unlimited with Dr Charlotte Tottman is available now and focuses on her clinical experience while exploring topics such as anxiety in a cancer context, managing behavioural changes, and the importance of setting boundaries for self-care. The podcast is available to listen to via BCNA's Upfront About Breast Cancer website page, SoundCloud, Apple podcasts and Spotify.
If you require quotes, content, or an interview please reach out and our team can coordinate this for you.
About us:
Breast Cancer Network Australia (BCNA) is Australia's leading breast cancer consumer organisation. BCNA provides information and support to those diagnosed and their supporters, opportunities to connect with others going through a similar situation and work to influence a stronger healthcare system to ensure all Australians affected by breast cancer receive the very best care, treatment and support.
Contact details:
Rachael Stewart
Media and Communications Manager
0419 878 005