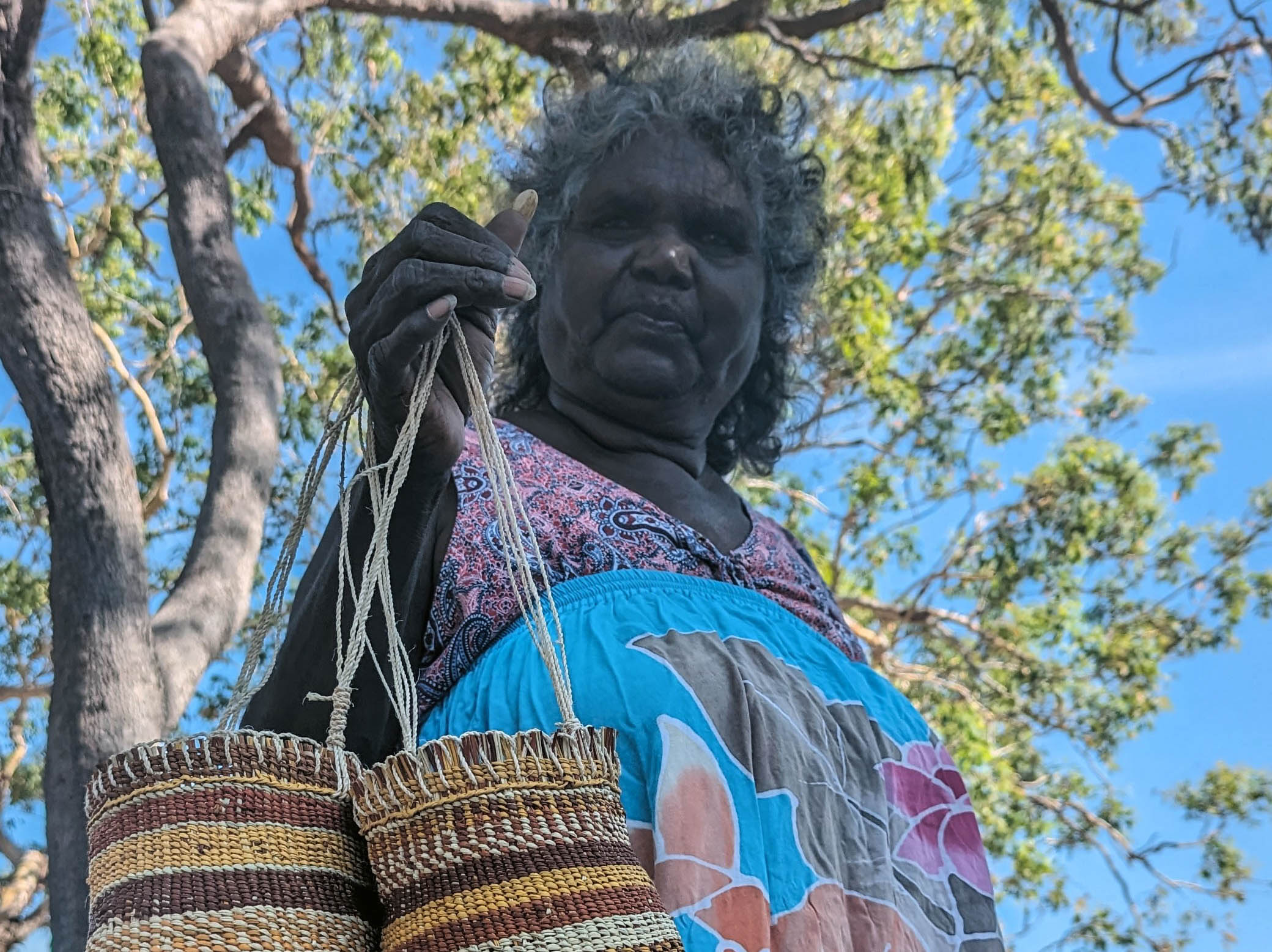 Associate Professor, Elaine Ḻäwurrpa Maypilama from Charles Darwin University's (CDU) Molly Wardaguga Research Centre has been nominated for the prestigious Northern Territory 2024 Senior Australian of the Year.
Associate Professor Maypilama, a Warramiri women from Galiwin'ku, Yolŋu Country, Northeast Arnhem Land, has worked with CDU for more than 20 years.
In her role as a Senior Research Fellow at the Molly Wardaguga Research Centre, Associate Professor Maypilama leads a team in Galiwin'ku, working on redesigning maternity services for very remote First Nations communities.
Her work is critical in privileging First Nations people, specifically Yolŋu Nation knowledge, priorities and practices, and strengthening the evidence base for improving education, health and wellbeing for women and babies in her community.
Molly Wardaguga Research Centre's Co-Director, Professor Yvette Roe, reflected on the significance and impact of Associate Professor Maypilama's work.
"Ḻäwurrpa is a gifted educator and has been a pioneer in advocating and ensuring that Yolŋu and Western epistemology is philosophically valued as a combined approach to understanding, exploring, and improving the world," Professor Roe said.
"She has been instrumental in this bicultural approach being used in diverse disciplines such as education, health and wellbeing, First Nations research and ecological knowledge translation."
In recognition of her high-level expertise in developing and conducting culturally responsive and high-quality research over 30 years, Associate Professor Maypilama was awarded an Honorary Doctorate from CDU in 2013.
Since then, she has supported six PhD students (four completed) whose thesis strongly reflect the two-way learning, sharing, and understanding between First Nations and non-indigenous cultures.
She has also skillfully guided many non-Indigenous researchers to work with Yolŋu in ways that are ethical, mutually beneficial, and enable cross cultural understanding of each other's knowledges.
CDU Deputy Vice-Chancellor First Nations Leadership Professor Reuben Bolt said Yolŋu community leaders such as Associate Professor Maypilama were critical to CDU engagement in East Arnhem.
"We work with many First Nations communities across the Northern Territory and have been privileged to work with the Yolŋu community over many, many years in a range of contexts including research, education and training," Professor Bolt said.
"Ḻäwurrpa's leadership at CDU provides an opportunity to engage the convergence between traditional knowledge/wisdom and contemporary challenges."
Now aged in her 70s, Associate Professor Maypilama's innovative and ambitious work reflects her lifetime of passion for traditional Yolŋu knowledge, education, and research methodology.
Outside of CDU, Associate Professor Maypilama's co-founded a community-based charity research organisation in Galiwin'ku, called Yalu' Marŋgithinyaraw in 2002.
Yalu's driving vision is to nurture and support Yolŋu culture and language to ensure First Nations traditions are handed down to future generations.
The NT Senior of the Year award is part of the NT 2024 Australian of the Year awards. The Territory's awards recipients will be announced on November 6, 2023, in a ceremony at the Darwin Convention Centre.
Four Territory recipients will go on to join recipients from other states and territories as finalists in the national Australian of the Year Awards to be presented in Canberra on January 25, 2024.
Other nominees from CDU include world-leading ant community ecologist Professor Alan Anderson (2024 NT Australian of the Year) and medical student Peter Susanto (2024 Young Australian of the Year).
Contact details:
Emily Bostock
Acting Research Communications Officer
T: +61 8 8946 6529
M: 0432 417 518
E: media@cdu.edu.au