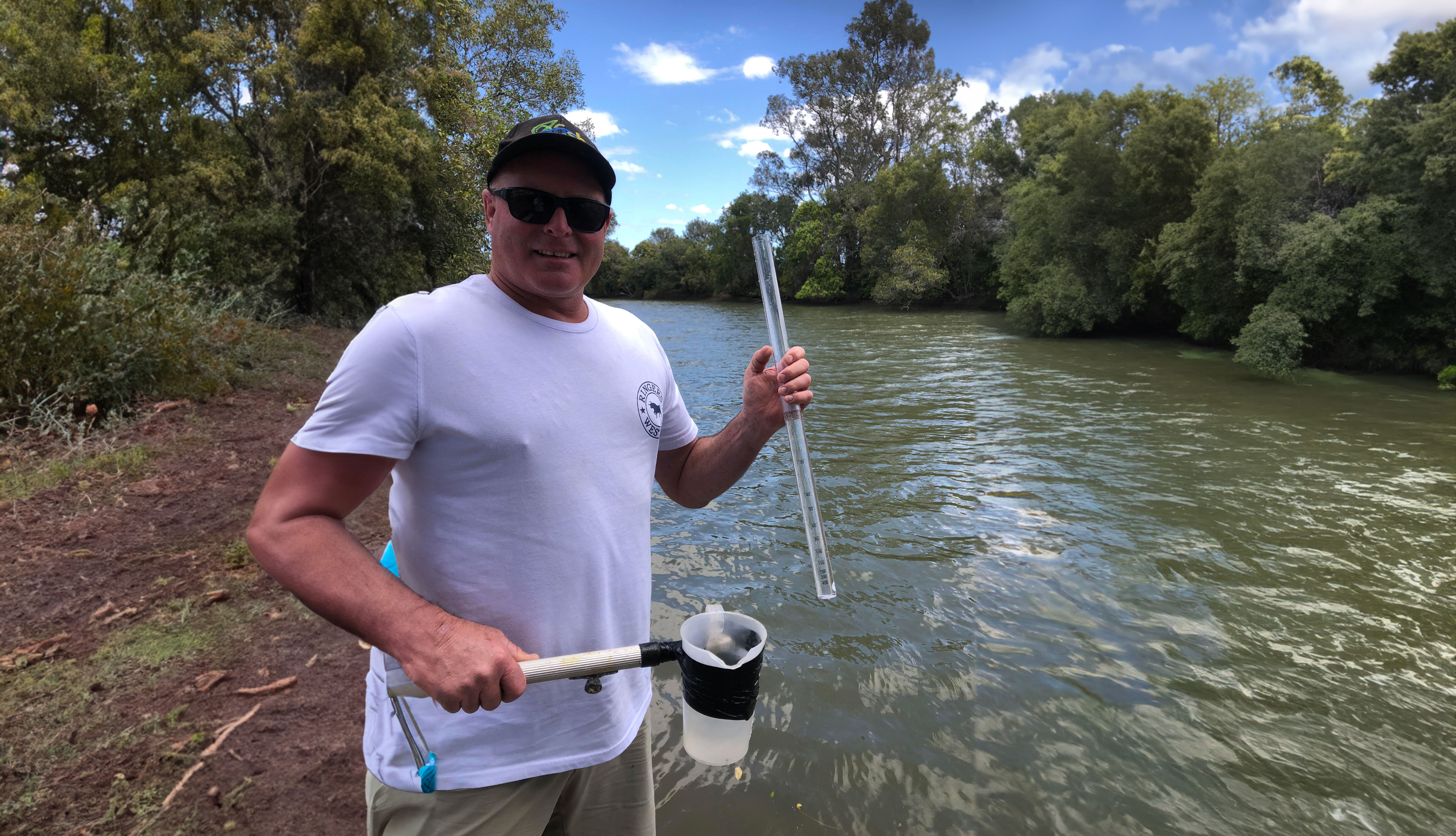 OzFish, Australia's recreational fishing charity dedicated to restoring waterways, has partnered with the NSW Department of Planning and Environment to launch a Water Quality Pilot Project for the Clarence River catchment area. 
The project has harnessed the power of citizen scientists to help monitor water quality in the region.
A dedicated team of 20 volunteers has been collecting water samples at 41 sites as part of a 12-week project, which kicked off in August.
Dr Shane White, OzFish Project Manager for NSW North Coast, said the project was designed to better understand the health of the Clarence River ecosystem after the devastating flooding of 2022. 
"The Clarence River is significant to local communities and primary industries, but it faces several challenges, including erosion, nutrient inputs, acid sulphate soils, channel modifications and alterations to natural flows," Dr White said. 
"What we can do with data from this water quality monitoring project is understand where future work is needed in this huge catchment.
"We would like to focus on riparian restoration and fish habitat enhancement." 
NSW Department of Planning and Environment's Jessica Bourner said the data collected from the project is being analysed, and will provide valuable insights into the health of the Clarence River ecosystem. 
"The Clarence River Water Quality Pilot Project is part of a large-scale monitoring program being implemented across the Northern Rivers, mid coast and the Hawkesbury to better understand flooding impacts and recovery for our waterways," said Ms Bourner.
"This project will help us to understand how floods impact the Clarence River and will inform evidence-based decisions on matters affecting the waterway.
"Working with community volunteers, and harnessing their local knowledge, strengthens and adds enormous value to project outcomes," she said.
Dr White also thanked the volunteers for their dedication and commitment to the project. 
"We couldn't have done this without the support of our volunteers. Their passion for the Clarence River and their willingness to give up their time is truly inspiring," he said. 
The findings of the project will be shared with the community in the coming months. 
The project is being delivered through the NSW Environment Protection Authority's Flood Recovery Program for Water Quality Monitoring, in partnership with the NSW Department of Planning and Environment, supported by the Riparian Stabilisation Package. The Riparian Stabilisation Package is co-funded by the Australian and NSW Governments under Disaster Recovery Funding Arrangements. This project is also supported by the NSW Recreational Fishing Trusts and BCF – Boating, Camping, Fishing. 
Undertaking this project on Bundjalung Country, OzFish acknowledges and pays respect to the Elders past, present and emerging, recognising their invaluable connection to and care for the Country.     
If you would like to know more about the project or get involved become a member of OzFish at www.ozfish.org.au or phone 1800 431 308.     
About us:
About OzFish
OzFish Unlimited is a national environmental conservation charity established to improve the health of our rivers, lakes and estuaries. It is a member-based organisation dedicated to make our fishing grounds healthy, vibrant and more productive. Their active work includes; habitat restoration such as resnagging, riverbank planting, clean-ups, fishways, shellfish reefs and educational and community capacity building programs.
Contact details:
Media Contacts
If you would like to interview Dr Shane White or further information about the project, please contact OzFish Unlimited Communications Manager Paul Suttor
0421 491 229 | paulsuttor@ozfish.org.au