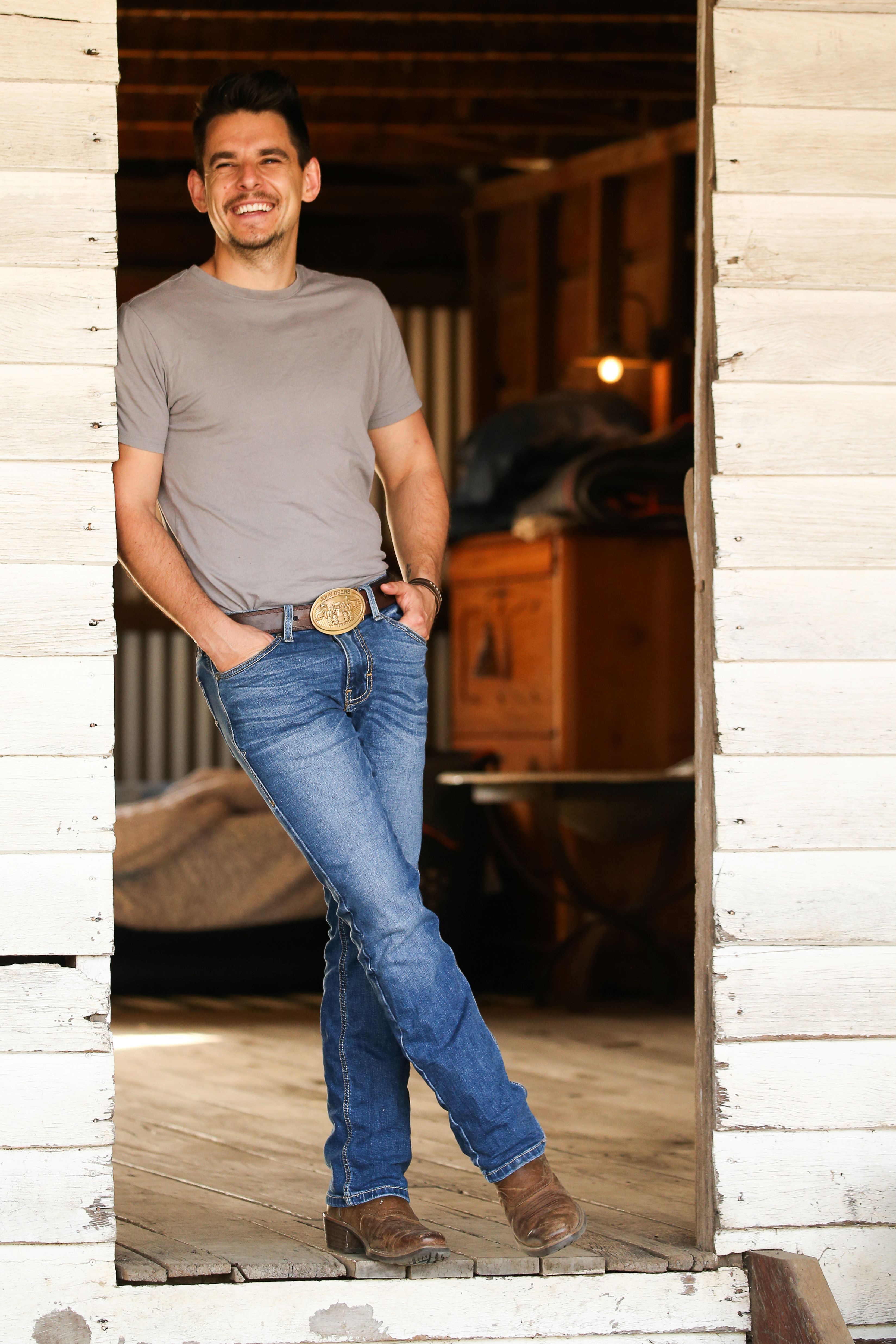 Australia's hottest country music star headed to TAMWORTH
James Johnston to perform in five regional cities next month: Wollongong, Tamworth, Rockhampton, Townsville & Sunshine Coast
VNR of James speaking about coming to TAMWORTH and what it means to him HERE and additional imagery and vision HERE
Hear that Tamworth? It's the sound of anticipation, because Australia's hottest country music star is headed to the country music capital on his history-making five-city tour, performing at the Entertainment Centre on Sunday 19 November, so mark your diaries, grab your boots and families and get ready to country!
Last week, Johnston's debut album RAISED LIKE THAT made history as Australia's largest debut Country album ever featuring 20 extraordinary tracks. It is currently #1 on the ARIA Top 20 Australian Albums (All Genres) and the #1 on the ARIA Top 20 Australian Country Albums and now James Johnston is taking his music to the people.
In January at Tamworth, Johnston received two Golden Guitar Awards – New Talent of The Year and Vocal Collaboration of the Year with good friend Kaylee Bell - and he said the city was very special to him. "My very first headline show was at the TRECC and it was honestly one of the most incredible nights of my life! To have the opportunity to get back there and do it all again is so exciting! I can't wait to put on a show unlike anything the region has ever seen!"
His first ever solo concert pre-sold out in 56 minutes and this bloke who was born and raised near Wingham just keeps rewriting history. He's now the most in-demand streamed Australian-based country music artist and today by announcing his first multi-venue regional city tour, he's officially inviting the people he sings for and about - to join him in making history!
The RAISED LIKE THAT TOUR opens in Wollongong on Saturday 18 November and closes on the Sunshine Coast on Sunday 26 November and includes Tamworth, Rockhampton and Townsville in between. All shows are all ages with Johnston's incredible appeal spanning multi generations.
Presale tickets are live from this Wednesday 18 October at jamesjohnston.com and to the general public on Friday 20 October.
"As the father of two boys I want my concert to be for all country music lovers, regardless of age or where you come from. This show if for everyone to come and sing their hearts out and just have a damn good time," said Johnston.
When Johnston released his debut single, 'RAISED LIKE THAT' two years ago, he never could have anticipated the whirlwind that followed. Six #1 airplay hits, 110 consecutive weeks in the Top 20 of the Countrytown Hot 50 National airplay chart, 55 million global streams, two Golden Guitars and the song now being certified ARIA platinum, James is easily Australia's most exciting Country Music artist. He's been nominated for a QMA Award, an APRA Music Award and was a 2023 Rolling Stone Australia Award nominee for Best New Talent, plus of course his two Golden Guitar Awards.
Once you listen to a James Johnston song, you never forget it, or his sound: driving guitars and pounding drums frame his gravelly voice that's deep and soaring, then celebratory and soulful, telling stories of the country that revel in joy and nostalgia. There's anthems that will fill dancefloors and raise hands in the air, and quiet stories of empowerment, hardship and love that will bring tears to knowing eyes. His words are lived-in and he sings with incredible heart because he was raised like that and he did grow up there.
What's more, James is a helluva live performer, having spent the past two years touring and performing on stages from Mount Isa to Melbourne, and all stops in between; he's as at home in a studio as he is on the back of a semi-trailer in Deniliquin or Dalby. He completed a national tour with Australian heavyweight Morgan Evans this year and has appeared at countless festivals including CMC Rocks, Berry's Big Country, Gympie Music Muster, Meatstock, Tamworth Country Music Festival, Deni Ute Muster and Far North QLD's Savannah in The Round.
Joining him on the RAISED LIKE THAT TOUR are his great mates and music collaborators Zac & George as the Tour Support Act and Bella Mackenzie (The Voice) as the Tour Opening Act.
"I want to share songs about the good but also the often less talked about side of country life. When it's all said and done, I hope this album and the tour makes you feel proud of where you call home," said James. "Music has forever been the way I can express myself in the most honest way possible as an artist. RAISED LIKE THAT is that for me and I cannot wait to take it to Tamworth, to get hands in the air and smiles on faces."
RAISED LIKE THAT – THE TOUR
jamesjohnston.com
Saturday 18 November – Wollongong Entertainment Centre NSW
Sunday 19 November – Tamworth Entertainment Centre NSW
Thursday 23 November – Great Western Hotel, Rockhampton QLD
Friday 24 November – Townsville Entertainment Centre QLD
Sunday 26 November – Venue 114, Sunshine Coast QLD
RAISED LIKE THAT – THE ALBUM
#1 on the ARIA Top 20 Australian Albums (All Genres) – here
#1 on the ARIA Top 20 Australian Country Albums – here
#7 on the ARIA Top 50 Albums Chart (including all album International Releases) – here
Contact details:
Kath Rose
0416 291 493
kath@kathrose.com