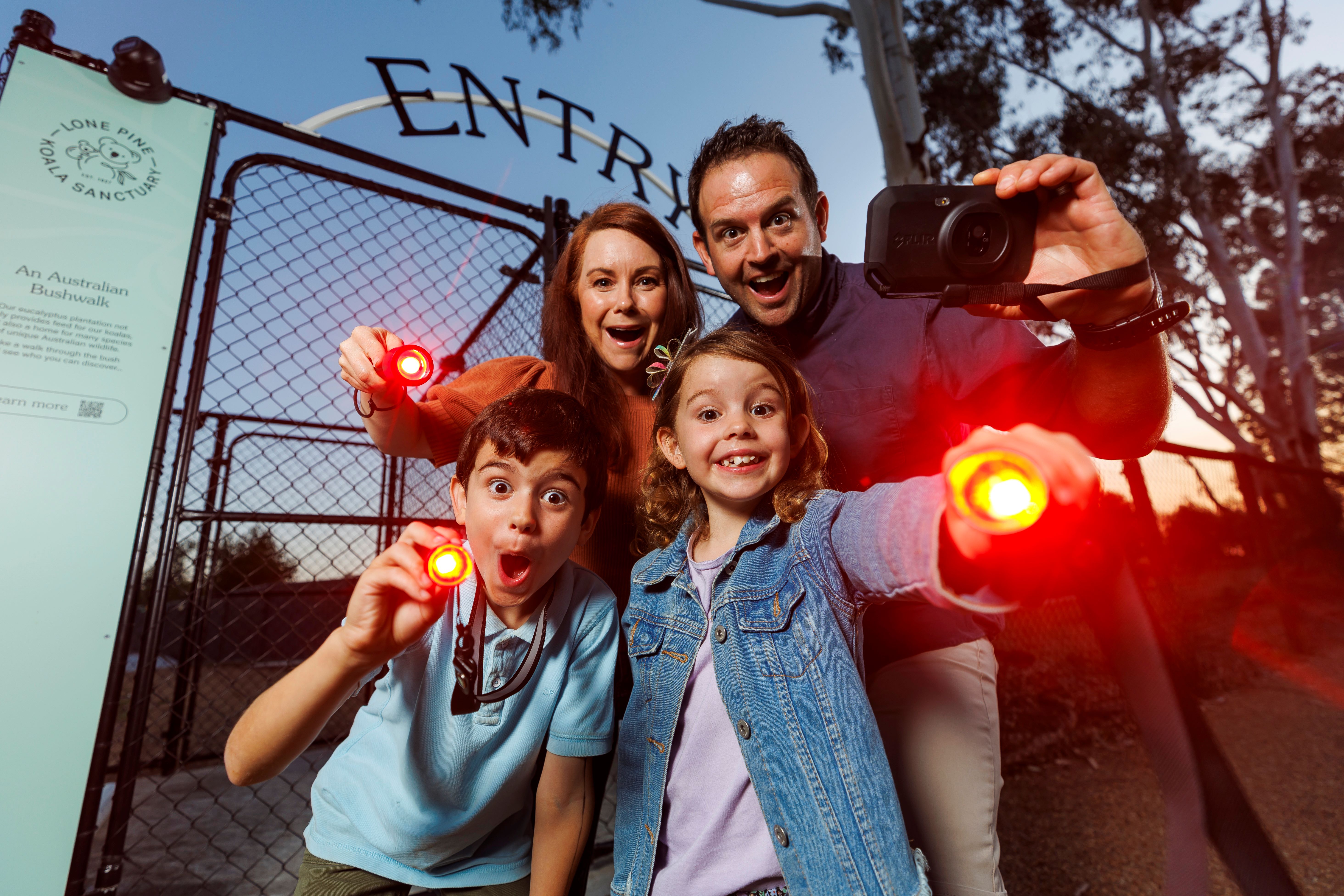 Nocturnal shines new light on Australia's most famous creatures
VNR and imagery here
Introducing Mr Grumbles, a Ruffus Betton - that's a super cute little Australian marsupial. Remember his name because he's about to become Australia's newest star. Joining him in the 'red' spotlight are four Tassie Devils called Yolo, Zaney, Harvey and Swarf; Bare-Nosed Wombats Bell and Bruce; Koalas Clementine, Patricia, Kandy and Keisha, a cool gang of Bandicoots, Pademelons, Echidnas and Potoroos and Rocky the elusive but spectacular Tree Kangaroo.
These are the stars of NOCTURNAL at Lone Pine Sanctuary in Brisbane, a new $1.4 million first-ever immersive night-time adventure that allows visitors to discover the hidden world of Australia's fascinating nocturnal wildlife, and it opens from November 1.
A unique and unforgettable journey into Australia's world famous animal kingdom, Nocturnal starts as the sun dips below the horizon, and the animals come out to play, allowing visitors to witness the incredible behaviours and adaptations of some of Australia's most elusive and enigmatic wildlife species.
"There's a whole world of activity that happens after dark that we aren't privileged to, but Nocturnal gives people that experience, with a tour guide, in a non-invasive way to celebrate Australis's animal superstars, and educate people about the importance of sustaining their ecosystems," said Frank Mikula, Lone Pine Koala Sanctuary Curator.
"It's an Australian native animal treasure hunt, with the prize being able to see these amazing creatures up close and personal!"
Nocturnal is a one kilometre walking adventure called The Wild Walk, through an established Eucalypt planation, mostly on a custom-designed elevated boardwalk which allows the animals full roaming rights across their habitats. Visitors are given handheld thermal imaging devices, about the size of a mobile phone, that picks up the unique heat signature of animals. Once detected, a red light torch can be used to watch the animals doing what they do, with the red light completely non-invasive.
Hosted in tours of 20 people with a dedicated guide who shares details of each animal species, their personalities, and provides feeding opportunities, Nocturnal is set to be a MUST EXPERIENCE for Australians and for international visitors, many who already have the 97-year old and iconic Lone Pine Sanctuary on their travel bucket list.
Lone Pine Sanctuary General Manager Lyndon Discombe said Nocturnal represented a new era for the Sanctuary, as it worked toward further expansions in readiness to welcome the world for the 2032 Olympics.
"Lone Pine Sanctuary is a bucket list for so many travellers, be they local or international. We are the 'go to' experience for superstars, celebrities and the kids next door, to see the leaderboard of Australian animals that are revered around the world. Now, our offering has just become even better, even more authentic, allowing visitors to see these rockstars of Australia while they are up and about during the night," he said.
"The best part is that the whole experience is wrapped up in education. Visitors leave knowing more about these animals, and more about how to keep them on our planet by respecting and protecting their ecosystems and environments."
He said Nocturnal includes burrow cams which provide unique viewing opportunities for guests, as well as giving the keepers an invaluable, non-intrusive tool to closely monitor the introduction of new breeding programs for Wombats and Tasmanian Devils.
The multi-award-winning Lone Pine is the oldest Koala sanctuary in the world and home to 470 Australian indigenous fauna, representing 80 different species.
So, calling all night owls, however in this case, it's a Tawny Frogmouth, for the most incredible experience yet at Lone Pine Sanctuary!
The Stars of Nocturnal
From adorable koalas to elusive pademelons, Nocturnal visitors can get up close and personal with southern hairy-nosed wombats, bandicoots, bettongs, and potoroos, learning about their unique adaptations and the critical roles they play in Australian ecosystems.
Koala: the rockstar of Australia's animals, Koalas are arboreal (meaning they live in trees). They love Eucalyptus leaves and while they're known Koala Bears, they aren't a bear, but they are amazing!
Tasmanian Devil: a total superstar, the Tassie Devil is a carnivorous marsupial native to Tasmania. Made famous by Looney Tunes cartoons, they are known for their fierce, scavenging nature and have a distinctive black coloration, with white striping (sometimes!) and can be very chatty at night. They have the largest bite force-to-body ratio of any animal on the planet (that's some powerful jaws)!
Echidna: s

piky, slow-moving and one of the most fantastic and unique creatures. A

lso known as spiny anteaters, they have spiky spines that are actually hollow hair follicles (yep, crazy!), they lay eggs, are toothless and feed primarily on ants and termites using their long, sticky tongues. They are seriously cool!
Bare Nosed Wombat and the Southern Hairy-Nosed Wombat: these two Aussie icons are burrowing herbivores and are known for their stout, sturdy build, powerful claws, and their famously tough rump. Fun facts – Wombats can run up to 40km per hour, their poo is cubed and a group is called a 'wisdom of wombats'!
Pademelon: more from Australia's small marsupial family. These guys are related to kangaroos and wallabies, are larger than the Potoroos, with shorter legs and are super shy.
Potoroo: small marsupials that look a bit like kangaroos, these complete cuties are primarily herbivores and are famed for their distinctive hopping gait.
Bandicoot: also small, the Bandicoot has a distinctive pointed snout and are omnivorous, often foraging for insects and small animals in the leaf litter, causing a disturbance! They are fast underfoot!
Bettong: often also called rat-kangaroos, these small marsupials are famous for their long, rabbit-like ears. They are herbivorous and play an essential role in ecosystem health by dispersing seeds.
Tree Kangaroo: one of the world's most interesting creatures, these are arboreal marsupials adapted to living in trees. They have strong hind kangaroo limbs for leaping and a long winding tail, and are primarily herbivorous, feeding on leaves and fruit.
Nocturnal at Lone Pine Sanctuary – opens November 1, 2023
The 90 minute tour is available on Wednesday, Friday and Saturday evenings for participants three years and older.
Dining packages are available pre and post tour – bookings required.
Tickets and information: Nocturnal Night Tours – Discover Your Sanctuary at Night | Lone Pine Koala Sanctuary
Lone Pine Sanctuary is at 708 Jesmond Road, Figtree Pocket, Brisbane
Open 9am to 5pm, seven days a week; Nocturnal booking access after hours
Nocturnal at Lone Pine Sanctuary was developed with assistance from the Queensland Government's GTI Grant.
For more information, imagery or to arrange a visit or interview (with our humans), please contact Kath Rose on 0416 291 493 or email kath@kathrose.com