MEDIA RELEASE | Tuesday 31 October 2023

New research released today by the Australia Institute shows strong public support for changes to Murray Darling Basin environmental and water rules. The Restoring our Rivers Bill 2023 is before a Senate inquiry today, with water recovery and how it will be recovered key issues being discussed.

Changes proposed by the government include a return to water buybacks, which had been capped by the previous Liberal-National government in favour of subsidies for water-saving projects. The Australia Institute has found that the use of buybacks, additional water recovery to compensate for Basin Plan delays and reducing water extraction in rivers where the Murray Cod are at risk of extinction enjoy widespread popular support.

The Australia Institute surveyed a nationally representative sample of 1,535 Australians about the Murray Darling Basin and water recovery within the Basin Plan. The survey was taken between the 29th August and 1st September with results weighted by gender, age group and state or territory.

Key Findings:
Two in three Australians (66%) support the reintroduction of voluntary water buybacks, with only 10% opposed, including:
A majority of residents in Basin states - NSW (68%), SA (65%), Queensland (64%) and Victoria (61%).
Support across voting intention - Labor (71%), Greens (71%) and Coalition (65%) voters.
Support is similar between metro (67%) and regional (63%) residents.
Three in five Australians (61%) agree that additional water should be returned to the river to compensate for Basin Plan delays, while 10% disagree.
Support in Basin states – SA (67%), NSW (64%), Victoria (59%) and Queensland (58%).
Support from both metro (63%) and regional (58%) residents.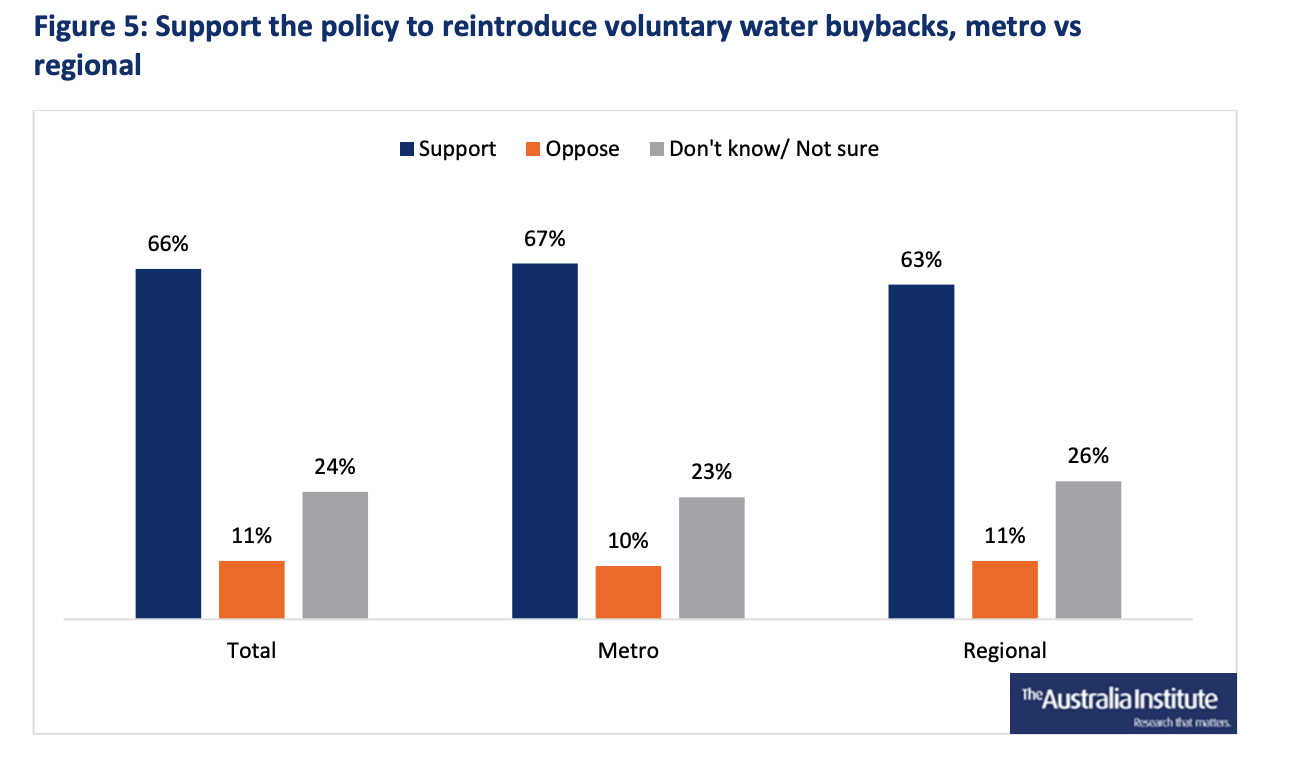 "The Water Amendment (Restoring Our Rivers) Bill currently before the Parliament is the most important piece of water legislation since the Basin Plan in 2012," said Kate McBride, Water Researcher at the Australia Institute.

"The Basin Plan intended to restore a balance between the environment and industry, but years of dry rivers and fish kills along with a decade of water recovery stagnation have made it clear more needs to be done.

"Our research shows significant support for the use of buybacks to deliver the Basin Plan and the recognition that more water should be delivered to compensate for the delays in Basin Plan implementation.

"This research debunks the misconception that regional Australians are against buybacks and further water recovery.

"This research shows the Victorian and NSW governments' opposition to buybacks is out of step with the majority of their constituents.

"As we enter an El Nino weather pattern, it is more important than ever to be returning real water to ensure the future health of our rivers and the communities that rely on them."
Media enquiries: Chris Redman: 0457 974 636


The Australia Institute is a member of the Australian Polling Council. The polling methodology, long disclosure statement and margin of error for polling questions are included in the appendix of the report.