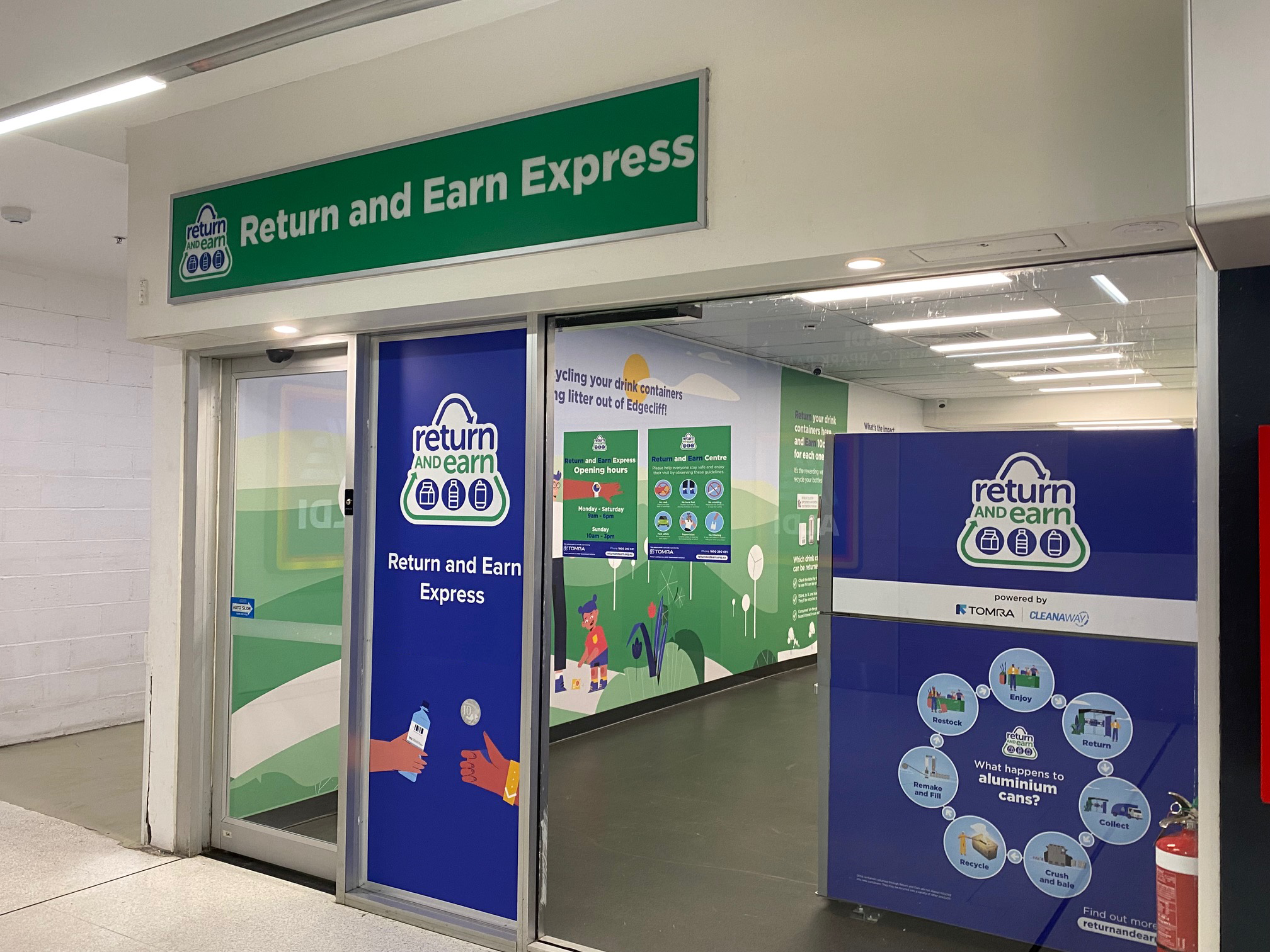 Edgecliff locals have a new location to recycle their eligible bottles and cans with a Return and Earn Express now open in the Edgecliff Centre on New South Head Road.
The new shopfront-style return point features three Return and Earn machines in an indoor setting, making it easy and convenient to recycle all year round.
"The Edgecliff machine provide residents with easy access and a convenient all-weather option to ensure their bottles and cans don't end up as litter or landfill - all while being rewarded for their efforts," said James Dorney, CEO of TOMRA Cleanaway, network operator for Return and Earn.
"By recycling drink containers, users can contribute to other environmental benefits, such as savings in water, energy and avoiding carbon dioxide emissions compared to containers using new materials."
Users of Edgecliff Return and Earn Express can print a voucher for the refund amount, redeemable for cash at Coles Eastpoint Food Fair. They also have the option to receive an e-voucher or payment direct into their bank account or Paypal by downloading the Return and Earn app.
Return and Earn has become a stalwart of fundraising activities in NSW, with thousands of community groups, schools and charities across the state raising funds through the scheme.
"More than $47 million has been raised for charities and community groups via donations and fees from hosting return points since scheme commencement," said Mr Dorney
The community can double the positive impact of their recycling by choosing to donate their container refund to one of the charity partners listed on the machines or to the hundreds listed on the app. 
Waverley Public School P&C will be featured as the local donation partner on the express machines to fund initiatives to help improve school facilities and the quality of education for students.
Local recyclers can also donate their refunds to the latest state-wide Return and Earn donation appeal in support of Youth Off The Streets and their work providing crisis support, education, housing and employment services for vulnerable young Australians.
"By using these return points, in combination with your household recycling, we can all do our bit to reduce litter and landfill, and contribute to a more sustainable future," said Mr Dorney
To date more than 10 billion containers have been returned for recycling through the network of over 600 return points across NSW, resulting in over $1 billion in refunds back in the pockets of the community.
Return and Earn Express Edgecliff is located at 5a/203-233 New South Head Road, Edgecliff, and will be open from 9am to 6pm Monday to Saturday, and 10am to 3pm on Sunday.
For more information on Return and Earn, visit: www.returnandearn.org.au. 
Contact details:
Evonne McCabe 0438 459 524