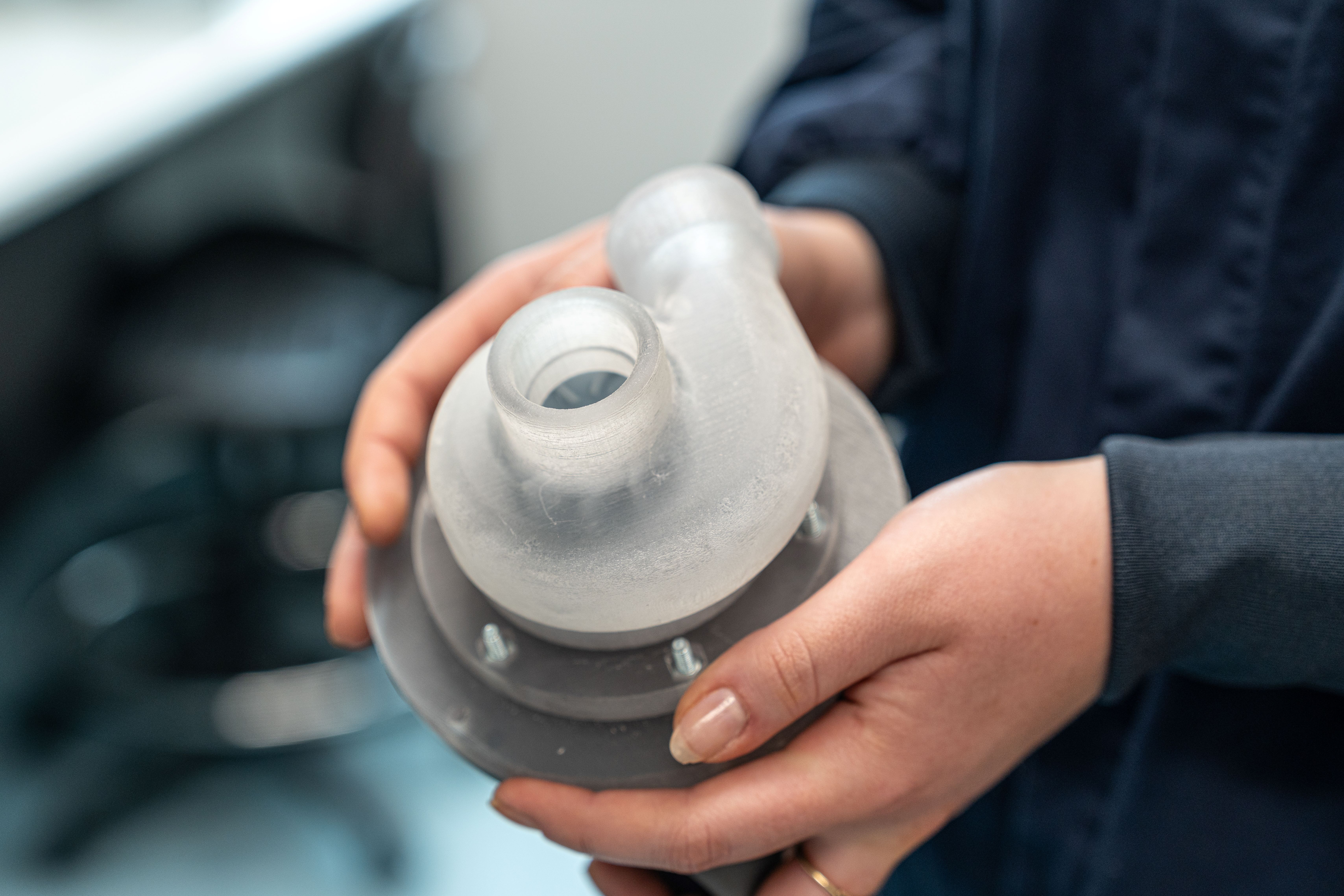 A new artificial heart designed and built by Monash University students is on its way to the USA to compete against the world's best at a global artificial heart competition to help combat one of the world's biggest killers – heart failure.
Final year engineering and biomedical science undergraduate student Georgia Brooks is the co-lead of the Monash Heart Hack team, which will compete in Heart Hackathon, the world's first student-led biomedical engineering competition, at the 29th Annual Meeting of the International Society for Mechanical Circulatory Support (ISMCS) in Dallas, Texas, on 29 October.
Heart failure affects about 300,000 Australians, with more than 30,000 new diagnoses made every year. One in 50 Australians dies from the condition.
Ms Brooks said she was incredibly proud to be one of Heart Hackathon's first team leads, investing her skills and knowledge in an exciting hands-on project.
"As the first of its kind, this competition provides a unique opportunity for undergraduate students to grow their knowledge and passion for novel total artificial heart (TAH) devices," Georgia said.
"I want to be saving the lives of people across the world through the innovation of novel medical devices and be a part of a strong team that values kindness, innovation and collaboration."
Partner in crime Julie Dao is completing a PhD on the prevention of cardiovascular disease, and they lead a Monash multidisciplinary team of more than 30 students from Engineering, Medicine, Biomedical Science and even Law, who share a common interest in advancing heart health research and innovation.
There are almost no artificial heart implants currently performed in Australia. Ms Dao said while a TAH does exist, it is large, heavy, cumbersome and has many complications.
"Building a TAH is a tremendously complex challenge. It requires developing a miniaturised pump that can pump enough blood to support both sides of the circulatory system – systemic and pulmonary – while fitting into a fairly small space.
"Furthermore, an artificial heart needs to automatically adjust its output when you transition from rest to exercise. It also needs to be fully biocompatible with surrounding tissue, have an external power source, be easy to implant, comfortable to wear and have minimal complications over a 10-plus year lifespan."
Ms Brooks said key innovations in the Monash Heart Hack team's TAH design include an impeller – the rotating part of a centrifugal pump to move fluid – with backward spinning blades to reduce shear stress, a brushless motor system using magnetic levitation ("maglev") principles to generate motion, and a shaftless electrical system.
She said the modular design helps overcome compatibility issues and the magnetic levitation helps avoid wear and tear.
"Use of current artificial hearts is limited by strict patient selection criteria, particularly the body size of the patient," Ms Brooks said.
"Our modular design means we can produce the components in different sizes, ensuring more patients can receive an artificial heart irrespective of their body size.
"The maglev motion system in our design means no internal mechanical components are in contact with each other, essentially eliminating mechanical wear on the materials and increasing the lifespan of the device."
Academic advisor to the Monash Heart Hack team, cardiovascular engineer Associate Professor Shaun Gregory, said the team's work had been "exceptional" and their design "has very high potential".
"They have taken an incredibly challenging concept and developed a novel design and a working prototype in a very short space of time," said Associate Professor Gregory, who is the Deputy Head of the Department of Mechanical and Aerospace Engineering at Monash and Director of the Cardio-Respiratory Engineering And TEchnology laboratory (CREATElab) at Monash University's Victorian Heart Hospital.
"I've witnessed the team, expertly led by Georgia Brooks and Julie Dao, dramatically grow in size and gain knowledge of this multidisciplinary field at an exceptional rate.
"They deserve huge credit for what they have achieved!"
Heart failure is a condition in which the heart is unable to pump blood sufficiently to meet the needs of other body organs for oxygen and nutrients.
The best treatment for advanced heart failure currently is a donor transplant. While transplants have an 80 per cent survival rate after five years, only about 100 are performed in Australia each year. Many would-be transplant recipients die while waiting for a donor heart.
A total artificial heart is therefore a "lifeline" for many of the sickest patients while they await a transplant or, rarely, to allow the heart to rest while it recovers from an acute illness such as a viral infection.
Both co-leads of the Monash Heart Hack team are passionate about addressing gender equity and diversity in science, technology, engineering, mathematics and medicine (STEMM).
"As two young women in STEMM it has been an incredibly inspiring journey for us and a challenge that has come with its own set of unique experiences," said Georgia Brooks.


"In a field where gender diversity has historically been lacking, we are passionate about reshaping the landscape," said Julie Dao.


"Given that women continue to be underrepresented in STEMM, we're excited to be part of the next generation that acknowledges and aims to bridge this gap."


As well as receiving a cash prize, the winning Heart Hackathon student team will be invited to present their design to clinical and industry leaders during the final Scientific Session of the ISMCS conference on 1 November.


The Heart Hackathon was Developed by Monash Young MedTech Innovators. It is supported by leading international biotech sponsors, including Australian medical device company Hydrix and USA-based SynCardia, developers of the world's only FDA clinically approved artificial heart.
-ENDS-
Available for interview : Mechanical Engineering and Biomedical Science student Georgia Brooks


FAST FACTS FOR JOURNALISTS
Cardiovascular disease is the world's leading cause of death.

Heart Failure is estimated to affect 300,000 Australians, with more than 30,000 new diagnoses every year.

More than 60,000 Australians are hospitalised with heart failure every year (180 a day).

Nearly 1 in 50 Australians die of heart failure (one every three hours).

Between 50 and 75 per cent of heart failure patients die within five years.

Fewer than 150 donor hearts are made available in Australia each year (144 in 2020).

Patients with heart failure have few treatment options. Many die while waiting for a suitable heart, and the need is growing.


MEDIA ENQUIRIES
Loretta Wylde
Monash University
Media and Communications
T: +61 (0) 432 123 106


GENERAL MEDIA ENQUIRIES
Monash Media
T: +61 (0) 3 9903 4840
For more Monash media stories, visit our news and events site