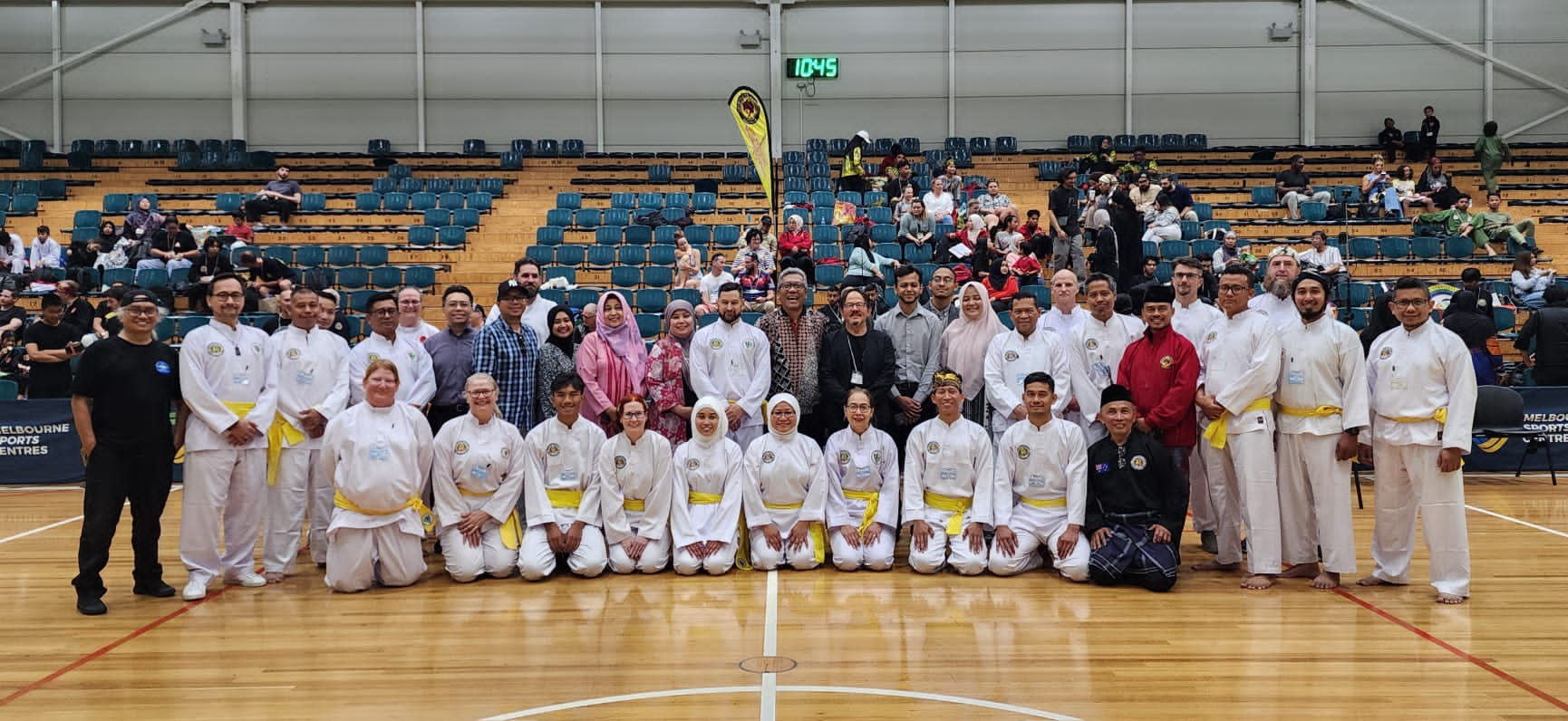 FOR IMMEDIATE RELEASE
Australian Pencak Silat community celebrates success of National Titles
10th Australian Pencak Silat Titles held on 11th - 12th November 2023
The Australian Pencak Silat community are celebrating due to the recent success of the 10th Australian Pencak Silat Titles, the largest national competition since its conception with 127 athletes competing this year.
Click here or on the video below to view coverage of the Australian Pencak Silat Titles 2023.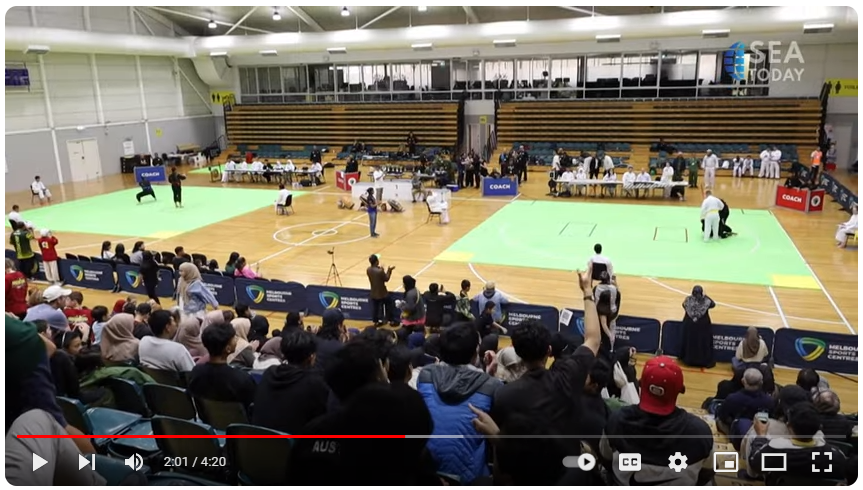 The National Pencak Silat Titles are usually held once every year. This year it was held on 11th - 12th November 2023 at the Melbourne Sports Centre (MSAC) in Victoria, Australia.
This is the first National Titles to be held since 2019 however due to Covid-19 and the first competition in Australia to feature the new rules for Pencak Silat sports and competition, a Martial Art originating from Indonesia, also found in other South-East Asian countries.
"The level of competition was exceptionally high this year" suggests Lee Edmondson of Pencak Silat Australia, an organisation that aims to promote awareness and improve the competitiveness of Pencak Silat in Australia.
"Even after a four year hiatus, coaches and athletes have worked hard to ensure they are constantly improving. The bar is being raised during every competition, and this will only improve the competitiveness of Pencak Silat in Australia, something that has been our mission for around ten years."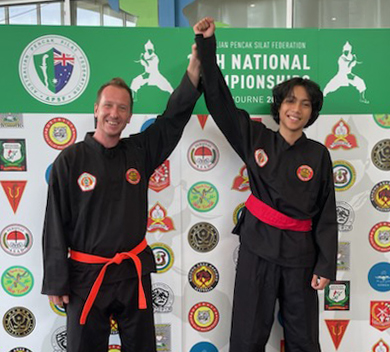 "Even though I am 41 years old which is quite old for an athlete these days, I competed first up in a 'VIP Match' in Tanding (fighting), coached a young 'up and comer' called Muhammad Binjemain who is only 14 years old for his first fight (and first win) and also assisted with the judging (Wasit Juri) during the competition."
"Leading up to the competition, the judges (including myself) also received training by video conference from the Indonesian Pencak Silat Federation (IPSI), to help give Australia officials the training they needed under the new rules of Pencak Silat competition."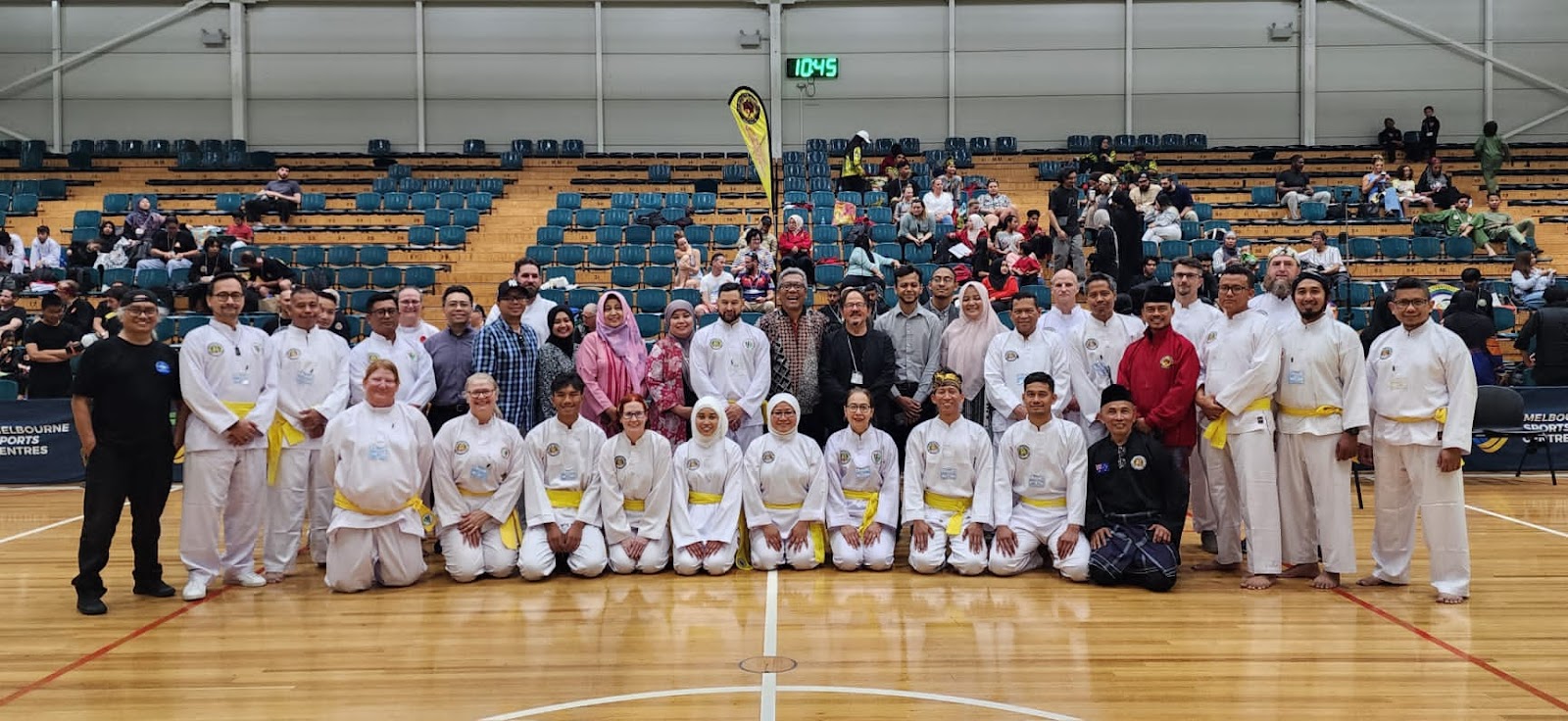 The new rules include a diverse set of techniques aimed at opening up competition to other Martial Arts styles, competing under a standard set of rules. Tanding (fighting) includes striking, take-downs such as catching and dropping, sweeping, tripping and trapping, locking resulting in submission and art form that continues the tradition in a competitive arena.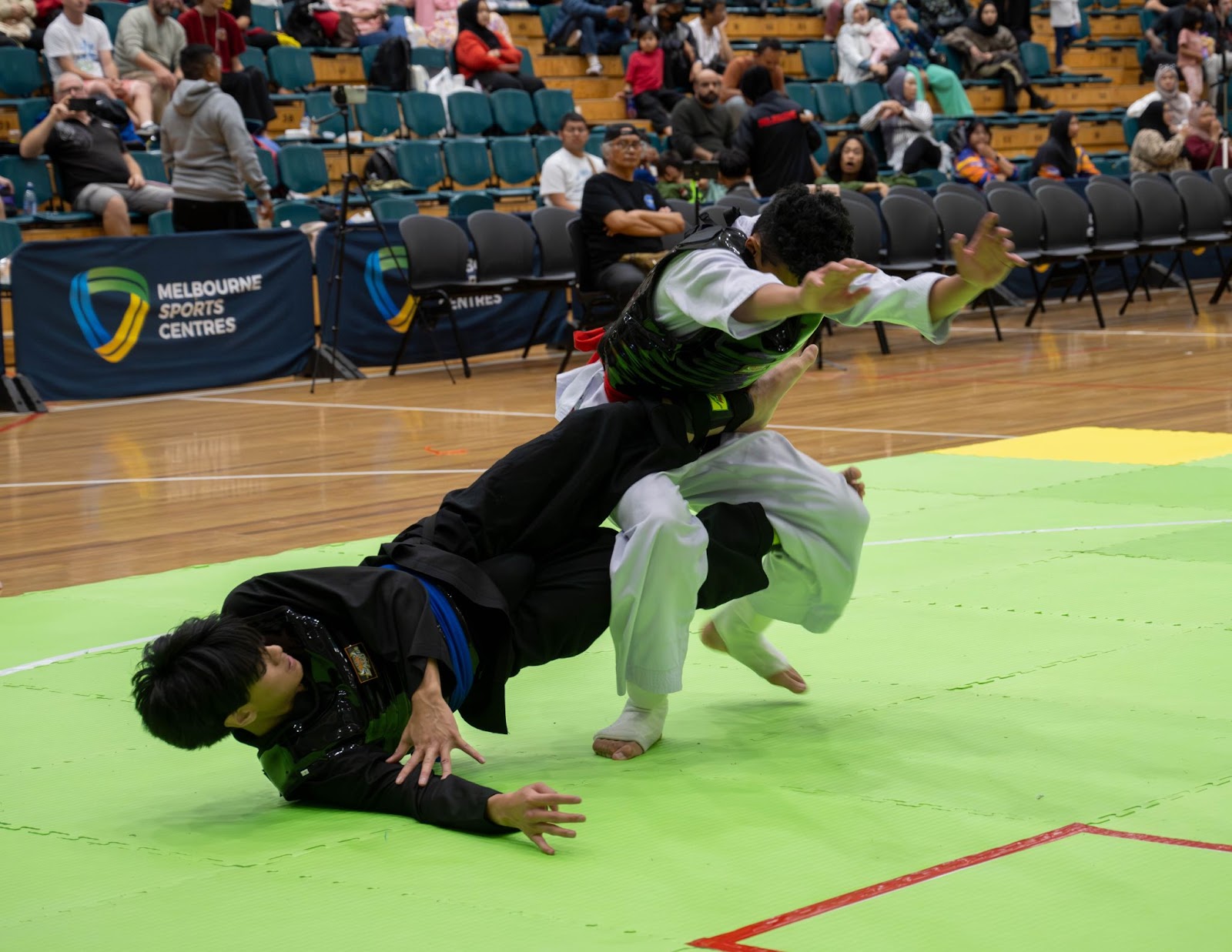 Under the new rules, art form categories now include creative categories, where each style of Pencak Silat can perform their own 'freestyle' jurus (art form like kata) that was previously not included. Weapons that can be used during individual and group art form categories can also include various new weapons such as kerambit (knife shaped like a tiger's claw), keris (sword with a zig zag shape) and many other weapons that were historically used in warfare - Pencak Silat was historically disguised as a dance during the Dutch occupation, when Indonesia was known as the Dutch East Indies.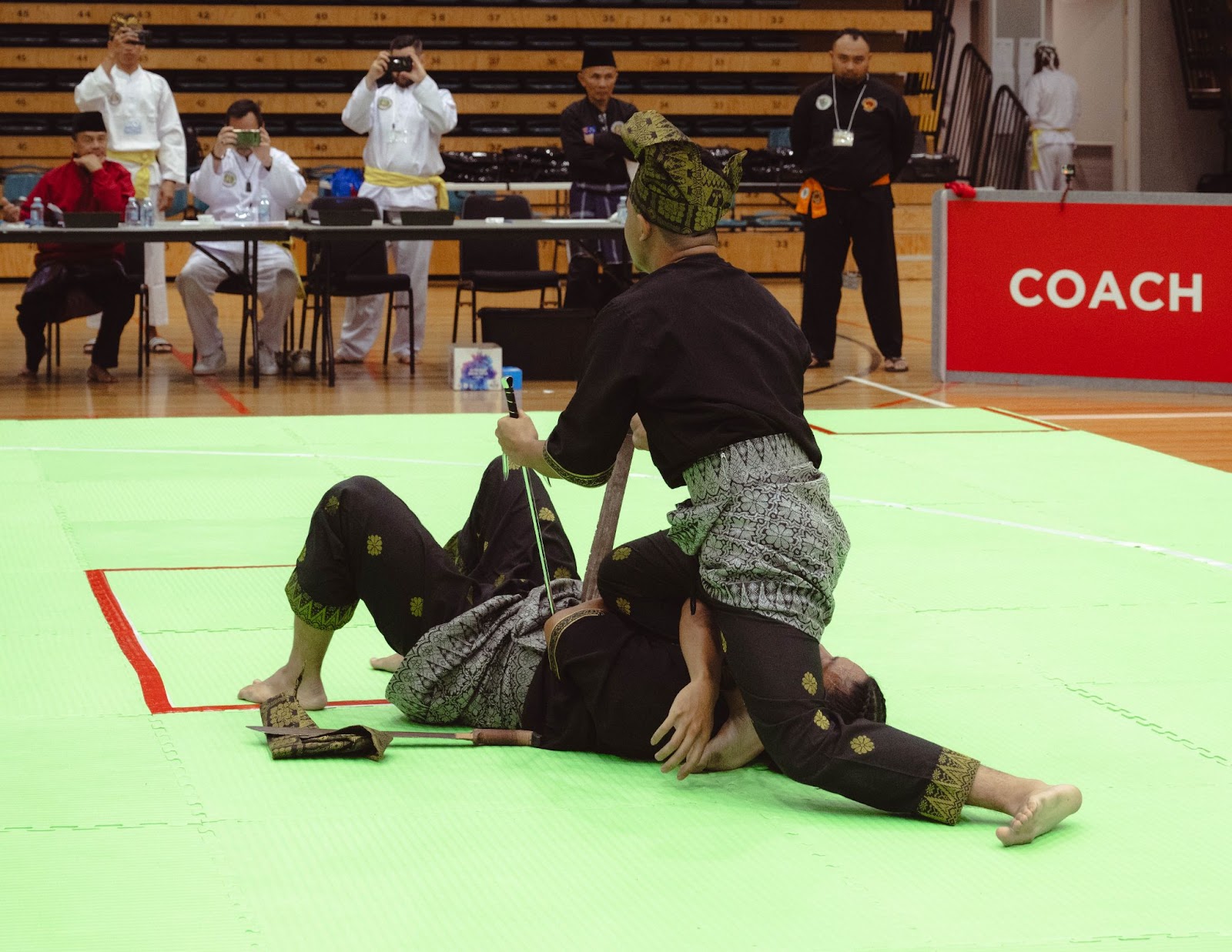 Jurus Tunggal (art form number one), an individual art form is still featured that includes a set of 100 standard moves using open hand, golok (sword) and toya (long stick / staff). Other seni (art form) categories include Regu, where three competitors perform a standard set of moves that includes open hand and weapons, and Ganda, which includes a choreographed fight between two people with open hand and weapons.
Winners and outstanding performances from the recent National Titles will be invited to represent Australia at the World Championship, which is held every two years in a different South-East Asian country.
Pencak Silat is also 'on the road to the Olympics' and has put in a bid to feature as an Olympic Sport starting from the 2032 Olympics to be held in Brisbane, Queensland, Australia.
"The future for Pencak Silat is looking bright with the amount of young athletes taking up the sport" notes Lee Edmondson.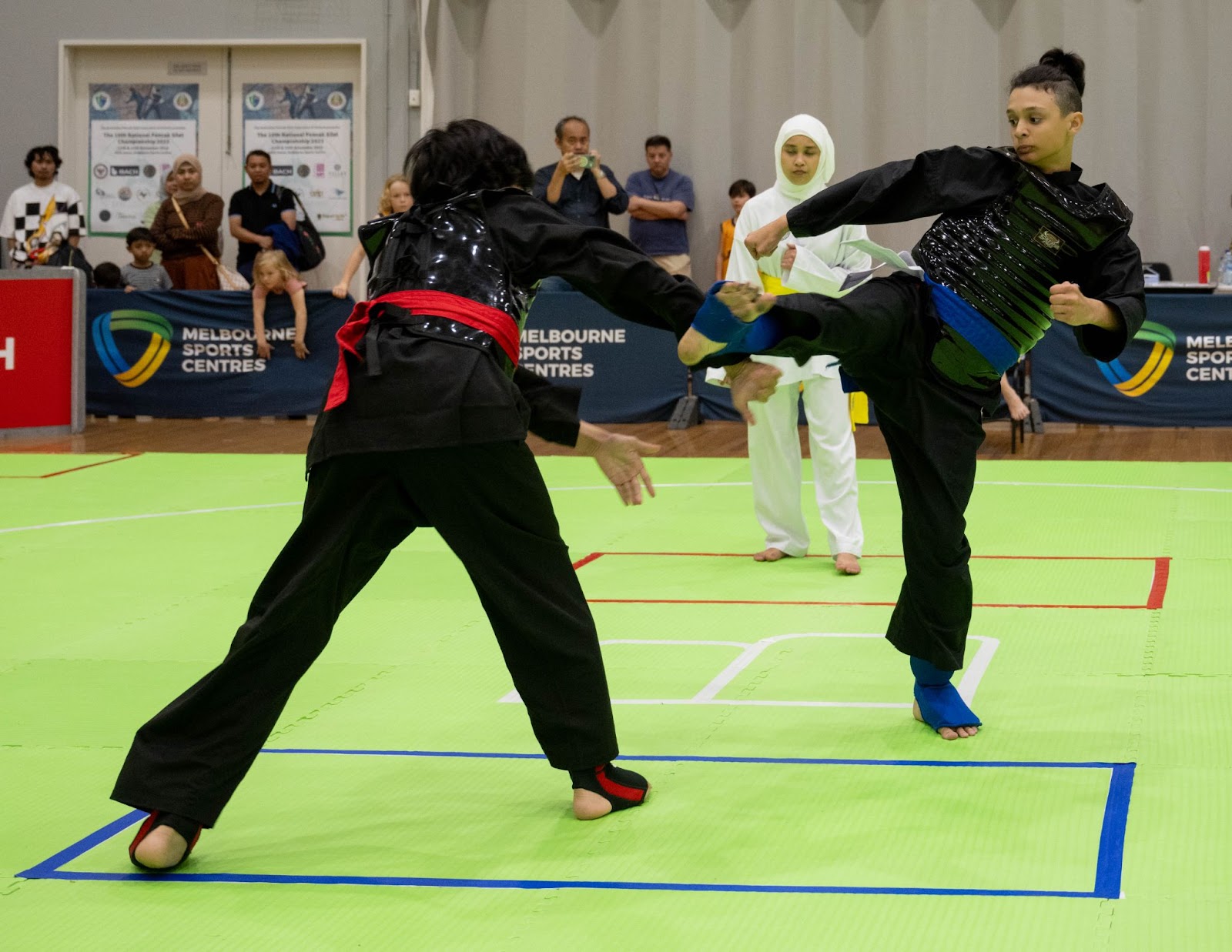 "This is the largest competition to date and it is great to see the growth of the sport within Australia. With athletes able to represent their country at the Pencak Silat World Championship and with it being on the road to become an Olympic sport by 2032 in time for the Brisbane Olympics, the interest in the sport will only continue to grow."
"I would suggest that anybody looking to get into Pencak Silat should do it as soon as possible, before it becomes too competitive and they fall too far behind. There are plenty of opportunities on offer to represent Australia into the future, that may be out of reach for many other sports."

About Wirayudha Pencak Silat
Wirayudha Pencak Silat is the Perguruan (style of Pencak Silat) of Lee Edmondson and his students. Lee Edmondson is the Head Coach of Wirayudha Pencak Silat Australia, training out of the Gold Coast Coast, Queensland.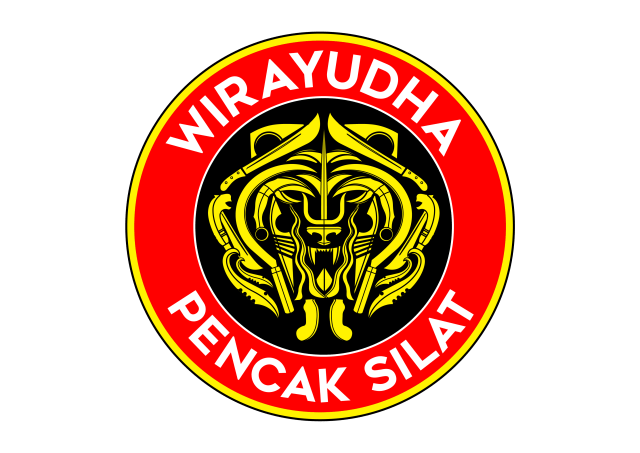 " A WARRIOR who lives for WAR! "
The literal translation for Wirayudha is "Wira" means "WARRIOR" and "Yudha" means "WAR"
The philosophy of Wirayudha Pencak Silat means… "A WARRIOR who lives for WAR"
Wirayudha Pencak Silat is a traditional Martial Art from the Special Region of Yogyakarta, Java, Indonesia. Wirayudha is the family style of Guru Eka Aris Suhartanto (Aris), with techniques passed down from generation to generation. Wirayudha is a well-rounded and complete traditional martial art with its roots grounded in Indonesian history, warfare and tradition. The Wirayudha style of Pencak Silat has been adapted over many years to include traditional and modern day fighting techniques to suit the 'real life' fighting situations of today.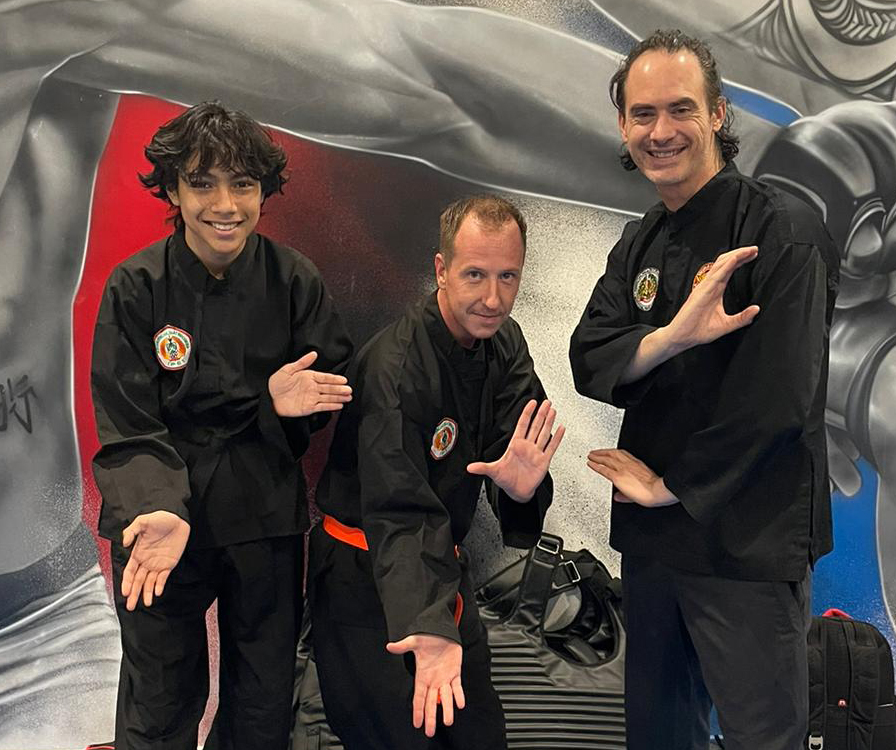 Key Facts:
· Australian Pencak Silat Titles held on 11th - 12th November 2023
· 127 athletes competed in this years record breaking National Titles
· Winners and outstanding performers will be invited to represent Australia at the World Championship
· Pencak Silat on the road to the 2032 Olympics in Brisbane Australia
About us:
About Pencak Silat
Pencak Silat is a traditional Martial Art found in South-East Asia and has over 800 known styles in Indonesia alone. Indonesian styles of Pencak Silat were historically disguised as a dance during the Dutch occupation, with the most effective techniques hidden in the art form. Previously called the 'Dutch East Indies', Pencak Silat (that had been hidden for centuries) helped Indonesia gain their independence at the end of World War II. Pencak Silat then officially became a sport. Pencak Silat holds a World Championship every two years throughout South-East Asia.
Pencak Silat dates back as far as 3,000 years, where the movement of animals such as tigers were mimicked at a basic level. It took around 2,000 years for it to become a compelete Martial Arts system incorporating weapons, and it continues to be one of the most complete Martial Arts systems in the world that has been proven on the battlefield.
Contact details:
Learn More
To learn more about Pencak Silat Australia or for more information on training options in your region, contact Pencak Silat Australia (details below).
Lee Edmondson
Pencak Silat Australia
+61 424 383 705
silataustralia@gmail.com
www.silataustralia.com