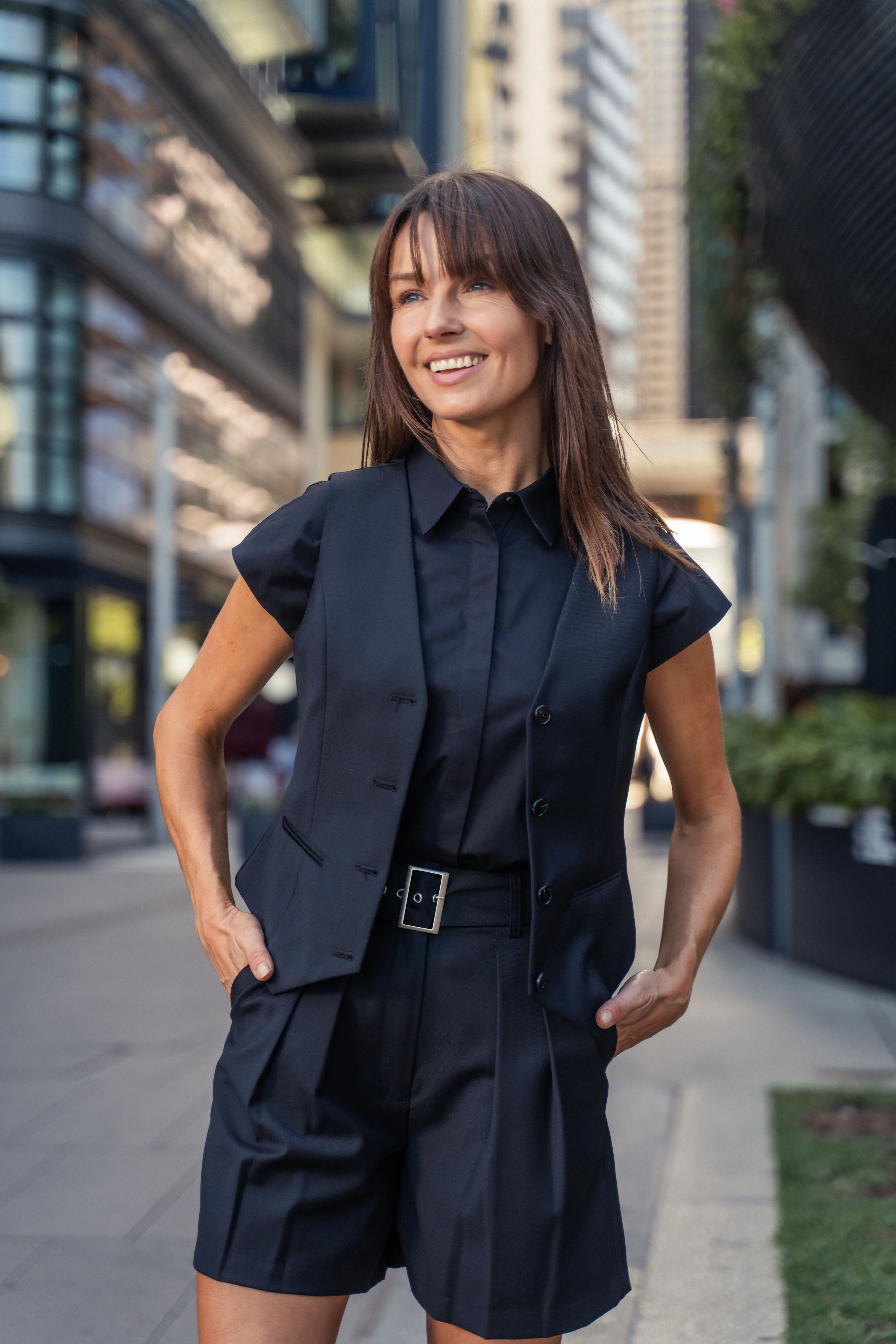 Sydney, November 2023 - Capsule Collection Wardrobe (CCW), the renowned Australian fashion label known for its versatile and timeless pieces, is proud to introduce the much-anticipated Tuxedo Collection in Black. This new collection showcases three key items: The Tuxedo Vest, Tuxedo Shorts, and The Sleeveless Silhouette Shirt, designed to empower women with confidence, sophistication, and style. These new additions can be effortlessly mixed and matched with the existing CCW collection, creating endless possibilities for the modern woman's wardrobe.
Pamela Jabbour, the creative force behind CCW, found inspiration for the Black Tuxedo Collection in the timeless charm of the classic tuxedo. Drawing from the words of fashion icon Yves Saint Laurent, who once said, "I love black because it affirms, designs, and styles. A woman in a black dress is a pencil stroke." Pamela notes, "The CCW woman is confident, sophisticated, and stylish, and her outfit choices empower her to live her best life. With this in mind, the three new key pieces in black are a sleek addition to CCW and will take a CCW woman from a casual catch-up with friends to a night out. With a shoe change, the looks are endless."
Introducing the Three Key CCW Pieces:
1. Tuxedo Vest in Black: This piece seamlessly blends contemporary tailoring with bold femininity, capturing the essence of the classic tuxedo. Crafted from rich black wool, complete with a satin lining and black buttons, it exudes timeless luxury. The back buckle-waist detail allows for a customised fit. Sleeveless with a V-neckline, it can be worn as a standalone statement or layered over your favourite CCW tee or button-up shirt for a professional look. Pair it with The Tuxedo Shorts for a head-to-toe tailored finish. Available in Size 4-16. RRP: AU$150.00
2. Tuxedo Shorts in Black: These meticulously tailored shorts offer a refined spring/summer ensemble with a contemporary twist. Fully lined and adorned with discreet side seam pockets, they provide both convenience and sophistication. Designed with a high waist, front pleats, and an elegant silver self-buckle belt, they sculpt a sleek and sophisticated silhouette. Whether for a chic daytime appearance with a tee and sneakers or an elevated evening ensemble, pairing The Tuxedo Shorts with The Tuxedo Vest and a pair of heels will effortlessly transform your look. Available in Size 4-16. RRP AU$165.00
3. The Sleeveless Silhouette Shirt in Black: This best-selling Silhouette shirt is now available in the timeless shade of black. With its classic collar, gracefully oversized shoulders, and a cinched waist, it exudes effortless sophistication. Designed for versatility, it pairs seamlessly with your preferred shorts, trousers, or jeans. Available in Size 4-16. RRP: AU$110.00
In true CCW style, the Tuxedo Vest and Tuxedo Shorts are crafted from the same wool-rich fabric composition, providing ultimate mix-and-match options. For those eagerly awaiting more Tuxedo Collection additions, be on the lookout for an upcoming jacket and pants to complete the full tuxedo ensemble.
For more information on the Black Tuxedo Collection and the entire Capsule Collection Wardrobe, visit www.capsulecollectionwardrobe.com.au
CCW invites stockists/fashion agencies, stylists, and interested individuals to reach out for additional details and potential collaboration opportunities. Contact Veronica via email team@capsulecollectionwardobe.com.au
About us:
Capsule Collection Wardrobe
A passion for timeless, quality fashion drives Capsule Collection Wardrobe (CCW). Founded by Pamela Jabbour, a veteran with over 15 years of experience in branded custom uniforms in Australia, CCW seamlessly blends expertise with a genuine love for classic fashion.
Pamela Jabbour is the trusted source for fashion advice and styling tips, embodying a deep belief in slow fashion, quality craftsmanship, and wardrobe essentials. CCW's concept is simple yet profound - curating a collection of essential, timeless clothing. These pieces form the foundation of a wardrobe, enabling stylish outfits for any occasion.
Pam's vision for CCW is to provide fashion-conscious women with collectible, timeless pieces that enhance their wardrobe year after year. With quality and style being CCW's top priorities and offering value-for-money fashion, CCW ensures style remains effortlessly chic, season after season.
Contact details:
Veronica Deufel
T: 0425 276702
E: team@capsulecollectionwardobe.com.au