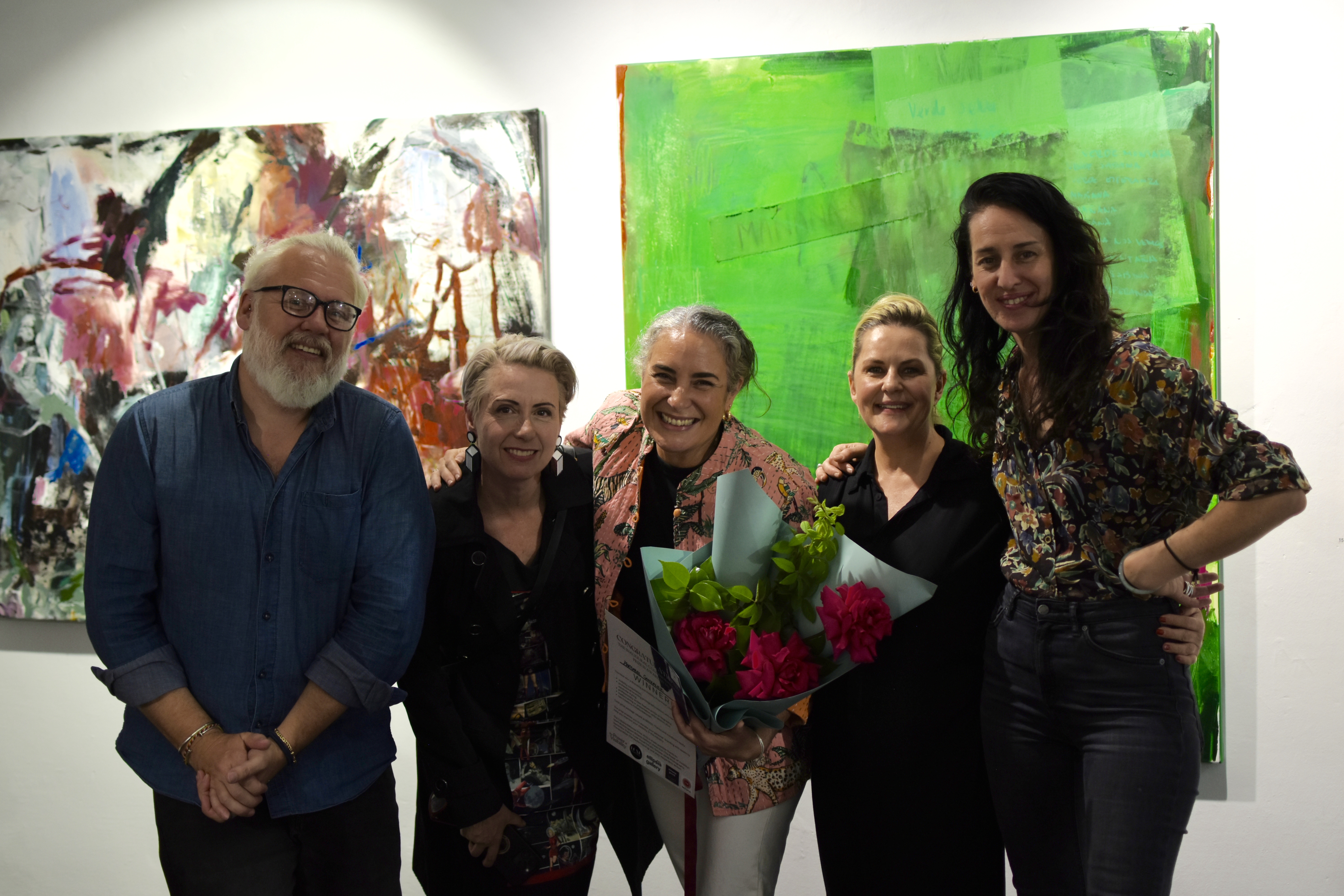 An emerging local artist whose abstract art work portrays the power of connection through the memories of her homeland, has been awarded the inaugural Collabor8Women 2023 Prize designed to give her profile a well-deserved boost.
Latin American artist Marisabel Gonzalez's painting, entitled 'Verde Montaña, Mañana (Mountain Green, Tomorrow)', was a stand-out in a field of 30 finalist entries including painting, sculpture, glass and photography.
The winner was announced at the opening of the CONNECTED exhibition at Sydney's Ellipsis Gallery, in partnership with Collabor8Women, a monthly networking event that connects professional women at on-trend restaurants owned or run by women.
The 2023 prize aims to shine a light on female artists, with the winner receiving a branding and visibility package worth more than $6,000. Five industry leaders from the Collabor8Women network will provide their services to promote the artist's profile, including a photography session; hair/make-up, wardrobe styling; a PR and publicity strategy; a professionally-written feature article/biography; media training/presentation skills session; and two tickets to a Collabor8Women event.
The Sydney-based artist says the prize will give her profile the boost she desperately needs.
"This could not come at a better time. I would normally spend every last cent on paints and canvas, not building my profile. I am so grateful for this support."
Gonzalez's winning entry was inspired by Federico García Lorca's poem, 'Verde, que te quiero, verde'. "This monochrome painting is rooted in memories of my home country, Venezuela. Deeply pigmented green hues interwoven with lost and recycled personal writings—phrases, memories, and traditions written down with the intent to remember them – resembling hope and connection to my past," she said.
The prize was judged by Collabor8Women regulars Sophie Vander, owner and Director of Curatorial+Co; Archibald Packing-Room Prize winning artist Kathrin Longhurst; along with VIAND owner and head chef Annita Potter.
"With such an incredible pool of talent, and artworks that link to the 'connected' theme from so many diverse angles, one artist and one work stood out, ticking all the boxes," said Vander.
"Marisabel is an emerging artist who unconditionally supports her community. Her connection to her past and future are evident in her painting. This piece tells a story familiar to so many people, one that resonates throughout generations – of loss, hope and connection," she said.
"The artist will grab this branding and visibility prize with open arms; we can't wait to see where it takes her," added Longhurst.
Ellipsis Gallery is located above VIAND restaurant in Woolloomooloo where Collabor8Women hosted this month's sold-out lunch for professional women.
Attendees enjoyed an exclusive VIP preview of CONNECTED, with one guest snapping up a
painting by artist Amy Kinzett titled 'Good Times'. Gallery owner Mark Wotherspoon says while many artworks are for sale, it's also a wonderful space to enjoy.
"Ellipsis Gallery is proud to exhibit the finalists' artworks, highlighting the wonderful female talent we have in this industry. The vibe from our opening night was electric, which is a reflection of the high-calibre art on display. Partnering with Collabor8Women for this inaugural prize has created something really special," said Wotherspoon.
The exhibition theme 'CONNECTED' is inspired by Collabor8Women's monthly events which connect women across diverse industries and varying levels of leadership. People register to be invited at collabor8women.com.
The Collabor8Women Prize 2023 is made possible thanks to: Mark Wotherspoon (Ellipsis Gallery); Karen Eck (The Power of Visibility); Samantha Theron (Luxe Visual CoLab); Simona Janek Photography; Theresa Miller (TM Media) and arts writer Joey Hespe.
CONNECTED is open until November 25, 2023 (Wednesday through Saturday 3pm - 8pm).
ABOUT COLLABOR8WOMEN
On the first Wednesday of the month, Collabor8Women brings together professionals from diverse industries and varying levels of leadership to enjoy a delicious meal around curated tables of eight in female-led venues. Its mission is to connect women and spark collaborations. Guests in turn invite their own professional plus-one, creating a welcoming, inclusive atmosphere.
Karen Eck and Samantha Theron are the co-founders of Collabor8Women. Their idea started with just one table of eight in December 2021 and has quickly grown to 18 events to date and a network of 850 women.
Karen is a PR strategist, talent manager and entrepreneur. She is the founder of eckfactor and masterclass program The Power of Visibility. Samantha is a Creative Director and Stylist. She's the Global Senior Manager of Visual Merchandising, Communications and Training at RM Williams.
Contact details:
Media Contact: eckfactor, 0438 532 569 Media Assets HERE