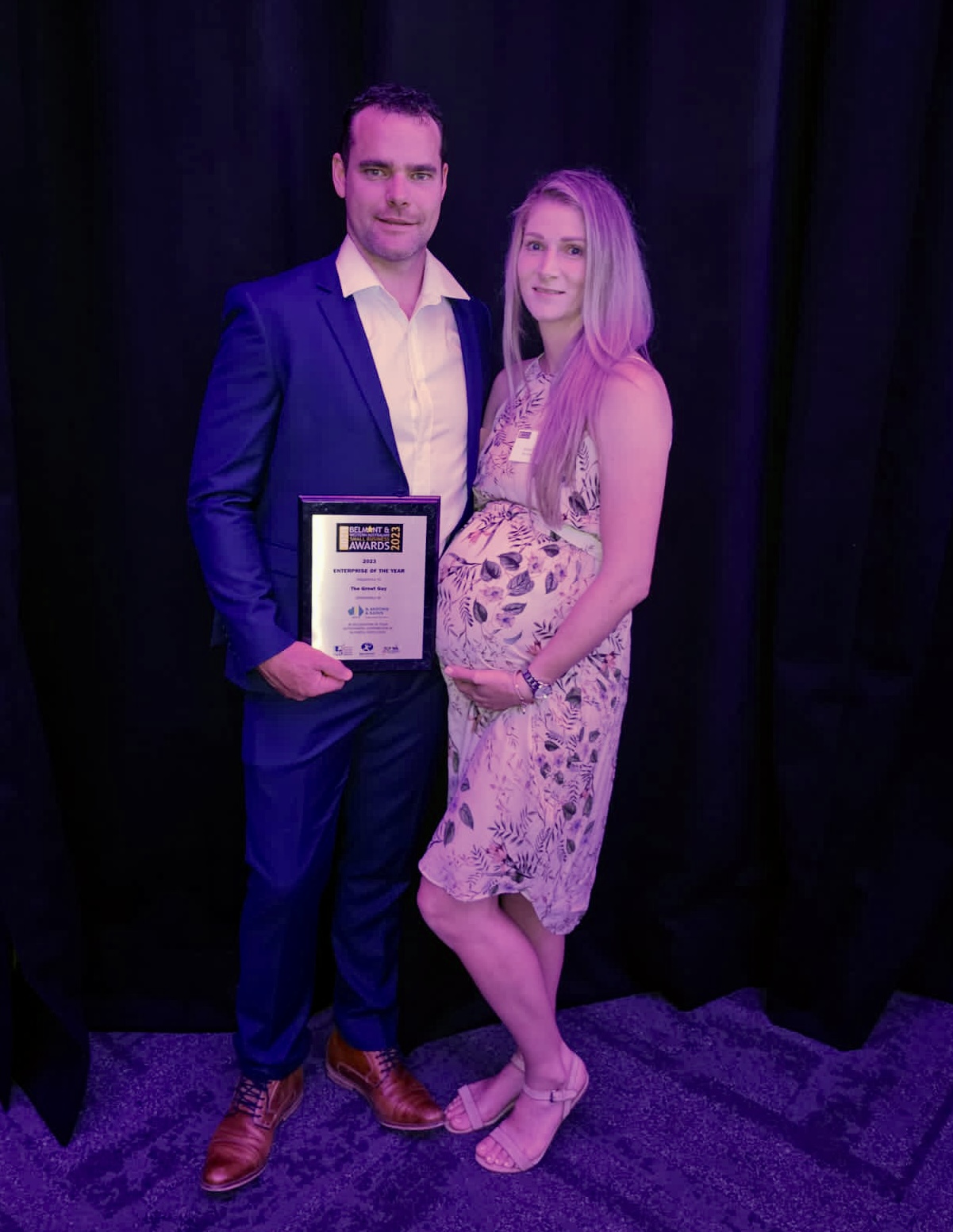 The Grout Guy bags Enterprise of the Year Award with 50 percent growth
The Grout Guy, a rapidly growing grout and tiling company has been awarded the prestigious Enterprise of the Year Award at the 30th Belmont & Western Australia Small Business Awards.
The company's remarkable journey from a one-man operation to a thriving enterprise with 110 full-time staff across multiple locations has earned it this recognition.
Brad Young, the 'guy' behind The Grout Guy, said the award acknowledged a remarkable year for the company, which saw it achieve over 50% growth to reach a record $16 million turnover.
"This is the first time we have ever entered an award so its amazing to have the team's hard work and dedication celebrated," he said. "We've always believed in doing things differently and challenging the status quo. It's an honour to be acknowledged for our commitment to providing exceptional service, fostering a great workplace, and our forward-thinking approach to business. We are grateful to our loyal customers, dedicated Grout Guys and Gals, and supportive partners for making this achievement possible."
Young's remarkable journey, from high school dropout to elite ice hockey player in Canada and finally to his current status of self-proclaimed accidental entrepreneur of The Grout Guy, underscores the qualities that have played a pivotal role in the company's success.
"My life experiences have taught me there a few truths you always need to work and live by: commitment, hard work, and tenacity. They're vital for success in business and for being a good person."
The Grout Guy, with its head office in Wangara, achieved record-breaking success in the 2022-23 financial year, with a remarkable turnover of $16 million, up from $10.5 million in the previous financial year.
In addition to its financial achievements, The Grout Guy places a strong emphasis on being a great place to work, with a staff retention rate of 95%. The company pays significantly above the award rate and focuses on providing a fun and flexible work environment for its employees.
"You spend so much time at work, so it has to be a good place to be in my opinion," Young said.
The Grout Guy's commitment to customer satisfaction is evident in their $1millon investment in a tailored CRM system. This change, which took over a year to design and implement improved the sales and communication process for customers, as well as optimised and enhanced productivity.
"The $5.5 million growth from last year is a direct result of us being able to manage bookings more efficiently, and we continually look at ways to increase efficiency. We also hired a Business Development Manager in WA for the first time, which has continued to open new opportunities, particularly in the commercial space. His efforts now equate to 20% of our total revenue in WA. We aim to bring BDMs in other states by the start of 2024."
Young is ambitious and his next target is big, with $100 million in his sights backed by further technology upgrades."
Our growth strategy is backed by diversifying but not in the typical way. There's huge potential to clean up the building maintenance industry, 'weed out the charlatans' as it were, and we are creating a platform that will make it easy for us to develop collaborations with other trade services.
"Building maintenance is a multi-billion-dollar industry and demand for trade services continues to increase and we want to be the gateway to bring trade services together. We're currently creating the blueprint for how the new multi-service maintenance system will work and beta testing the program and the results are promising."
The Grout Guy's successful technology based growth strategy, dedication to excellence, and commitment to both its customers and employees have set them apart as the Enterprise of the Year, making this award well-deserved recognition of their achievements.
For more information about The Grout Guy and its services, please visit https://www.thegroutguy.com.au/
About us:
The Grout Guy is a leading tiling and grouting company with a remarkable journey of growth and success. From its beginnings as a one-man operation to a thriving enterprise with locations across Australia, the company is renowned for providing a range of services, including Leaking Shower Repairs, Comprehensive Grout Replacement, Tile Repairs, and Balcony Silicone Regrouting, catering to both private and commercial clients.
Contact details:
Contact Trina McColl 0413 922 284 for an interview