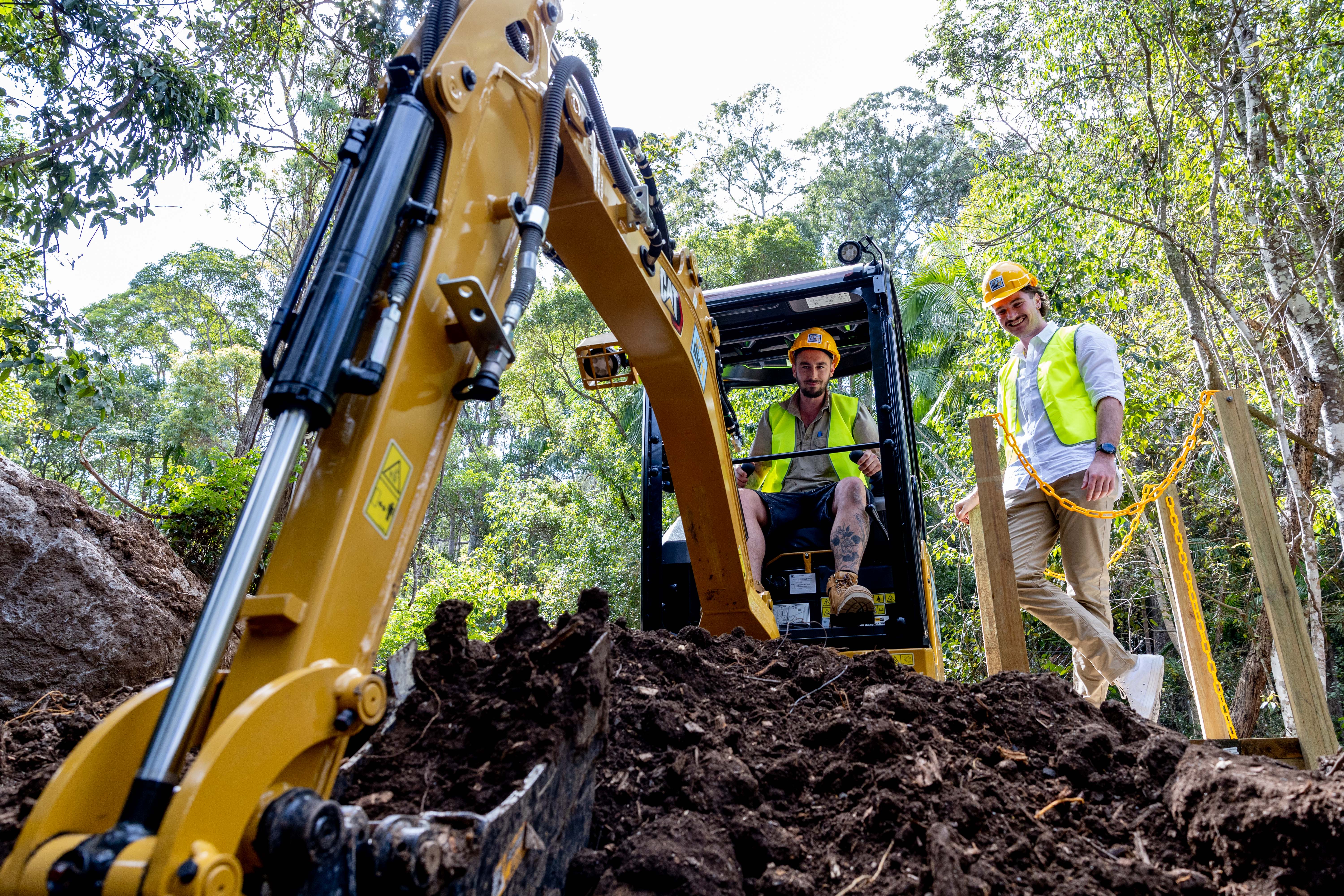 AUSTRALIAN CORPORATES AND CONFERENCE INDUSTRY GETTING ITS HANDS DIRTY!
Finally, a conference option where delegates can get their hands dirty.
After opening like a wrecking ball in May, Dig It, Australia's first ever mini-excavator park just an hour from Brisbane and the Gold Coast, has outperformed all expectations, and has been booked out for months in advance by families from all over Australia. Now, in news set to thrill PCOs and corporate events planners across the country, Dig It is welcoming corporate groups.
The adults are already LOVING IT, with conference groups raving about the experience.
The superstars of Dig It are the nine, CAT 1.7 tonne mini-excavators. They are the real deal, with hard hats and high vis gear required onsite. The kids experience sees children sit the driver's seat alone or on the lap of their parent or carer, to try a range of skills, from digging up the dirt, to using a claw to stack and move tyres, or using a hook.
For corporate groups, it's the same concept, but for grownups! And …. word to the wise, it's a lot harder than it looks.
Kate Keegan, founder and director of Dig It, said the authenticity of the Dig It experience was made it stand out.
"When you are sitting in a mini-excavator, it doesn't matter if you are CEO, CFO, CMO or the new trainee, the skills needed are really different from leading a business. We see so many adults arrive so confident in their skill set as a corporate leader, and find they can't stack the tyres or load the dirt," she said. "As a result, we've seen some brilliant team building and barrier-breaking moments for our corporate groups here on site," she said.
Corporate and conference groups have bespoke experiences at Dig It, with each group's booking curated by Kate and her team based on individual needs. All delegates wear high vis gear on site, and are divided into teams – yes, there's friendly competition and rivalry as the experience kicks in.
"The Dig It conference experience is much more that being in a conference room and talking about goals, visions and productivity roadblocks. We take delegates out of their comfort zones, and ask them to operate a major piece of machinery, in a team environment, completing set tasks that look a whole lot easier than they are, while being outside, in a pretty fantastic part of the world," said Kate.
Dig it is at home at the famed Thunderbird Park, an adventure park with all levels of accommodation, from luxury at Cedar Creek Lodges, through glamping, cabins, creekside houses to camping. What's even better, Dig It is 100 per cent accessible to all abilities and needs. It's a PCO's delight!
WHAT YOU NEED TO KNOW ABOUT DIG IT AS A CONFERENCE OPTION:
1. It's Team Building with a Twist: At Dig IT, team building isn't just about collaboration—it's about friendly competition too! The winning team not only earns bragging rights but also gets to take home a prestigious trophy as a symbol of their achievement, and they're in MINI-EXCAVATORS!
2. Unique Australian Innovation: Dig IT proudly stands as an Australian first—an innovative and one-of-a-kind experience that you won't find anywhere else. Your conference guests will have the opportunity to be part of something truly special and groundbreaking.
3. Stress Relief: Excavator operation can be a fun and stress-relieving activity, providing a welcome break from the usual conference routine. It allows participants to unwind, relax, and recharge. It's literally digging in the dirt!
4. Skill Development: Participants can enhance their problem-solving abilities and fine-tune their motor skills while having a great time.
5. Unforgettable Experience: The end!
6. Outdoor Networking: Dig IT takes place in a beautiful outdoor setting, allowing conference attendees to network in a relaxed and natural environment. It's a refreshing change from traditional indoor conference venues.
8. Competitive Edge: Offering Dig IT as an optional activity can give your conference a competitive edge and attract more attendees. It shows that you're committed to providing unique and engaging experiences.
9. Accessibility: Dig It is accessible to all needs and abilities.
10. Trust us, your delegates will rave.
DIG IT - Australia's first mini excavator park
Thunderbird Park – Tamborine Mountain Road, Tamborine Mountain, Scenic Rim Queensland
Accommodation and campaign available at Thunderbirds Park HERE
For all conference and corporate inquires, contact Kate Keegan direct on 0406 672 925
For media enquiries, images and more please contact Kath Rose | 0416 291 493 | kath@kathrose.com